Working at Envestnet | Yodlee
Envestnet | Yodlee created the India's first, patented, personalised finance platform for global money management. As a global leader, we have offices in Bangalore and Trivandrum, India, in addition to our world headquarters in Silicon Valley, California.
Envestnet | Yodlee is driving the new era of digital finance management - and we invite you to join us in accomplishing our mission.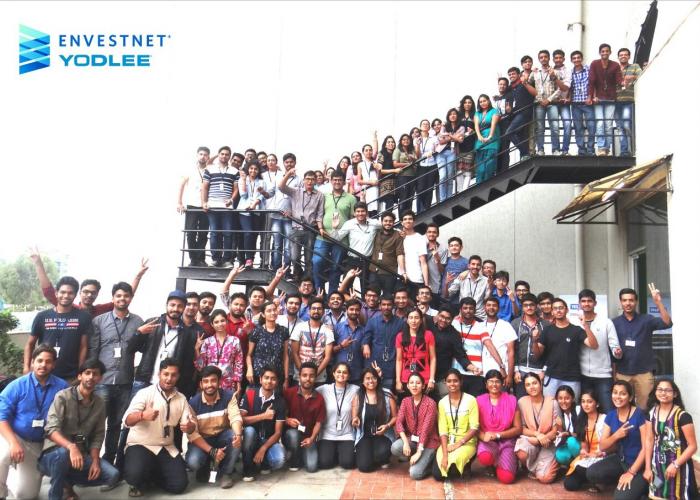 Company Culture
We take pride in encouraging a work environment and culture where individual contributions can make a huge impact. Priorities are focused on "what's really important." The energy and enthusiasm are palpable. We have a strong foundation of expertise and an impressive client list that we've added to since we opened our doors in 1999.
Working in India, you'll work with many dedicated and creative individuals. You will enjoy a wide range of opportunities to grow your skills and expand your network.
We've got you covered under our Group Health Insurance policy. We cover not just you but your parents and family members as well. Our life insurance policy gives security cover to your dependents in the unlikely event of a demise. We also offer supplemental cover in case of an accident causing temporary or permanent disablement.
For your emotional wellbeing, we have expert counsellors who are available round the clock. Various specialist doctors (like Nutritionist, Physiotherapist, Dentist, Dermatologist and Gynaecologists) visits our premises for early stage consultation. You can also consult a Homeopath, General Physician, Accupressurist and Aryuveda Doctor. If you are simply looking for a quiet zone our wellness rooms are the place to head to. If it is exercise that you are interested in then we have a gym, badminton and table tennis as options for you. We also have fitness classes such as Yoga, Martial Arts and Bollywood Dance with shower rooms on-site. Running, walking, indoor and outdoor sports events through the year ensure that you have plenty of opportunities to exercise.
We conduct preventive health checkups annually for employees should you choose to monitor your state of wellness and progress.
Our dress code is rather informal and so is our culture, just the way you would be at home. We call you by your first name. You can even bring your children to work as we have a well maintained crèche facility. Your family is invited to meet other families in office during our Family Fun day. Your birthday and special days are celebrated by us.
Our subsidized transport service gets you safely to work every day ensuring that the city traffic does not dampen your mood. While we are open for you to work from home we do like to see you in office.
We realize that your palate needs pampering. We have an impressive range of cuisine for lunch being served free of cost. Picnics and trips with the team happen once every quarter. Festivals are celebrated and fun activities happen through the year. We also like to hear what you think via our employee connect sessions and feedback surveys. You can also shape the way things are done here by joining one of our committees.
We love to make a fuss about you when you do something really well. We believe that you enjoy working here and are enthusiastic about bringing your friends and family to work for us as well.
The learning opportunities we provide are varied depending on the style that suits you. You can opt to enroll for our E-learning offerings or join a classroom session on an impressive list of topics. You can learn at your pace and convenience by enrolling in courses via our certification and higher education policy. Should you want to become a trainer we are open to give you the opportunity as well. You can also become a mentor to the many interns that spend time with us during the year.
Our library comprises of a wide range of books on all kinds of subjects. Pick up a book and browse through it at home.
Our recruitment policies ensure we bring in people across genders, geographies, abilities and age groups. If you are trying to make a comeback into the corporate world we encourage and support you.
If you are a Maverick or an out of the box thinker you can also give flight to some of your ideas via our innovative garage fest.
The less fortunate members of our society also have a space in our hearts. You can volunteer yourself by donating blood, planting trees or contributing in cash or kind towards the orphanage we have adopted.