As Head of Product for FinTech, I hear all the time how companies are dissatisfied with their data aggregation solutions but think it's too hard to change providers. Some of these FinTechs tell me they need to reduce overall costs but are stuck with the high cost of contract renewals and some tell me they are actually penalized with higher fees as they grow.
If this rings true for you, it's time for a change. And a change that not only brings savings, but value with high quality data.
"Aggregation is the bedrock of our user experience. Envestnet®|Yodlee® wins from both a cost and value perspective."
— CTO, digital wealth management
Source: 2023 Forrester Research Total Economic Impact Report on Envestnet Data Aggregation
A proven ROI solution
If you haven't had a chance to see Forrester Research's Total Economic Impact study on Envesnet | Yodlee Data Aggregation, I recommend you check it out. This independent report found that the FinTechs, financial institutions, and wealth management firms that used our data aggregation participating in the study achieved an aggregate annual growth rate of 20% per year and an ROI of 416% – with their investment paid back within 6 months.
FinTechs can make significant gains through improved customer retention, wallet share, and cross-sell: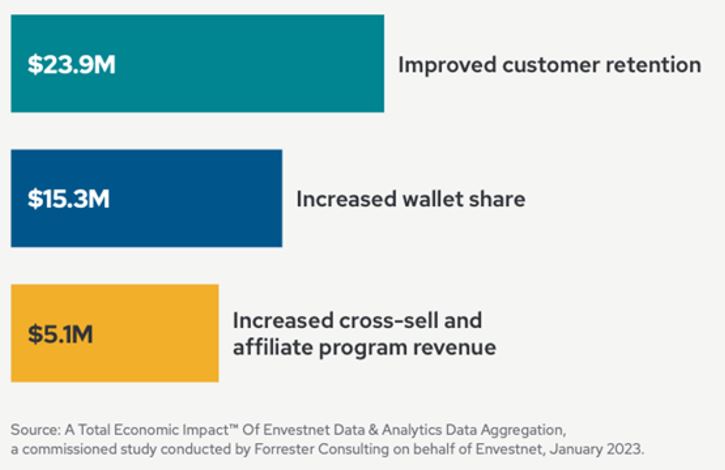 Switching is easier than you think
Some FinTechs stick with subpar data aggregation solutions because they don't want to lose what they've already invested and because all their systems are built around it. Pulling the plug seems incredibly complex and difficult. But making a move to a more effective solution is not as hard as you imagine.
There are new technologies available now that help minimize the pain of making the switch by assessing and closing data gaps while you wean off your existing system. There's even a translation layer API that enables engineering teams to fully replace their current data aggregator efficiently. The switch is designed to prevent link breakages or outages for your users. Instead, it is an ongoing transition. When accounts need to be re-authenticated, the user will be prompted to verify those accounts.
Fast impact and future growth
You can gain cost savings as you evolve to Envestnet | Yodlee's data aggregation solution and eliminate costly data refreshes. Your cost savings can enhance over time with our transparent tiered pricing options that scale as you grow.
"We saved 75% in annual fees compared to a leading competitor when we switched to Envestnet | Yodlee. FinTechs don't realize how much a provider's extra fees add up over time, particularly as companies grow and expand. Switching can lead to tremendous savings."
— David Nohe, CEO of FinGoal
Reasons to switch to Envestnet | Yodlee Data Aggregation
Envestnet | Yodlee has been working with FinTechs for over two decades. We've established ourselves as a trusted data aggregation partner and we're constantly looking for ways to innovate. If you're feeling stuck with another provider, here are some reasons to switch to Envestnet | Yodlee:
Tiered pricing that encourages growth
High quality services delivered responsibly
Enriched, meaningful data
Actionable insights
Account verification
Go to https://solutions.yodlee.com/time-to-switch.html to learn more.