Even amidst an unprecedented pandemic, Americans still traveled for the holidays, just at lower numbers than usual. That's according to Envestnet | Yodlee's Income and Spending trends, as well as recent news reports.
Airports saw depressed numbers for holiday season. According to the Transportation Security Administration (TSA), there were over 600,000 people screened at airport security checkpoints on Christmas Day, or roughly 23% of the number vs a year ago.
Leading up to the holiday season, Envestnet | Yodlee's Income and Spending trends data for online travel agencies has indicated that spending on airline tickets and travel would be lower going into the end of the year. The category captures related bookings several weeks ahead of actual travel (according to Phocuswire, there is an average of 50 days lead time between booking a flight and traveling).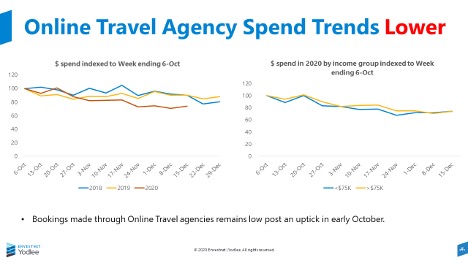 Travel by car also has experienced declines this year, though not as deeply as airlines. During any given holiday season, travelers usually get to their holiday celebrations by driving. Prior to this year, about 91% of long-distance holiday travel was by personal vehicle,, citing the U.S. Department of Transportation. Conversely, only 5% to 6% traveled by air. This trend is expected to have been repeated in 2020.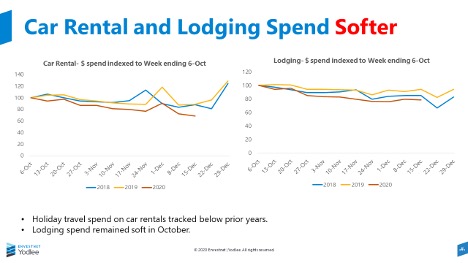 Based on Envestnet | Yodlee's Income and Spending trends data, car rental numbers increased as the year progressed but was still down 29% compared to last year. As reported by AutobodyNews, the car rental industry, indicated an expected 27% drop in total revenues (compared to a 7% drop in the Great Recession of 2008-2009).  This occurred after a first quarter 2020 that was a big success by most measures. Car rentals experienced renewed demand in the fourth quarter of 2020, after experiencing massive declines during the onset of the pandemic.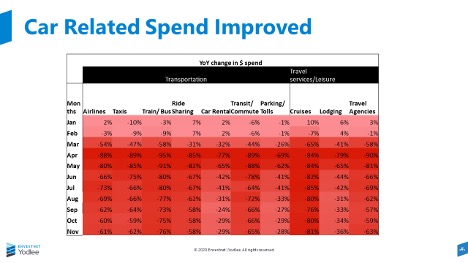 Our data indicated that spending on parking and tolls improved, but not to pre COVID-19 levels. Meanwhile other forms of commuting options such as train/bus remain extremely weak.