As states begin to loosen shelter-in-place restrictions, various factors have led to an improved landscape for the travel and transportation industry. Although it must be said – progress has been slow. Part One of this blog analyzes spending on travel and transportation compared to 2019. Part Two will focus on insights related to commuting. In an April blog post, we analyzed data which showed dramatic decreases in travel-related consumer spending during the second half of March and into April. Fast forward to today, where in some regions, shelter-in-place orders are starting to phase out, our data is showing modest increases in transportation activity.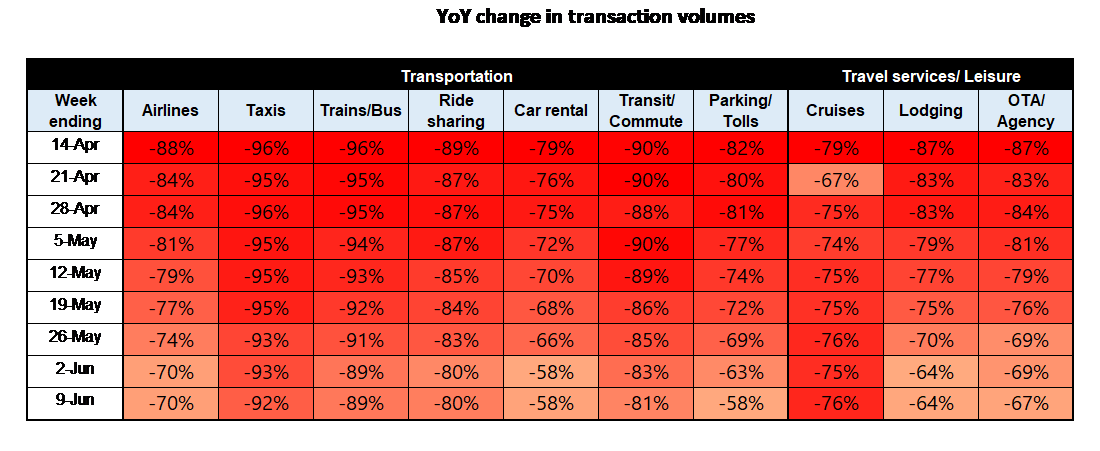 Spending in the travel service and leisure industry has picked up recently. Analysis of weekly transaction volumes for airlines, hotels, travel agencies and train/bus bookings (displayed above) show that the travel industry as a whole has gained ground since mid-May. Of note, this slight bump is not seen in the cruise industry, which is still experiencing levels of consumer spending similar to March and April.

Consumers may be taking advantage of customer-friendly business decisions by airlines, like waiving fees and extending rebooking periods, to rebook travel they may have postponed during the Spring or Summer.