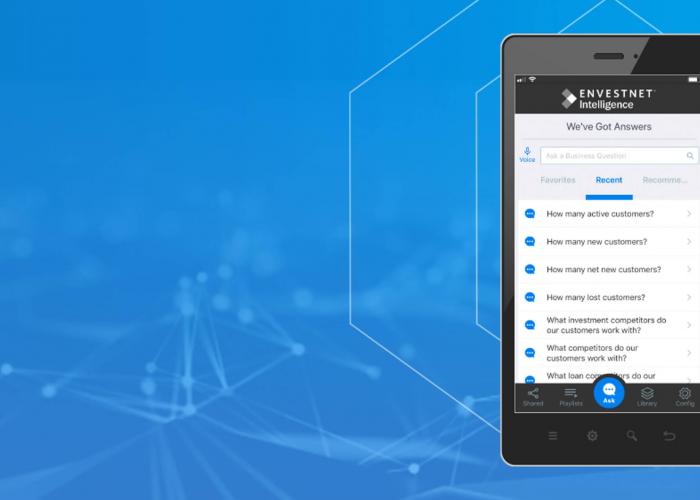 Wealth Management and Banking Analytics
Get The Answers That Matter
In the banking industry or wealth management space, getting answers to top questions like "What are the key trends driving our success?" and "How do my sales compare to my competition?" can provide a significant competitive edge. Envestnet Intelligence extracts information from vast financial data sets to ensure you can answer crucial questions anywhere, anytime, on any device.
Big Data and Analytics in Banking and Wealth Management
Envestnet Intelligence for Financial Institutions is an omni-channel intelligence tool that leverages AI, natural language processing, and an advanced data analytics engine.
Get Real-Time Answers
Get answers in real-time to key business questions across desktop, mobile, and Amazon Alexa-enabled devices
Access Industry Expertise
Leverages industry expertise, data science, and the most comprehensive financial data to provide the answers you need
Establish Playlists
Captures and curates meaningful data into specialized playlists of key business questions
Identify Business Drivers
Provides critical business insights and trends based on your role, your firm, and your preferences
Easily Communicate Trends
Easily socialize key trends within your organization – and share the answers to top business questions
Get Answers Across Devices
Whether you're talking to Alexa or typing on your desktop, you can access key insights to help your business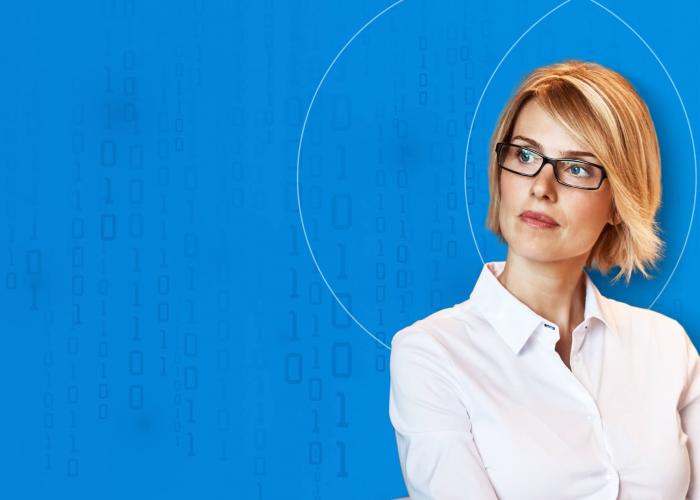 What is Envestnet Intelligence?
It's an omni-channel intelligence tool that leverages AI, natural language processing, and an advanced data analytics engine to uncover key business insights and opportunities for financial institutions.
Data Analytics in Banking
The Most Comprehensive Data in the Industry
With access to de-identified, user-permissioned data from more than 17,000 sources and industry-leading technology, you'll get the competitive edge to take your business to the next level. Envestnet Intelligence is powered by three primary data sources:
1. Held data
Data assets proprietary to your financial institution or siloed in a business unit
2. Held away data
Powerful user-permissioned transaction data via the Envestnet | Yodlee Financial Data Platform
3. Data sets
Timely, accurate and easily delivered in dashboard and conversational interface
Envestnet Intelligence Packages For Your Needs
You can select from three different service packages based on your financial institution's needs and goals.
Engagement: Enables you to measure customer adoption and engagement of data aggregation-based offerings.
Advanced: Allows you to better understand enterprise insights, customer insights, and growth opportunities.
Custom: Enables you to integrate and marry the aggregated data with your financial institution's proprietary data to drive additional insights.
Envestnet Intelligence can help your financial institution identify cross-sell and upsell opportunities, decide how to competitively position products and services, choose which marketing campaigns to run, determine how to segment customers, know how to engage those customers, and more.
Find out how Envestnet Intelligence for Financial Institutions can help you discover unprecedented insights and drive business success.
The Importance of Big Data in Banking and Wealth Management
Any company needs to understand customers and industry trends–whether it's retail, banking, lending or wealth management. The banking and wealth management industries can make educated guesses, build personas, and read the news to attempt to find insights or they can leverage Big Data and Envestnet | Yodlee solutions to uncover what's really happening with their existing customers and consumers as a whole. 
Big Data paired with data analytics help banks and other financial institutions provide more personalized experiences to their customers. For example, by analyzing spending trends and investment patters, banks can recommend products to help the consumer improve their financial health and increase the bank's wallet share. 
Big Data also helps the wealth management and banking industries mitigate risk and detect fraud. By understanding individual consumer spending patterns can help raise a red flag if charges are made that lie far outside regular spending and geo-locations. That charge could indicate that a credit card was stolen and someone is trying to make fraudulent charges. The same types of data can help evaluate how risky it would be to lend a consumer money based on their past behaviors.
Work Smarter With Advanced Analytics
Envestnet | Yodlee boasts the most comprehensive collection of financial data in the market, comprised of de-identified consumer transaction data from millions of de-identified accounts to uncover valuable insights. Our data, apps, and APIs enable you to get up and running quickly, increase efficiencies within your organization, provide better customer experiences and get the competitive edge in this rapidly evolving financial services industry. 
Envestnet | Yodlee will be your partner starting at the first phone call, working with you to craft custom solutions to fit your short and long-term business goals.