Console gamers have not been sitting on the sidelines, patiently awaiting next generation Xbox and PlayStation systems to arrive. Envestnet | Yodlee COVID-19 Spending trends have shown that console spending has continued to maintain high levels throughout the pandemic.
Consumer spending in the media and entertainment sector has revealed interesting trends. While movie theatres and theme parks grapple with social-distancing policies, the gaming industry has reached new audiences and experienced a surge in consumer spending in recent months. Our analysis of spending trends in gaming reveals that console gaming has risen dramatically, with mobile video games trailing not far behind. In fact, consumer spending on console games is trending at levels nearly twice that of those seen in January, before the onset of the pandemic.  
Mobile gaming has benefited in recent years from the proliferation of smartphones and broader availability of games that appeal across all kinds of demographics. Mobile gaming did experience a spike during the week ending April 7 when spending hit 127% of levels observed during the first week of January. However, those levels have steadily decreased since then.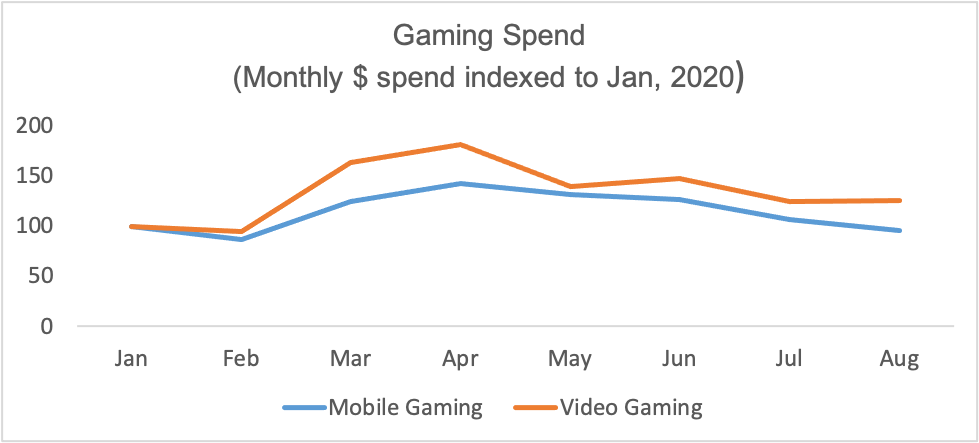 The ability to port games from one console to another, the continued release of game titles ahead of the console launches, and the addition of PC and virtual reality gaming has also led to a broader adoption of gaming.  Sales of video game content reached $10.2 billion in the second quarter, up 28 percent from one year ago. This has been attributed to people spending more time and money on games, as well as using games to connect with friends and family.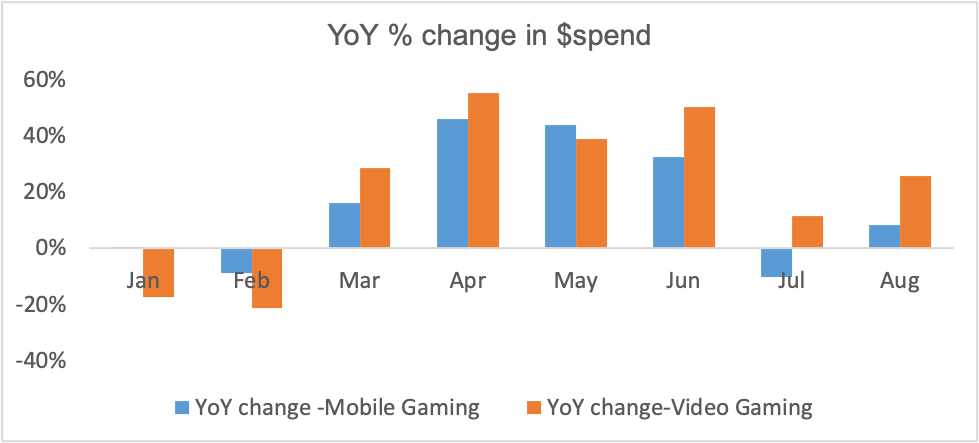 Ticket sizes (the total purchase amount) indicates that most spending is occurring on video game content and not necessarily the purchase of new hardware.
Read more about our COVID-19 Income and Spending trends here.  
Note: Spending on video gaming includes transactions with console brands and video game services/outlets. Mobile gaming refers to transactions with mobile gaming providers, but excludes transactions on mobile app stores/play stores.