Not surprisingly, recent economic conditions have affected consumer behavior this summer. On one hand, consumers are ramping up travel and spending in the latest phase of the COVID-19 pandemic. On the other hand, inflation, global uncertainty, and the possibility of a recession seem to be causing some consumers to curtail their spending. Looking at de-identified Yodlee spend data, we've found some consumer spending trends that may help investors and strategists uncover new opportunities.
Inflation caused big travel purchases to slow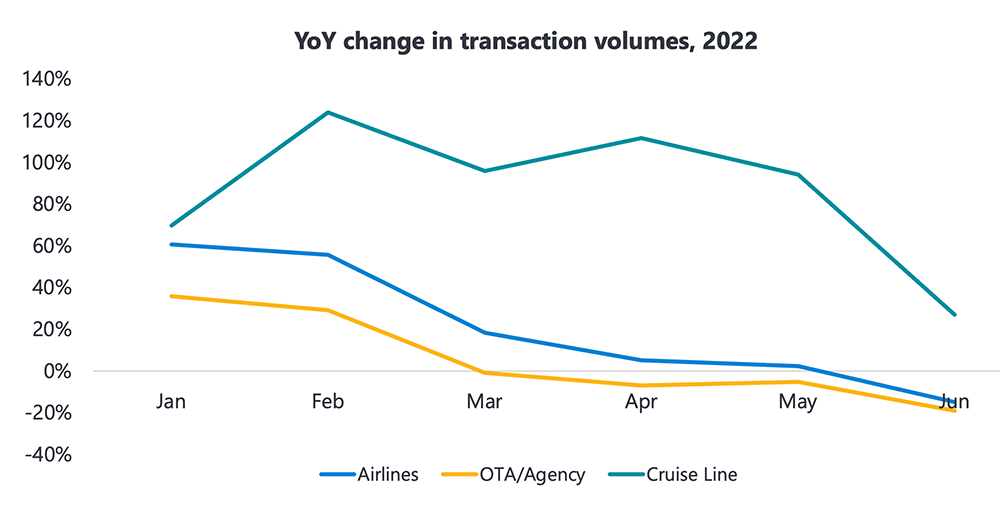 After several years of rock bottom travel spending, many Americans started to imagine and carry out their wanderlust in 2022. That said, for others, rising inflation seems to have caused a change of plan:
Airlines bookings declined by 15% in June 2022, after having experienced 30% growth from the start of the year
Online travel agency bookings also declined year over year in June
While cruise lines were 27% higher in June, growth slowed from May
Car travel has been affected by rising rental prices, low inventory levels, and supply chain challenges
Rental cars and ride sharing have declined YTD as rental prices have increased. In fact, transaction volumes were still 50% below pre pandemic levels, as of June 2022.

Many consumers continue to opt for rental accommodations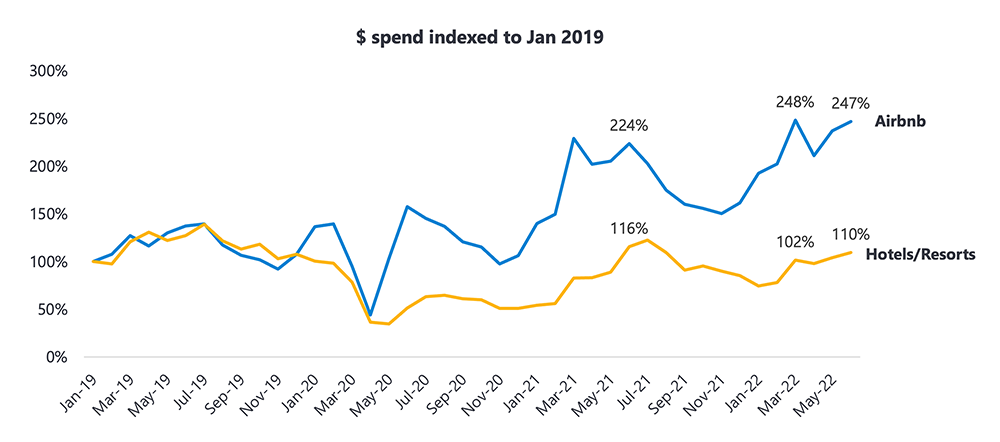 Large hotels and resort properties are competing directly with vacation home rental platforms like Airbnb, where consumer spending has more than doubled from March 2020.
Consumers are eating out less, with full-service dining most affected
While both full service and fast food/quick-service restaurants are affected by reduced consumer spending, the decline has been more dramatic at full-service restaurants. Year over year spending declined 13% in June 2022.
A contributing factor is that eating out has become more expensive. The average ticket size was seven percent higher on the whole, as restaurants have increased pricing to cover a myriad of increased costs.

Movies and live entertainment spending seems to be on an upward trend
While consumers are spending less on activities like full-service dining, in-person entertainment options are still showing strength. In particular, Yodlee data indicates that movie theatres and ticket sales via ticketing apps have experienced significant improvement over the course of 2022.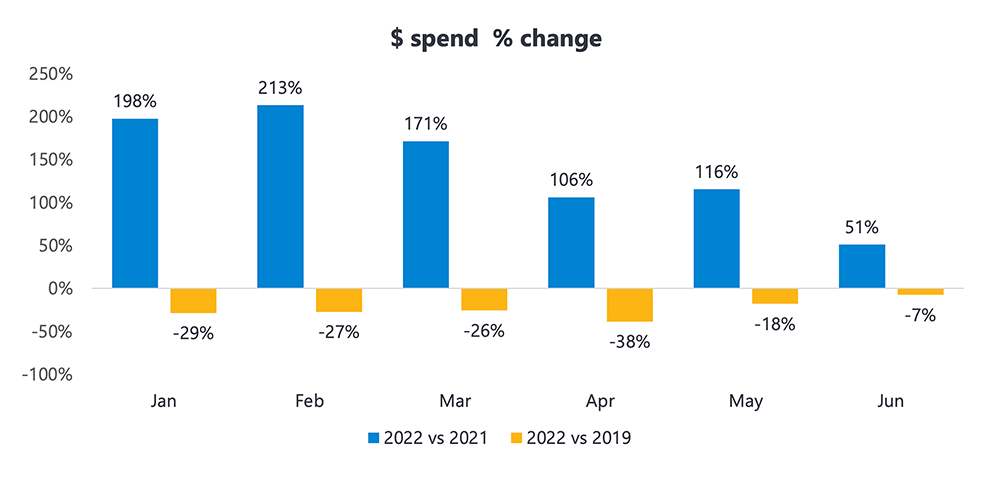 In fact, June 2022 is down just seven percent vs June 2019, indicating a strong outlook as consumers venture out.
Staying home is still a popular way to relax
Streaming services spending has been flat since Q4 2021. That said, market share is shifting with the addition of new entrants, changing viewing behavior, and change in programming mix.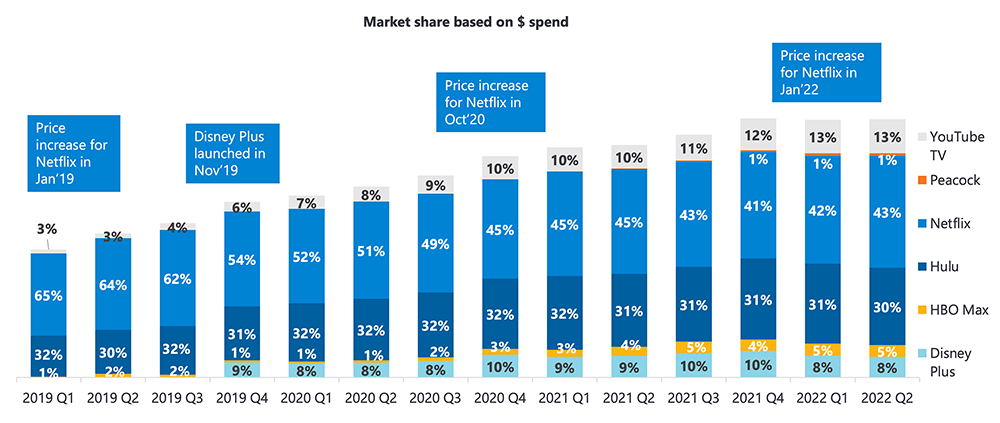 Disney Plus + HBO Max has become a powerful subscription combination.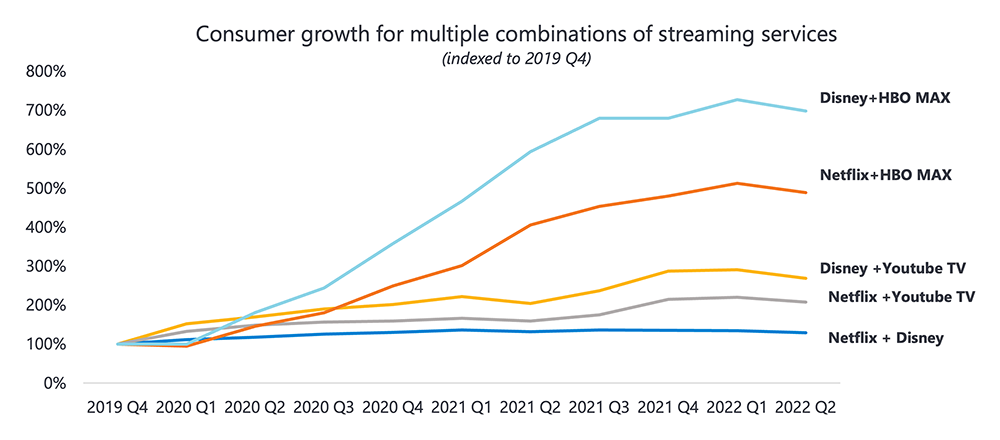 It will be critical to see how the next few months play out as consumers and investors alike react to changes in inflation and the size of the U.S. economy. Keeping an eye on consumer spending habits, such as where Americans prioritize their spending, empowers decision makers to uncover trends early, identify business drivers, and spot opportunities. Learn more about how consumer insights may help your business here.
About Envestnet | Yodlee Merchant, Retail, Shopper, and Spend Insights
Envestnet | Yodlee Merchant, Retail, Shopper and Spend Insights utilize de-identified transaction data from a diverse and dynamic set of data from millions of accounts to identify patterns and context to inform spending and income trends. The trends reflect analysis and insights from the Envestnet | Yodlee data analysis team. By combining data with intelligence – connecting vast amounts of actual de-identified shopping data with state-of-the-art analytics and machine learning – Envestnet | Yodlee provides visibility into an entire set of shopping daily purchase behavior including, but not limited to, transactions, customer lifetime values, and merchant/retailer shares.
To learn more about Envestnet | Yodlee Merchant and Retail Insights and get a free demo, please contact an Envestnet | Yodlee sales representative or visit https://www.yodlee.com/data-analytics/corporate-data