At the onset of the pandemic, consumer spending on both grocery and food delivery services experienced large spikes. Several online grocery purchase platforms reported a massive increase of new customers making their first-ever purchase during the week of March 31. States like Florida, Georgia, North Carolina, Illinois and Pennsylvania saw high growth in new customers opting for grocery delivery. 
In September, Amazon opened its first online-only Whole Foods store in Brooklyn. This move is not surprising, as it aligns with observations by the company on its recent earnings call which pointed to online grocery sales tripling when compared to 2019.
Also in September, Walmart launched a new $98/year subscription service that offers perks such as same-day delivery. Research firm eMarketer forecasts Walmart to account for 6% of all online sales in the United States compared to Amazon's 38%.
Envestnet | Yodlee spending trends data indicates that consumer spending on online food and grocery delivery has doubled since the onset of the pandemic. While the growth has leveled off since experiencing highs in June, it remains elevated compared to 2019.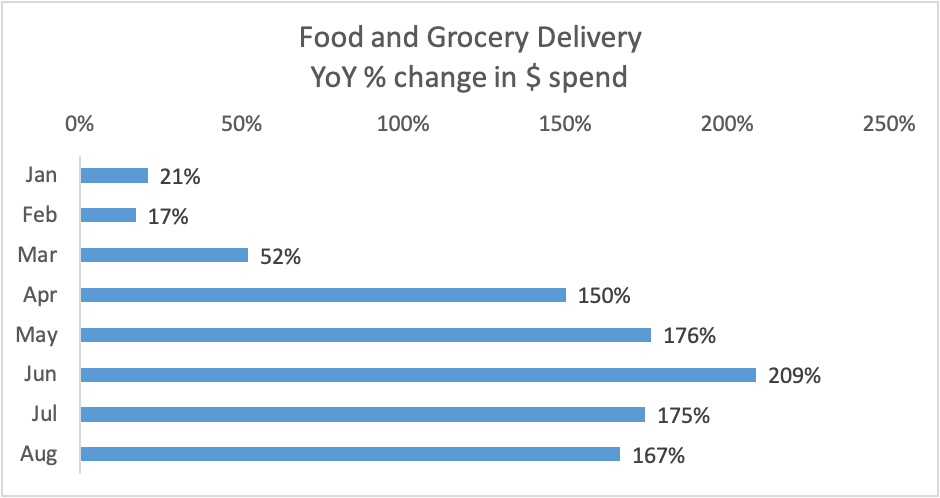 Another unique trend is that customers are going to the store less often, but purchasing more items during their trip (referred to as "ticket size"). This trend is apparent for both online and brick-and-mortar shopping. While ticket size levels have moderated since April), they are still running well above the numbers observed in 2019.