Don't blame the pandemic and streaming for the industry's box office woes
With the Academy handing out the Oscars on March 12, it's an apt time to look at the troubles of the movie exhibition business. Amid the economic upheavals of the past three years, the theater sector has taken a walloping. Cineworld, the world's second largest theater chain by number of screens, filed for Chapter 11 bankruptcy protection last September and let leases lapse on another 39 theaters under its Regal Cinemas banner in February. AMC, the largest chain, has seen its stock price drop by 85% throughout 2022 and in February introduced a plan to scrap the one-price-for-all-seats model that moviegoers have enjoyed for generations; instead, it will charge more for seats with better sightlines.
The direct cause of these financial woes is a dramatic drop since the recent peak year of 2019 in box office revenue. Despite some massive blockbusters last year, including Top Gun: Maverick, Black Panther: Wakanda Forever, and Avatar: The Way of Water, total North American ticket sales for 2022 were just $7.46 billion1, down a third from the $11.24 billion earned in 2019.
Why are moviegoers staying away from the multiplex? It's not inflated ticket prices; in fact, the average ticket price has held steady at a national average of $9.17 for the past three years. It's not COVID; though the drastic 82% drop in box office in 2020 (to $1.99 billion) was certainly due to social distancing, theaters have had two years to lure movie fans back into auditoriums. Nor is it streaming; as you'll see below, Envestnet® | Yodlee® data shows that streaming has, surprisingly, not discouraged moviegoing.
So, what is it? Our research into the spending trends at theaters2 offers some hints. Grab some popcorn and read on.
The Streaming Effect
Many entertainment industry analysts expected the streaming revolution to kill off movie theaters altogether. The major Hollywood studios had long wanted to cut out the theatrical middleman who stood between them and the supposed windfall they'd garner from straight-to-streaming distribution. COVID gave them the excuse to try, but it turned out that revenue from streaming alone wasn't enough to replace revenue from the multiplex, and that a movie's initial theatrical release still boosted all the revenue streams that followed. As Envestnet | Yodlee's affinity analysis shows, it also turned out that people who subscribe to one or more streaming services3 consistently spend more at the multiplex than people who don't.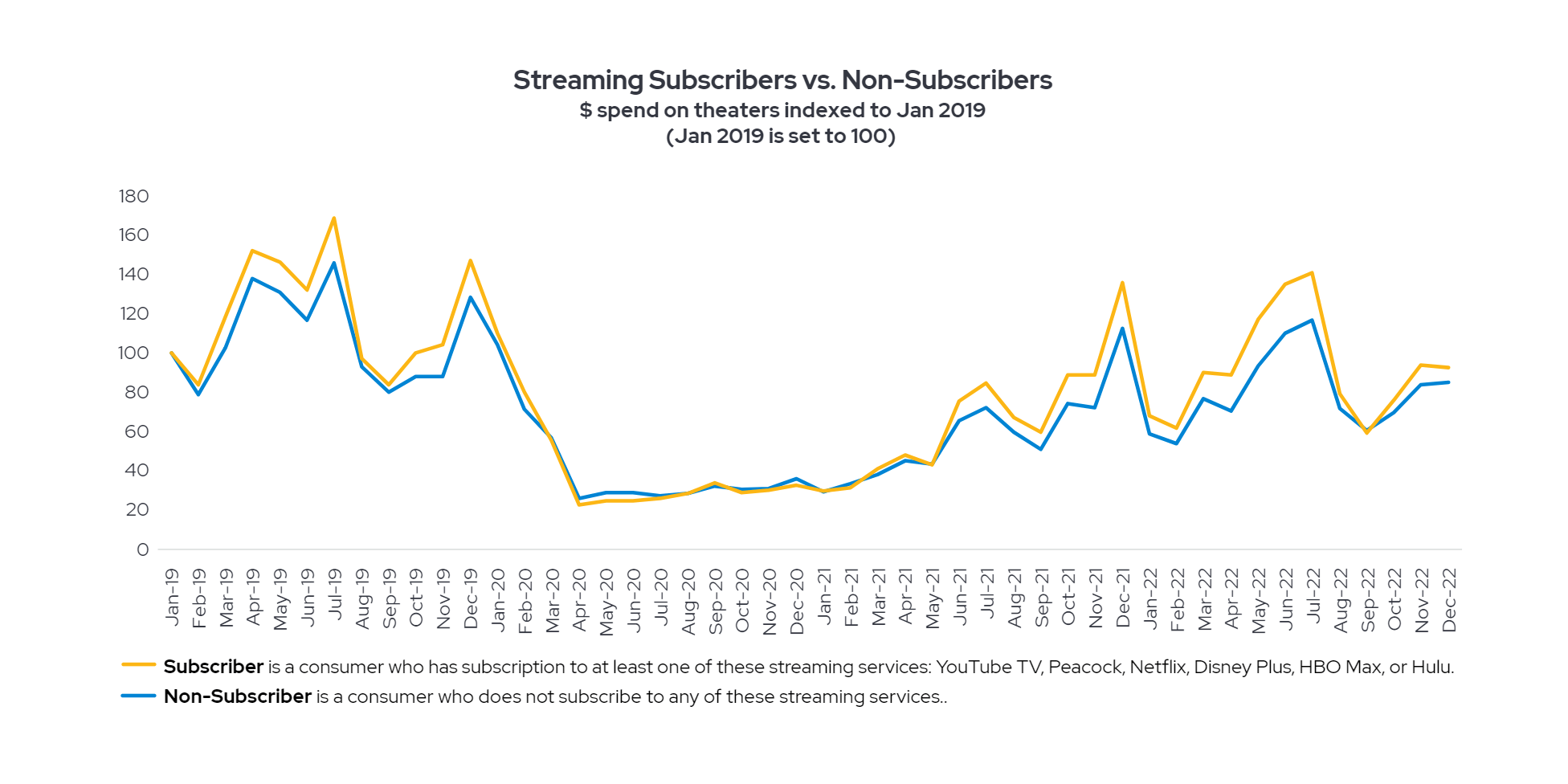 This was true both before and after the most restrictive period of COVID social distancing; only during that period, between March 2020 and March 2021, did streaming subscriber moviegoing fall to the same flat level as non-subscriber moviegoing. It makes sense that streaming customers would also be more avid moviegoers; after all, they likely subscribed because they love movies, and watching them at home may often whet their appetite to see them on the big screen.
Was It Inflation?
Even though average ticket prices haven't risen since before COVID, inflation may still be a factor in theater spending. After all, inflation in other sectors means fans have less discretionary income to spend. Nonetheless, as Envestnet | Yodlee data shows, if you break down consumers by income level, moviegoers at every tier have followed the same moviegoing patterns over the past three years. It's only in the last year that the data show a divergence between the lowest income group and everyone else. The gap was at its widest last summer, when those earning less than $25,000 per year were going to the movies at a little less than their pre-pandemic rate (92%), while everyone else was actually going more, in some cases 43% more. The summer season saw some big hits, including five of the year's top 10 movies, but not even the smash success of Top Gun: Maverick (2022's top earner, at $719 million) could make those with tight budgets feel the need for speed.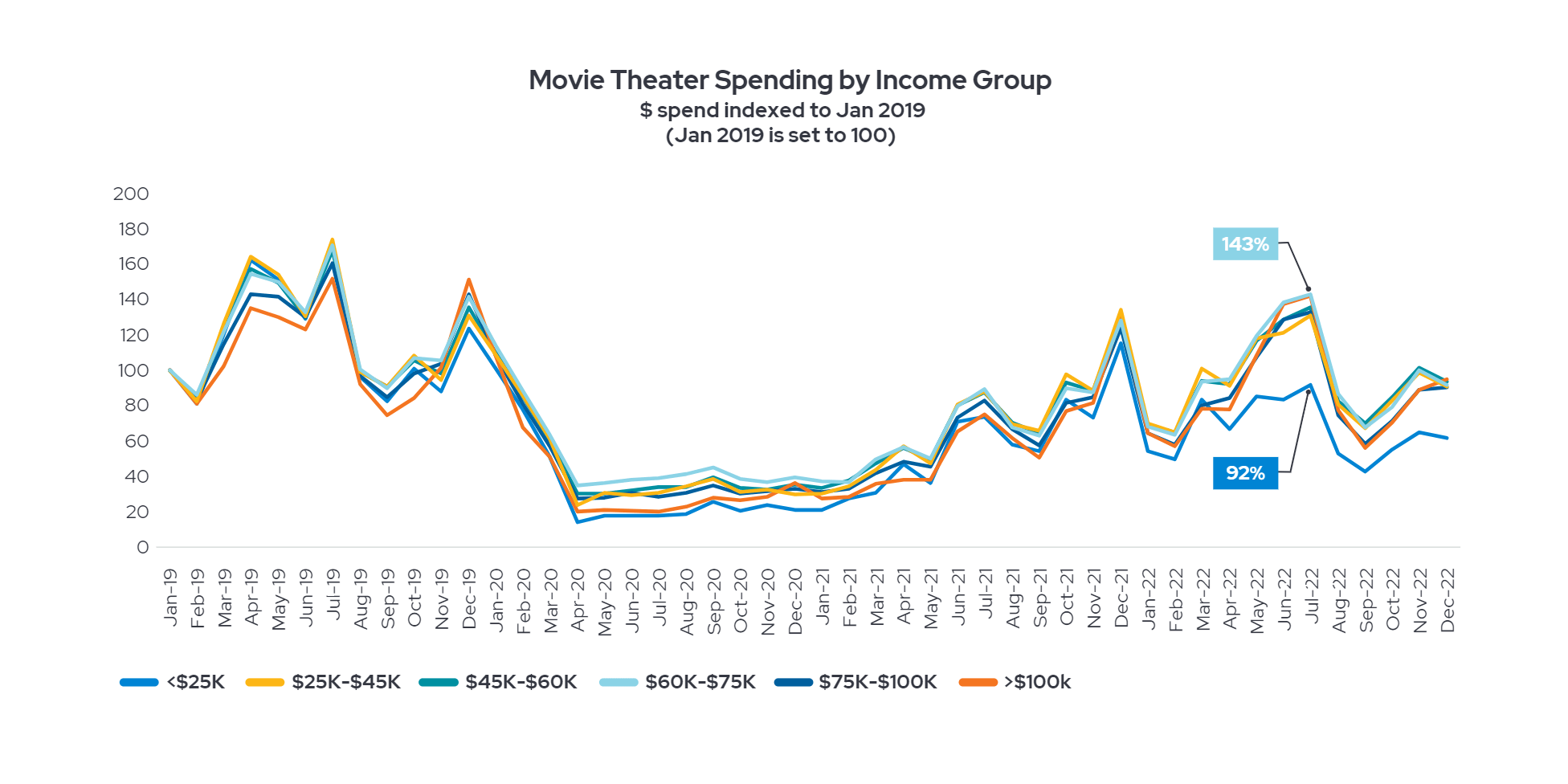 In-Person and Online Ticketing
Consumer spending at theaters has rebounded from its pandemic-era nadir over the last two years, but it has only occasionally returned to or exceeded pre-pandemic levels. Looking at Envestnet | Yodlee's year-over-year data, you can see how dramatically spending dropped throughout 2020, how it started to rebound in early 2021, and how 2022 spending outperformed 2021 until June, when spending started to level off.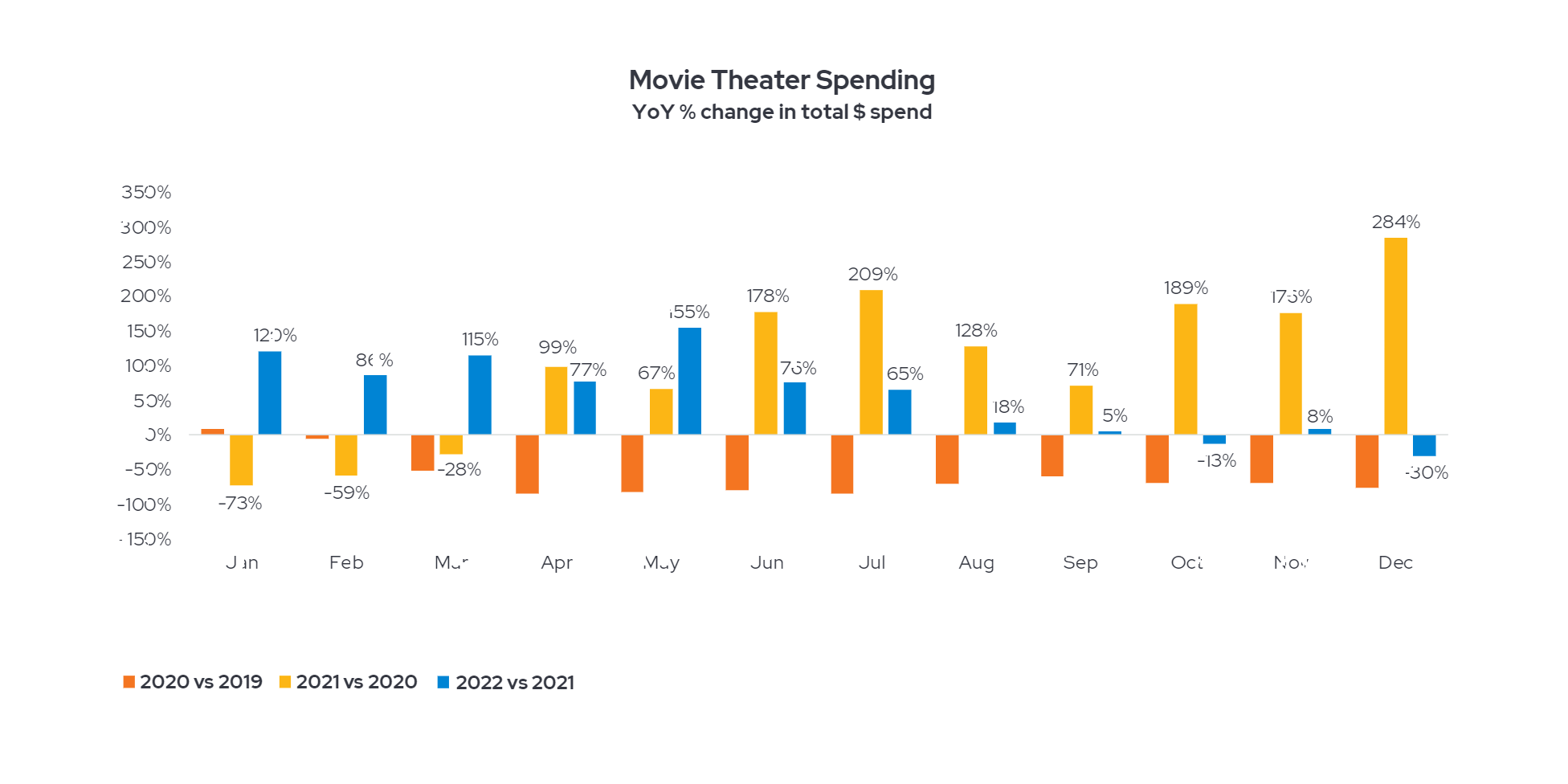 Moveigoers' return to theaters appears even more dramatic when you look at spending via ticketing apps4. During some months in 2021, moviegoers spent up to 20 times as much on advance tickets as they did the year before, with spending finally leveling off on a year-over-year basis starting in June 2022.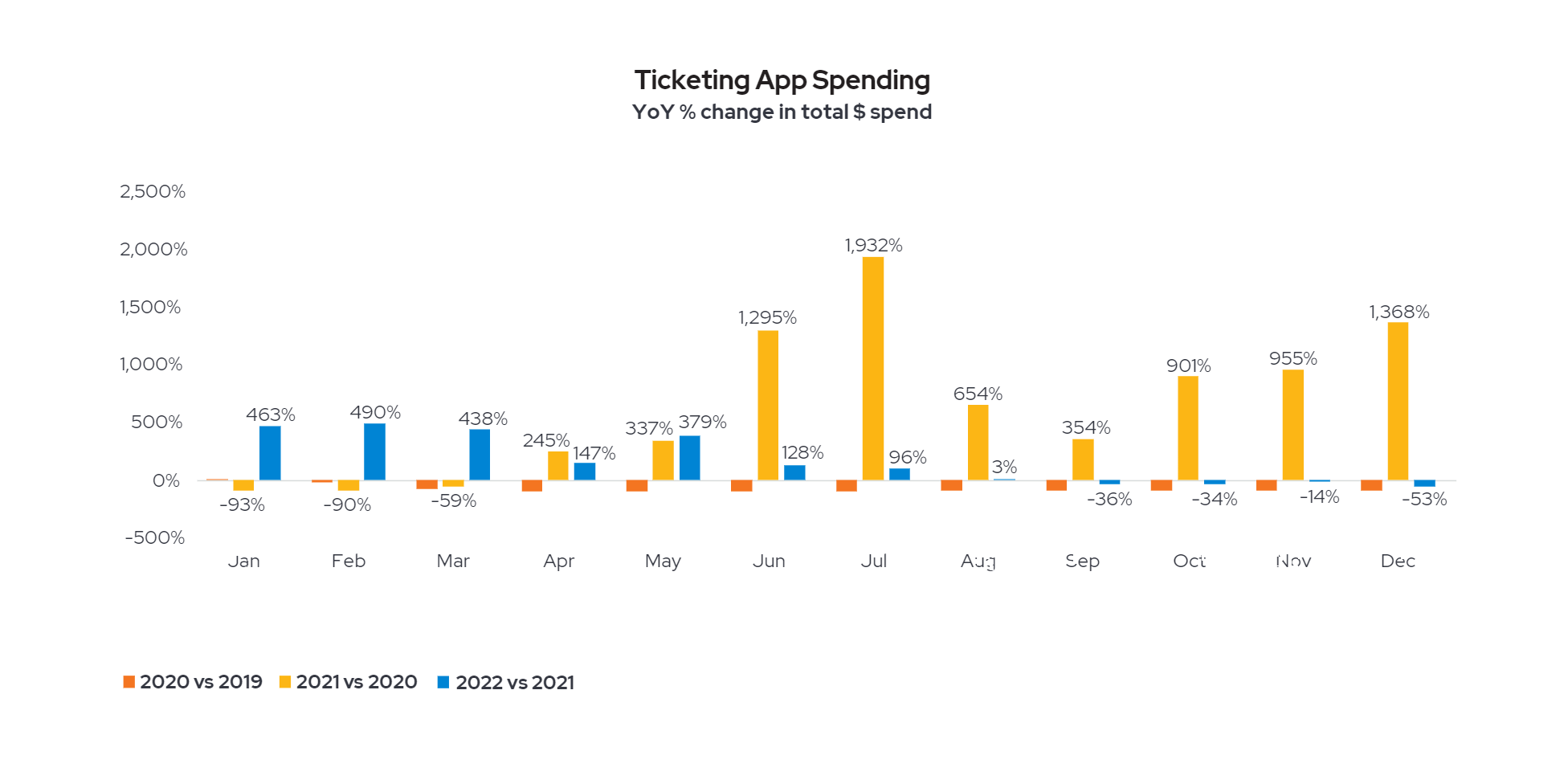 Why the drop-off in late 2022? The simplest reason: fewer hit movies. The last four months of 2021 saw the release of 10 movies that grossed at least $75 million, for a total of $1.87 billion among them. The last four months of 2022 saw just four hits above $75 million, totaling $1.14 billion among them. The dearth of blockbusters last fall accounts for a $730 million drop in year-over-year revenue all by itself.
Projected Earnings
But it wasn't just a shortage of blockbusters. It was a shortage of movies in general. That seems to be the main reason theaters aren't as full: there's not enough product.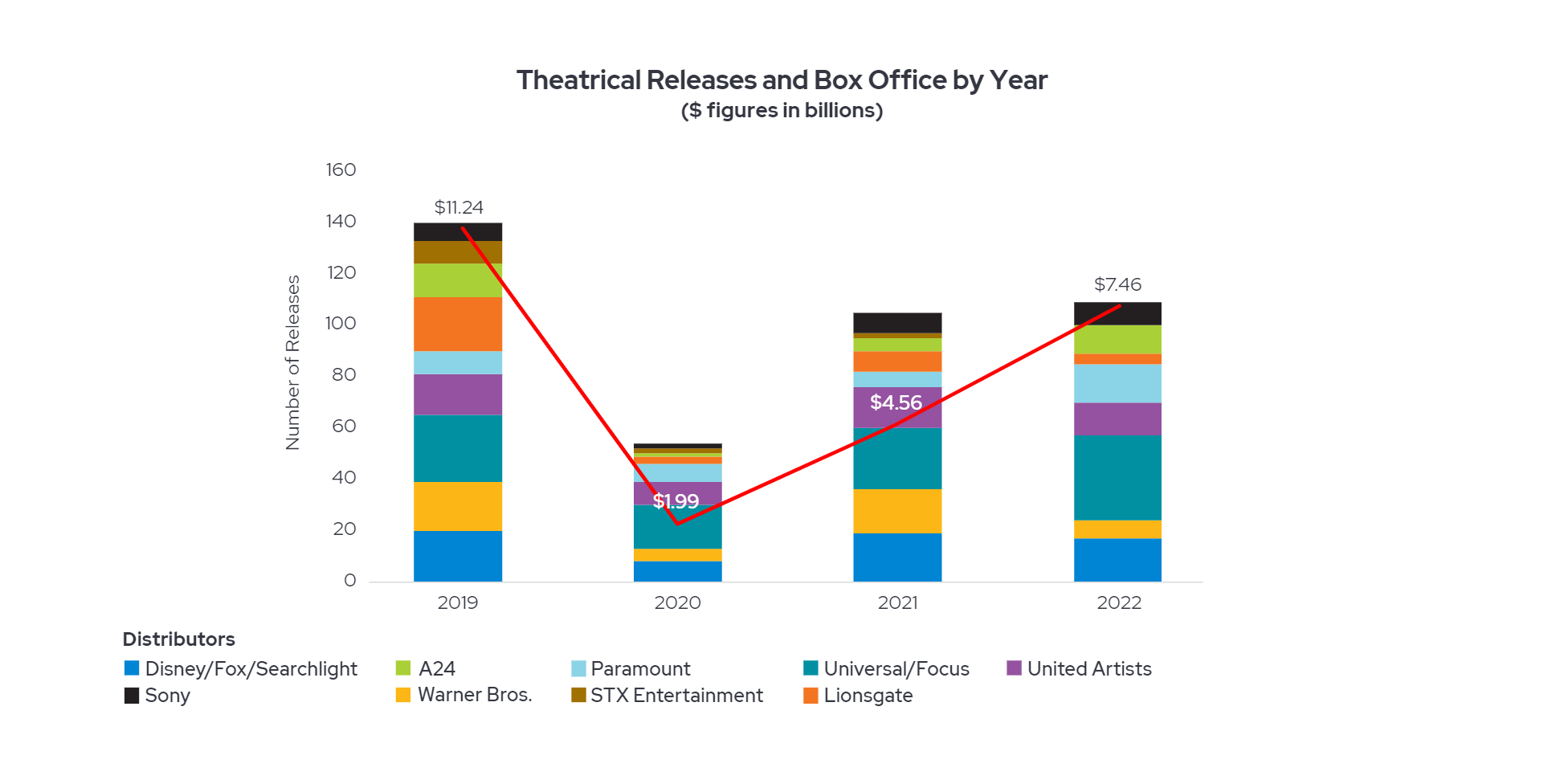 In 2019, before the pandemic, the major Hollywood studios and independent distributors sent 140 films into wide release in North American theaters. During the pandemic year of 2020, these distributors issued just 54 wide-release movies. Production nearly ground to a halt, though there were still enough shelved movies awaiting release that 2021 saw a rebound to 105 wide releases. But in 2022, the number edged up only slightly, to 109. The box office rebounded accordingly, but at a slower rate. 2022 saw 78% as many wide releases as in 2019, but they earned only 66% as much. So the average wide-release movie is grossing about $12 million less than it did before COVID. Since ticket prices haven't changed, the problem seems to be one of both quantity and quality. There aren't enough movies reaching the big screen, and not enough of those that do are ones people eagerly want to see.
Unfortunately for the theaters, Hollywood is suffering from similar supply chain issues to those of other industries. The 2020 production shutdown has been slow to reverse, and the industry isn't expecting the pipeline of new movies to return to pre-pandemic levels until 2025. Until then, theaters will have to keep toughing it out and keep waiting for the occasional action hero to help fill seats.
About Envestnet | Yodlee Merchant, Retail, Shopper, and Spend Insights
Envestnet | Yodlee Merchant, Retail, Shopper, and Spend Insights utilize de-identified transaction data from a diverse and dynamic set of data from millions of accounts to identify patterns and context to inform spending and income trends. The trends reflect analysis and insights from the Envestnet | Yodlee data analysis team. By combining data with intelligence – connecting vast amounts of actual de-identified shopping data with state-of-the-art analytics and machine learning – Envestnet | Yodlee provides visibility into an entire set of shopping daily purchase behavior including, but not limited to, transactions, customer lifetime values, and merchant/retailer shares.
To learn more about Envestnet | Yodlee Merchant and Retail Insights and get a free demo, please contact an Envestnet | Yodlee sales representative.
Footnotes
1All box office data in this article comes from the-numbers.com.
2Theater chains tracked include Harkins Theatres, Rave Cinemas, Santikos Entertainment, Alamo Drafthouse Cinema, Century Theatres, Regal Cinemas, IMAX Corporation, AMC Theatres, and Cinemark Theatres.
3Streaming services monitored include YouTube TV, Peacock, Netflix, Disney+, HBO Max, and Hulu.
4Ticketing apps tracked include Fandango, Moviepass, Atom Tickets, and Movietickets.com.