When the going gets tough, the tough open a brokerage account. Well, that's not exactly the saying, but that seems to be what is occurring across the country as the pandemic has set in. According to Envestnet | Yodlee spending trends data, new online brokerage accounts were opened at very high rates in March 2020, compared to the previous month.
Interestingly this phenomenon has occurred across all income groups, as shown from our Envestnet | Yodlee COVID-19 Income and Spending Trends. From those with an annual income less than $35,000 to those making more than $150,000, online brokerages are surging in popularity. The trend has continued at an elevated level versus the prior year every month since March.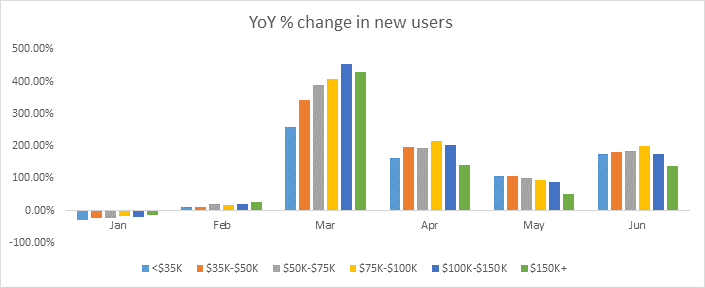 A recent Wall Street Journal article noted that roughly 260,500 retail accounts opened via the E*Trade platform in March, exceeding numbers from a typical year. Other online brokerages also benefited from the retail investing surge in signups and trading according to our data.
It's worth noting that not all income groups are investing in the market at the same rate. Based on surveys by the United States Census Bureau after the stimulus, those with an annual income of less than $25,000 indicated they would be using their check to pay expenses. Based on our data, those in the $35,000-$75,000 annual income segments focused on a combination of savings and paying bills, but also traded securities through their brokerage accounts. (See chart below)
Use of Stimulus Check by Income Group ($35k - $75k)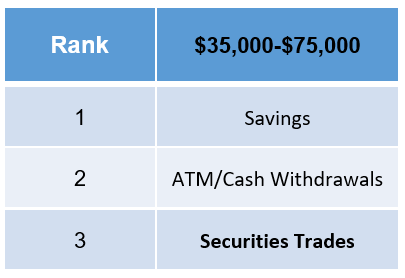 To view more trends, visit our COVID-19 Income and Spending Trends web page.