For the fifth straight year, Amazon Prime Day created excitement among consumers with discounted offerings for customers opening their wallets at the cloud cash register. While Amazon has not yet self-reported a final tally, according to Envestnet | Yodlee data, the event was a success, leading to an average spend per customer (or "ticket size") of $76 during the event versus $74 a year ago.

The increase in average spend is a bit surprising given the uncertain economic environment caused by the COVID-19 pandemic. Digging further into the data provides an interesting observation: the growth in ticket size was more modest compared to previous years, but the average number of transactions per account for the two day period was up 128% from last year.  This increase in spend seems to align with reporting by credit card companies in recent weeks –consumers are spending, but making an effort to stretch their dollar further.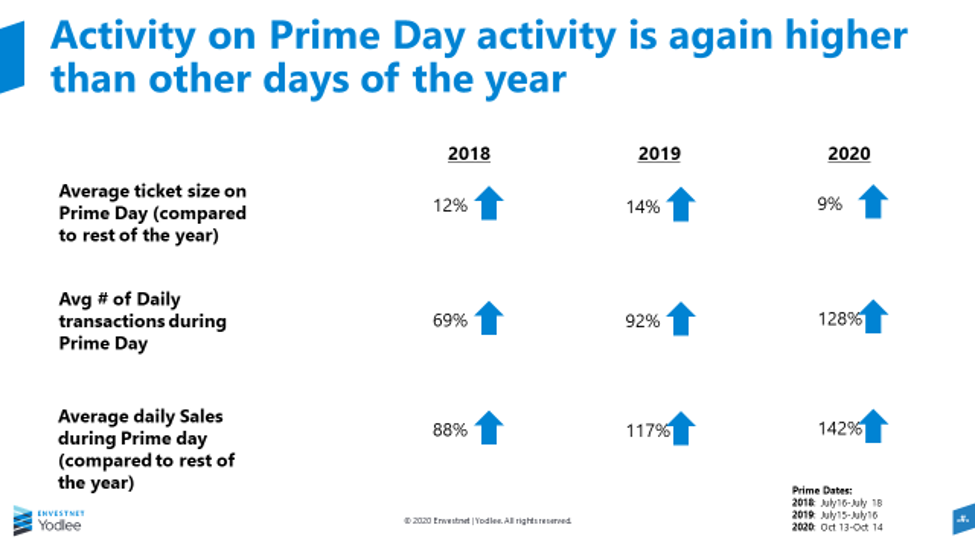 Envestnet | Yodlee data indicates that consumers did use this opportunity to shop, as sales were up 142% over other days in the year. According to NBC News, categories that fared well on Prime Day included wellness products and personal tech, like earbuds.
Also of note, the number of customers involved in Prime Day rose 50%, according to Envestnet | Yodlee compared to 2019. This exceeds the 28% increase in customers involved in Prime Day from the prior year. 
Prime Day also appeared to have set off a round of sales at other retailers who jumped in with their own promotional activity. These retailers also saw a boost on these days versus other days in the year. Given that Prime Day fell later on the calendar than in previous years (October 13-14 vs July 15-16), the sales are expected to continue into the actual holiday season.