As the global COVID-19 pandemic took hold in the United States in early 2020, both grocery and food delivery services saw huge increases in business. Several online grocery purchase platforms saw a 6x increase in new customers making their first-ever purchase during the week of March 31. States like Florida, Georgia, North Carolina, Illinois and Pennsylvania saw particularly high growth in consumers opting to have their groceries delivered for the first time. 
Throughout the summer of 2020, food delivery services remained popular and spending continued to remain more than 100% above 2019 levels.
In addition to the food delivery, platforms that delivery groceries have remained  in high demand for transactions has now come to the public market. On March 2, on-demand grocery delivery platform Instacart announced it had raised $265 million of funding from existing investors. In a blog post announcing the news, the company expressed its intent to grow headcount 50% this year, as well as to continue to scale and invest in its business.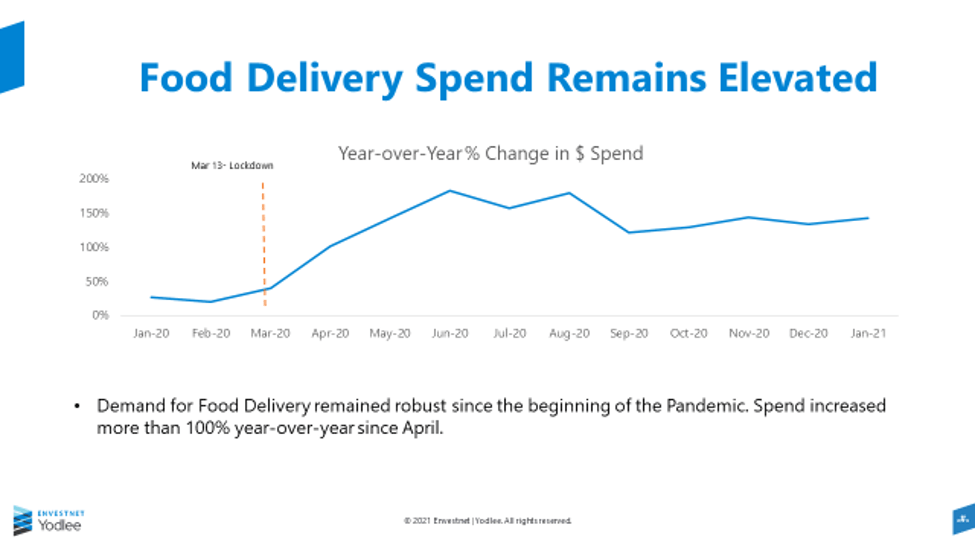 While food delivery services continue to grow, restaurants have endured the past few through fits and starts. Due to a series of uneven reopenings nationally, the industry as a whole has not yet recovered to levels observed in 2019 and many remain closed.  Many restauranteurs look forward to a time when people will be comfortable dining inside safely.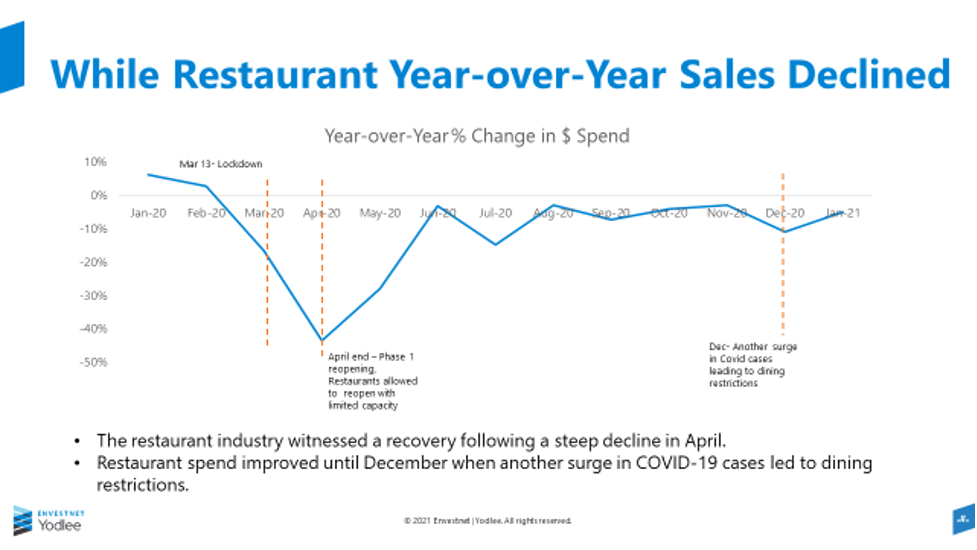 Envestnet | Yodlee's Income and Spending trends conducted an analysis of spending at the largest 100 restaurant companies and compared those numbers to smaller chains and standalone restaurants. For clarification, the trends include spending on both company-operated and franchise-owned restaurants.  Smaller restaurants experienced an increase in spending during Fall 2020.
An analysis of the industry in the beginning of 2021 indicates that larger chains have fared better as a whole when compared to smaller restaurants.