During the early months of the COVID-19 pandemic, Envestnet | Yodlee's Income and Spending trends noted an increase in consumer buying in large format retail which led to certain stores being overrun with customers. Spending at these retailers spiked as customers feared store closures and supply shortages. However, a myriad of factors including, increased pressure for social distancing coupled with reduced store hours caused stores to limit the number of individuals that could enter at any one time.  As these restrictions have eased across the country in recent months and protocols have been put in place in large format retail stores, spending has trended back toward 2019 levels.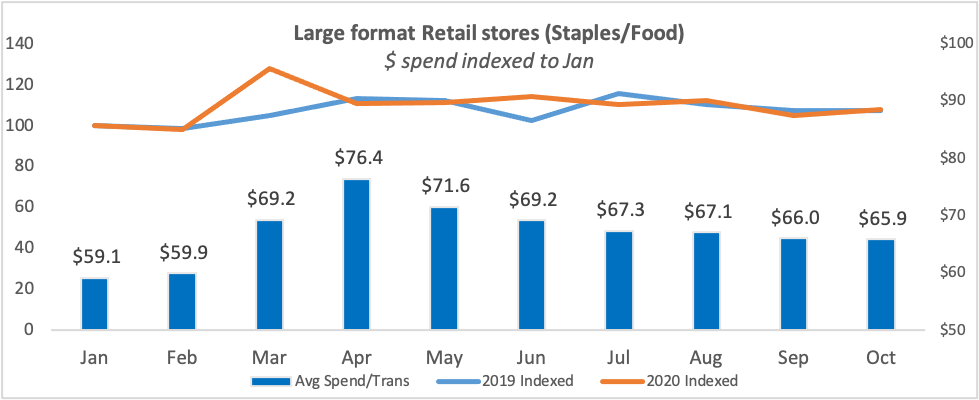 While average monthly spending has normalized, the basket mix has shifted, as essential purchases continue to drive transaction sizes up at large format retailers across the country.
In response to the virus, stores are expecting to be more controlled and tactical than ever before when comes to sales and pricing. For examples, in order to avoid a rush during Black Friday throughout November, Target has been running sales and encouraging customers to reserve spots in line ahead of time to avoid a crush of people near the door
Customers are quickly warming up to online food shopping
Both grocery and food delivery services saw huge volume increases since the beginning of the pandemic. Spending on these services remains more than 100% higher than levels seen in 2019. According to research by restaurant.org, the strength in "off-premises eating" like take-out and delivery, is expected to continue over the next several months. In particular, Millennials and Gen-Xers are most likely to enjoy their food outside of the traditional dine-in experience. Other groups likely to increase their usage of take-out and delivery services were urban residents and high-income households.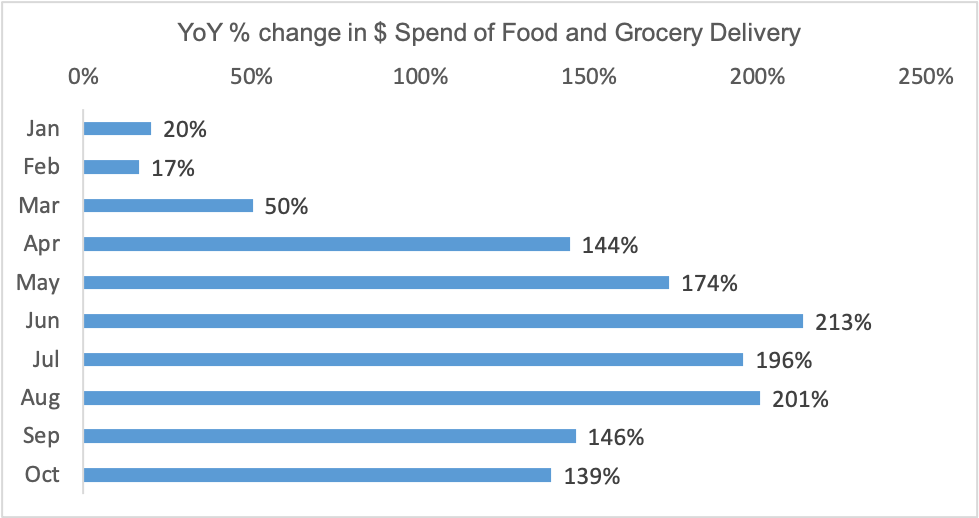 Looking at the same spending levels on an indexed basis, it is evident that spending in the food delivery industry shows little sign of abating.