Recreational Vehicles, or RVs, allow for an individual or group to hit the road with all the comforts of home in tow. The market for RVs experienced a surge in demand this past summer as months quarantined at home and concerns about the potential hazards of travel led would-be vacationers to rethink their travel plans and incorporate RVs. RV travel allows vacationers to create customized plans and better control their personal living environment through social distancing, all while having access to amenities they wouldn't have to share with other travelers.
The RV-rental website RVshare says a survey of consumers in the United States shows demand for RV rentals will remain strong in 2021. In its Travel Trends Report, the study indicates that since May 2020, RV rentals have seen an increase in popularity, especially among first-time renters, with almost 80% of RVshare's 2020 bookings made by new users.  Envestnet | Yodlee COVID-19 Income and Spending Trends data indicates a significant spike in rentals since May 2020, up by more than 100%, and peaking in the warmer summer months.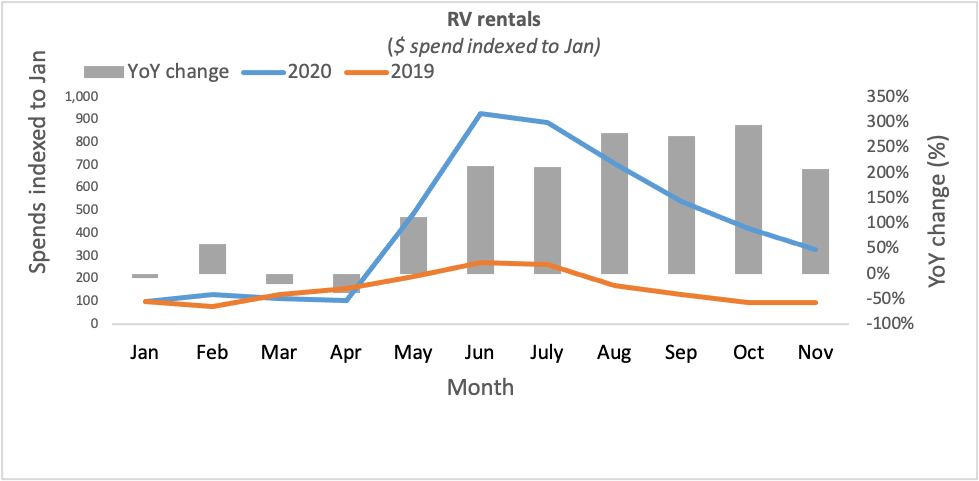 Interestingly, demand has been consistent across income groups. Historically considered an inexpensive way to travel on a sightseeing trip across the country, flexibility has been key for travelers in 2020. Situations like transporting elderly parents with less risk has become more commonplace for higher income groups. In addition, The Travel Trends Report indicated a greater interest from millennials in renting RVs in the year ahead.
In addition to renting, the demand to purchase vehicles is also on the rise. Wholesale RV shipments are forecasted to gain nearly 20 percent to 502,582 units in 2021 after totaling 423,628 units in 2020, according to the RV Industry Association.
While data showed a decline in rentals of RVs through the Fall, a new wave of stay-at-home orders may also lead to a curb in visits to campgrounds and RV parks. In some states, there are regulatory mandates in order to keep these areas open, but it remains to be seen what the Winter has in store.