Envestnet | Yodlee is tracking how the current public health crisis and economic climate is impacting several industries in the United States. We are looking at both national and regional implications of the COVID-19 pandemic through broad income and spending trends of Americans.
Throughout the first three weeks of March many large retailers selling groceries and consumer staples were overrun with customers, leading to a brief spike in spending compared to the same period of time in 2019.
However, as the COVID-19 pandemic has intensified, a myriad of factors including increased social distancing, reduced business hours and product shortages have led to subdued demand. Essential purchases continue to drive transactions at large format retailers across the country, although foot traffic, or "footfalls", has decreased during the first two weeks of April.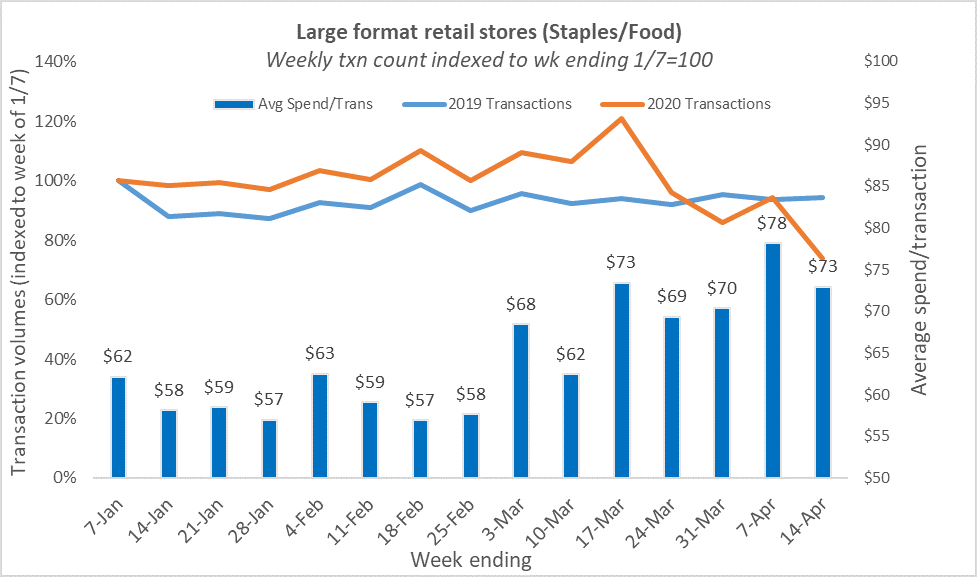 Customers are quickly warming up to online food shopping, at least in the near term
Both grocery and food delivery services have seen large increases in transaction volume. Online grocery purchase platforms are seeing surges in new customers making their first ever purchase. States like Florida, Georgia, North Carolina, Illinois and Pennsylvania have seen particularly high numbers of new customers opting for grocery delivery.
Food delivery services are popular and still growing. While the industry as a whole has seen slower growth rates in the first two months of 2020 than in 2019, March brought a surge in new customers and increased consumer spending on food delivery. The last week of March saw two times the number of customer signups compared to the same week in 2019.