As the United States has bounced between planned openings and closures, businesses which rely on consumer interaction have had to adapt to keep up. To truly observe the experience, one need not look further than traditional malls across the country. Many stores have adhered to regulations that require a reduction in hours, reduced occupancy, and other restrictions to help prevent the spread of the COVID-19 virus. The overall mall experience has also been affected as movie theaters remain closed and food courts are only able to provide limited takeout or delivery service. Concerns raised that malls generally do not provide sufficient air flow have also led regulators to require new filtration systems and other retrofitting measures for public safety.
Department stores, long considered the anchors of shopping malls far and wide, have been hit hard as mall shopping has been at a near standstill since March. The temporary closures brought to light the fact that many merchants were simply unprepared for the change in consumer spending habits that ensued after the pandemic hit.
Envestnet | Yodlee's analysis of spend for department stores including Kohl's, Macy's, Neiman Marcus and others indicated the severity of the decline occurring most in April and May. Industrywide, sales at department stores fell 47%. According to census.gov, merchants at department stores and apparel retailers indicated a 43% decline in business. This aligns with our spending trends data from April. The factors played out for several anchor tenants including both Neiman Marcus and JCPenney filing for bankruptcy within a few days of each other in early May.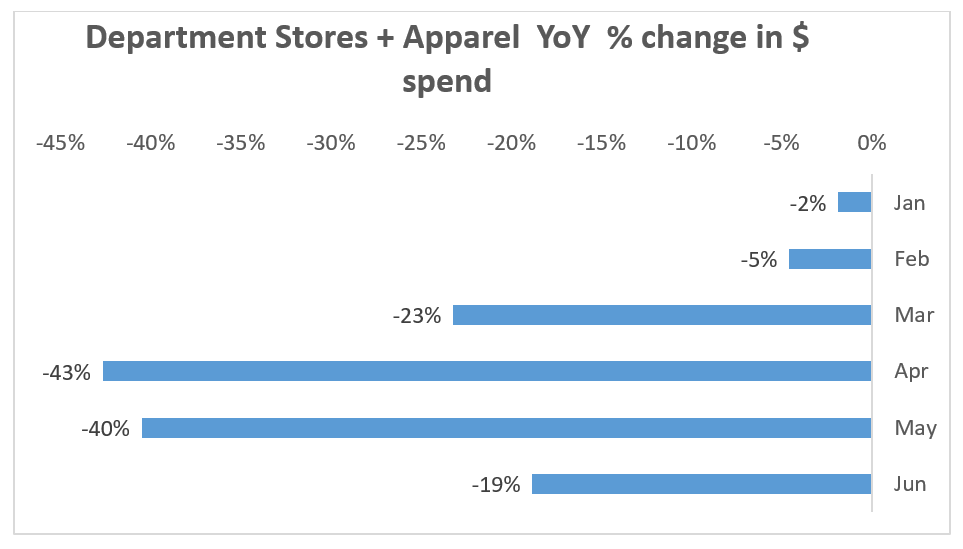 For more insights, visit our COVID-19 Income and Spending Trends homepage.