During the global COVID-19 pandemic, subscriber growth across many of the streaming entertainment providers has steadily climbed. As noted by CNBC, the second quarter of 2020 proved to be transformational for the business of streaming services, with consumers digesting an unprecedented volume of content and signing up for services at a rapid pace. Interestingly, as Envestnet | Yodlee's COVID-19 Income and Spending Trends indicate, rather than slowly sign up one at a time, consumers added multiple streaming service subscriptions, with the highest percentage of subscriber growth observed in June 2020.
In more recent months, streaming outlets have continued to experience growth. It should be noted that some of these subscriptions come via bundles or one-time promotions and partnerships, which may be more difficult for our data analysis to track.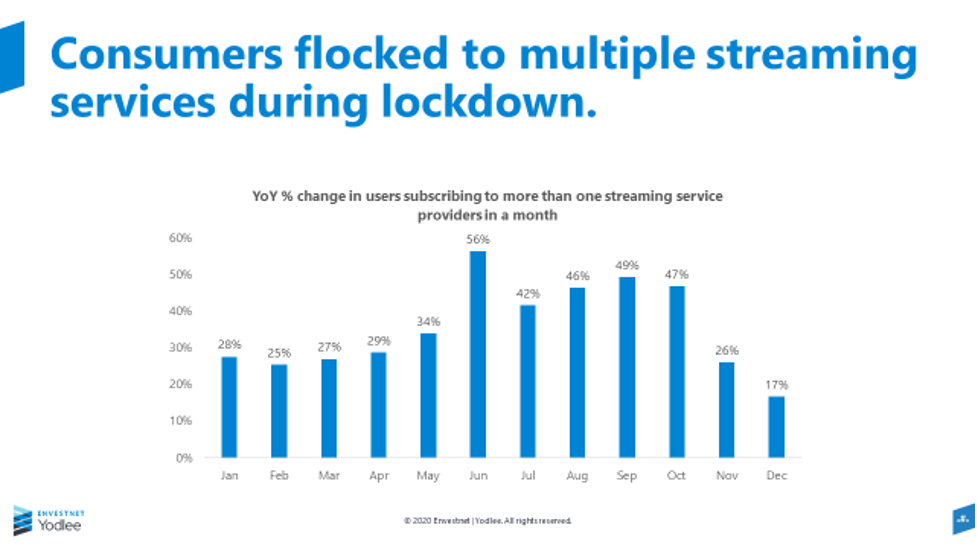 The proliferation of paid and unpaid subscription streaming services has translated to subscribers signing on to multiple services in recent months, as indicated by media sources and consumer surveys which have taken place both nationally and globally.  According to NPD's TV Switching Study, the average consumer used seven streaming or "video-on-demand" services. That's up from five in April 2019. Clearly, Americans have upped their TV and movie bingeing during the pandemic.