Amidst the most unique holiday season in recent memory, Envestnet | Yodlee's COVID-19 Income and Spending Trends sought out to observe how holiday shopping has differed this year compared to previous years.
Spending on clothing has been steadily improving throughout the year, although even as the holiday shopping season is in full swing, it is still trending lower than 2019 due to a variety of reasons, ranging from shorter store hours to a slow economic recovery.  According to a survey by the National Retail Federation and Prosper Insights & Analytics, consumers spent less than $312 on average during the five day stretch from Black Friday and Cyber Monday as increased online shopping was offset by fewer visitors to physical stores.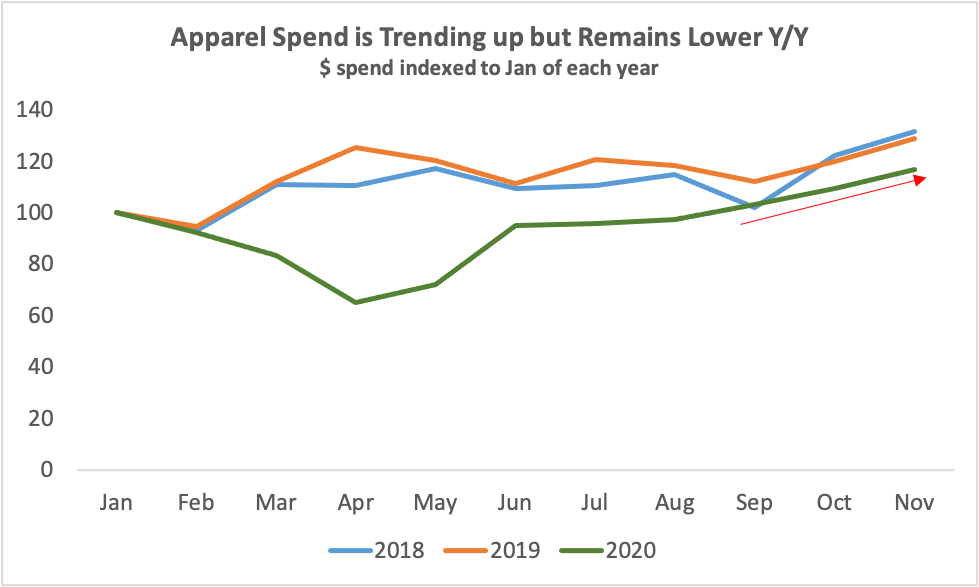 Many state and local governments have imposed new public health restrictions on businesses, while some consumers are deliberately avoiding shopping malls, restaurants, and bars.  There have been numerous examples of companies who had already built out an online e-commerce strategy prior to COVID-19 and initially weathered restrictions at the onset of the pandemic (see April and May below).  Even as stores reopened throughout the summer, online spending remained elevated.

That said, the Wall Street Journal reports that some retail spending is defying economic gravity as holiday shopping ramps up. Consumers are "trading up" according to industry executives and research firms and buying goods from more expensive, premium brands. Usually in economic downturns, typical consumer behavior is to downgrade to less expensive items, which occurs across income groups. Neiman Marcus, which emerged from bankruptcy in September, has also attracted "entry-level" consumers who rarely, if ever, shopped with the luxury chain before COVID-19. To appeal to these consumers, the retailer recently announced a partnership with payments company Affirm to offer installment payments of 6 to 36 months with no extra charge.  
So while consumers may not be able to splurge this holiday season at upscale restaurants, they may very well be substituting that effort into purchasing luxury retail goods instead.