In a recent financial survey, 70% of Americans reported being stressed about their personal finances.1 In another survey, 60% of all U.S. adults, including more than 4 in 10 of high-income earners said they were living paycheck to paycheck.2 As inflation and rising interest rates threaten consumers' savings, financial institutions and FinTechs have an opportunity to step in to clarify consumers' finances and support them on the path toward financial wellness. Transaction data enrichment and transaction categorization can help.
What Is Transaction Categorization?
Transaction categorization is when the purpose and context of a transaction is identified and the transaction is grouped with other similar transactions. When transactions are categorized and the data enriched, it becomes easier to understand, analyze, and effectively use the data.
Why Is It Important and What Are The Benefits?
Transaction categorization and data enrichment can help consumers to better track their spending and income, stay on top of cash flow, and set savings goals. The data also generates insights and analytics that can be used to make strategic business decisions that deepen customer engagement.
Greater Clarity for Informed Decisions
High-quality, enriched and categorized transaction-based data is key to gaining a clearer picture of customers. Data-driven insights equip financial service providers to make strategic decisions on product innovations, product offers, marketing efforts, business growth, personalization, and more.
Enhanced User Experience
Categorized transaction data can enable financial service providers to gain deeper insights into consumers' needs and preferences. These insights can inform financial planning, drive specialized consumer offerings, and power high quality, personalized experiences. Enriched and contextualized transactions-based data can also help consumers understand and recognize their transactions, which can reduce support tickets.
Fast and Seamless
Artificial intelligence and machine learning quickly identify certain keywords and phrases in transactions, so they can be assigned to defined categories. Without data science and machine learning capabilities, businesses would need to go through and interpret transactions manually, which is cost prohibitive, slow, and nearly impossible, given the rapid acceleration of data.
Transaction data enrichment and transaction categorization can help to streamline data management. It can also reduce fraud research and consumer call center activity associated with ambiguous and messy data.
How Does Data Categorization Work?
Envestnet | Yodlee's data categorization service categorizes transactions based on context, rather than simple keywords. Artificial intelligence and machine learning enable speedy and accurate analysis based on predicted transactional categories.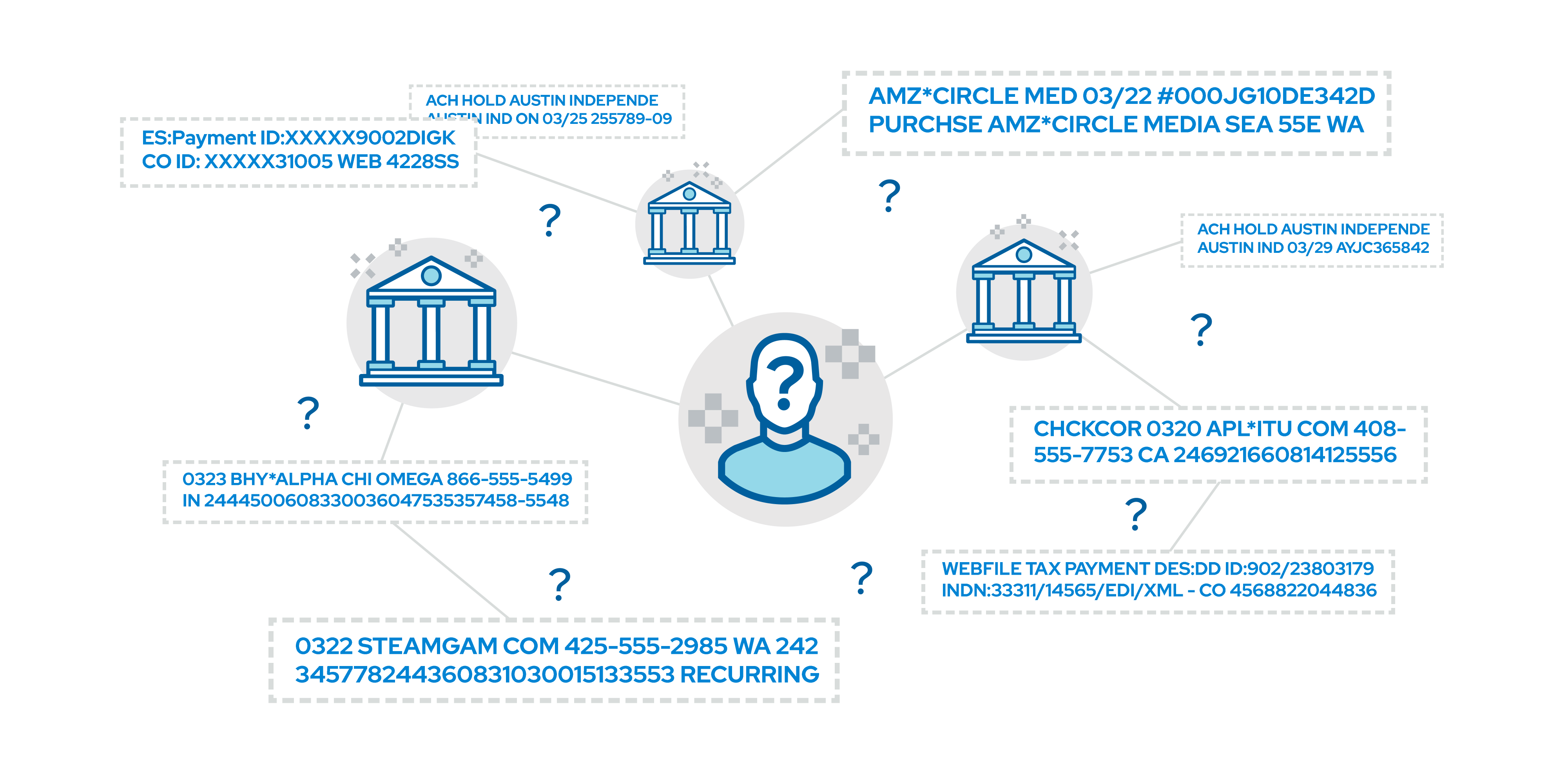 Envestnet | Yodlee Transaction Categorization
As part of our Transaction Data Enrichment service, transaction categorization enables users to view and filter transactions by category to gain deep insights into spending patterns and behavior. See transaction categorization use cases on our Developer Portal.
Our aggregation process incorporates over 17,000 data sources, touches over 37 million paid users, has over 400 million linked accounts, and supports more than 1,800 firms. As part of the Envestnet ecosystem, Envestnet l Yodlee is uniquely positioned to offer comprehensive data coverage -- holistic, broad, and deep.
Learn how Envestnet | Yodlee's solutions can help drive value and savings with our aggregator switch kit.