Over the past 17 years, Envestnet® | Yodlee® has enabled financial institutions and fintech developers to create innovative digital banking experiences that help consumers manage their personal finances, get loans, move money or receive investment advice. Today, we're excited to be part of the next wave of fintech innovation, powered by data intelligence.  Our patent-protected data science techniques empower our customers to provide personalized and outcome driven financial management experiences to their consumers. We believe this type of technology will be critical for financial service providers to remain competitive. Why? Because as the digital marketplace ecosystem has evolved, consumer expectations have also grown. There is an expectation that financial service providers keep pace with the likes of Amazon, Google and Uber. Consumers are looking for personalized, intuitive and forward-looking experiences that help them meet their financial goals. Data analytics will be foundational to building these types of experiences. The new Envestnet | Yodlee Personal Financial Wellness Solution leverages our data science techniques including machine learning and artificial intelligence, to deliver a context-rich, actionable suite of apps and APIs developed for financial institutions and fintech developers. Now that I've given an overview of our underlying technology, I'd like to introduce you to a couple of the apps and how they help consumers organize their day-to-day finances and stay on top of their savings.
OK to Spend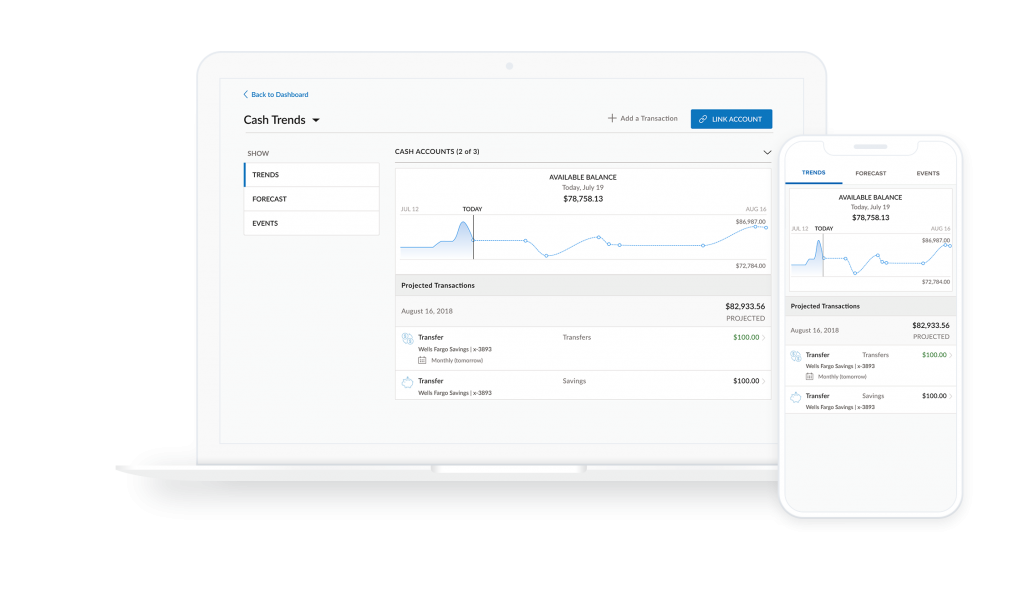 OK to Spend works by looking at financial data from across the consumer's primary cash and credit card accounts – and finds recurring income, bills, subscriptions, transfers and even one-time fees that are paid regularly. This information is used to create a forecast how much is OK to spend – before your next paycheck is deposited. Imagine this scenario: you have $200 in your bank account, and you see a $150 pair of shoes that you really want to buy. Since you expect to get paid in five days, you're willing to live on beans and rice until then so you can get those shoes. What you've forgotten is that your mobile phone bill will auto-pay in three days – Eeek! OK to Spend looks at your balance across all your accounts, subtracts your upcoming obligations, then checks to see when you're getting paid to calculate how much money you have left to spend in between. (Balance – obligations) + paycheck = Don't buy those shoes! As the system gets to know you, your spending habits, and your monthly and quarterly obligations, it can show how much money you're projected to have left in the days before your next payday. It informs you through weekly communication, alerts, and even a small battery that will display your "spending power." The app can also notify you that you're running out of cash before it happens.  In our user testing this was a really big point of friction for consumers.  "Why can't my bank let me know before I run into trouble?" Ultimately, we hope this will encourage consumers to practice proactive and positive financial behavior. OK to Spend combines machine learning with our predictive analytics and user feedback to deliver smart financial forecasting, predict future income, and even account for anomalies. It can be either a hosted application or a fully RESTful API framework that financial institutions and developers can use to forecast recurring income and obligations, as well as push notifications for financial events and projected balances.
Save for a Goal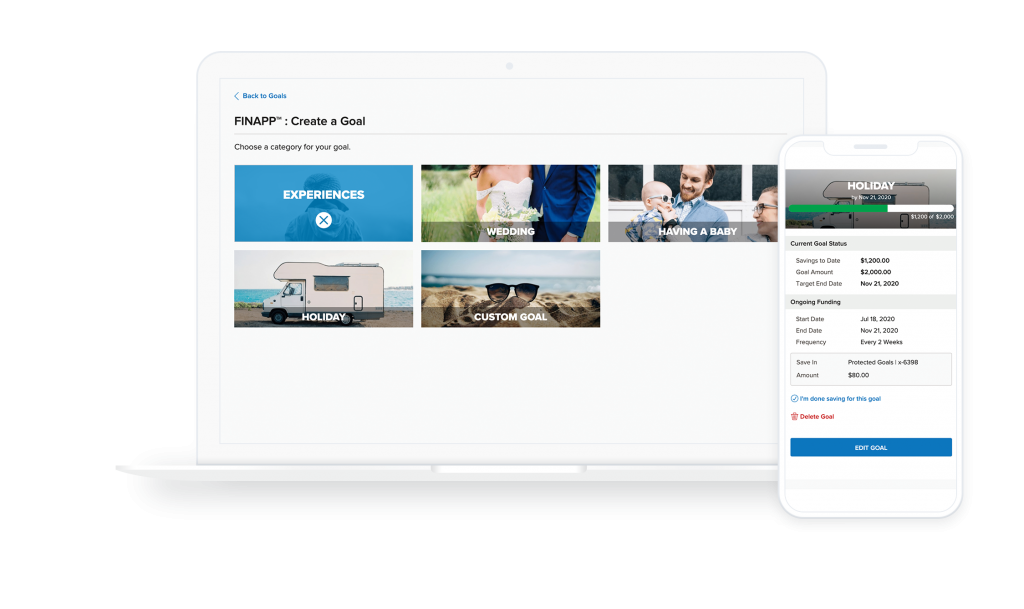 Now that you know how much is OK to Spend, you want to save for your financial goals. Imagine these scenarios: Say you want to save for a vacation, or you're planning to buy a new car in a few years. Or maybe you're just building up your emergency fund. With Save for a Goal, you can easily create and track savings goals across different cash and investment accounts, or even specify several goals in a single account through virtual sub-accounting. For example, you already have $2,500 in a savings account, you can allocate 20% of that balance for the vacation, 30% for your car, and 50% for your emergency fund, but keep everything within that one account that will keep track of your progress. And you can have money transferred from your checking account automatically (e.g. after your paycheck has been deposited), so you don't miss the money or forget to transfer it one month. Consumers will stay engaged with compelling visual data, alerts, notifications and contextual education about the importance of certain goals, like having an emergency savings or saving for retirement. We're ultimately able to manage all of this through proprietary machine learning and predictive analytics solutions developed at Envestnet | Yodlee by analyzing and normalizing billions of transactions, enriching the data, and studying the spending and savings habits of millions of consumers around the world. The Envestnet | Yodlee Personal Financial Wellness Solution is a great example of how data + intelligence using financial data available on a massive scale across banking and wealth management from tens of millions of consumers – can enable financial service providers to offer personalized, accurate, and predictive digital banking experiences. Helping consumers meet their financial goals is the best way to build lasting customer relationships.