Banking and tech leaders converged to discuss the future of our industry at Engage 2023: Banking & Technology, our inaugural symposium in Scottsdale, Arizona. True to the conference's name, attendees enjoyed the opportunity to engage with one another and share their unique perspectives amidst spectacular Sonoran Desert views in an intimate, luxurious meeting setting.
Sure, it was hot outside, but the content presented inside was hot too. Attendees were captivated by Mike Walsh's keynote address: The AI-Powered Organization. As the bestselling author of The Algorithmic Leader and CEO of Tomorrow, Walsh talked about Chat GPT and the rise of generative AI platforms, and how they're just the beginning of a much bigger algorithmic revolution set to reshape the future of work itself. He explained why the ability to effectively transform data into value is at the heart of 21st-century business and gave pointers on how to harness new ways of working to ensure your company's survival. If you'd like to hear more, please contact us!
Calibrating the Financial Model: Transforming Theory into Best Practice: Farouk Ferchichi, President of Envestnet® | Yodlee®, discussed how changing consumer behaviors and enhanced digitization created the perfect set of circumstances for calibrating our business. He highlighted how our connected environment enables access to the alternative data, banking and wellness services, and innovation needed to retain customers, grow revenue, and build engagement. 
Embracing the Unpredictable: Leading Through Unprecedented Times: In two separate fireside chats, Ferchichi interviewed two champions of transformative change: Bill Crager, Co-Founder and CEO of Envestnet, and Tamer El-Rayess, Chairman and CEO of Continental Finance and Chairman of Grand Bank. During the first session, El-Rayess shared his inspirational immigrant success story, and his vision of helping other "credit invisible" consumers build their credit, increase savings, buy their first home, and ultimately create intergenerational wealth. He explained how alternative data is the critical missing piece in today's traditional lending processes. In the second session, Crager discussed how Envestnet is using AI to turn data signals into action and how The Intelligent Financial Life™ is ingrained into our corporate DNA and promise to our customers. He also provided advice for emerging leaders. Contact us to hear more.
Open Banking Unleashed and the Rise of Empowered Consumers: Jean-Paul LaClair, Senior Director of Product Development at Financial Data Exchange (FDX) and Lisa Novier, Head of Governance, Risk and Compliance at Envestnet Data & Analytics, provided a pulse on the acceleration of open banking in this dynamic presentation. LaClair and Novier highlighted the state of the open banking ecosystem, regulatory drivers, and how consumers are shaping open finance. Read more about open banking around the world.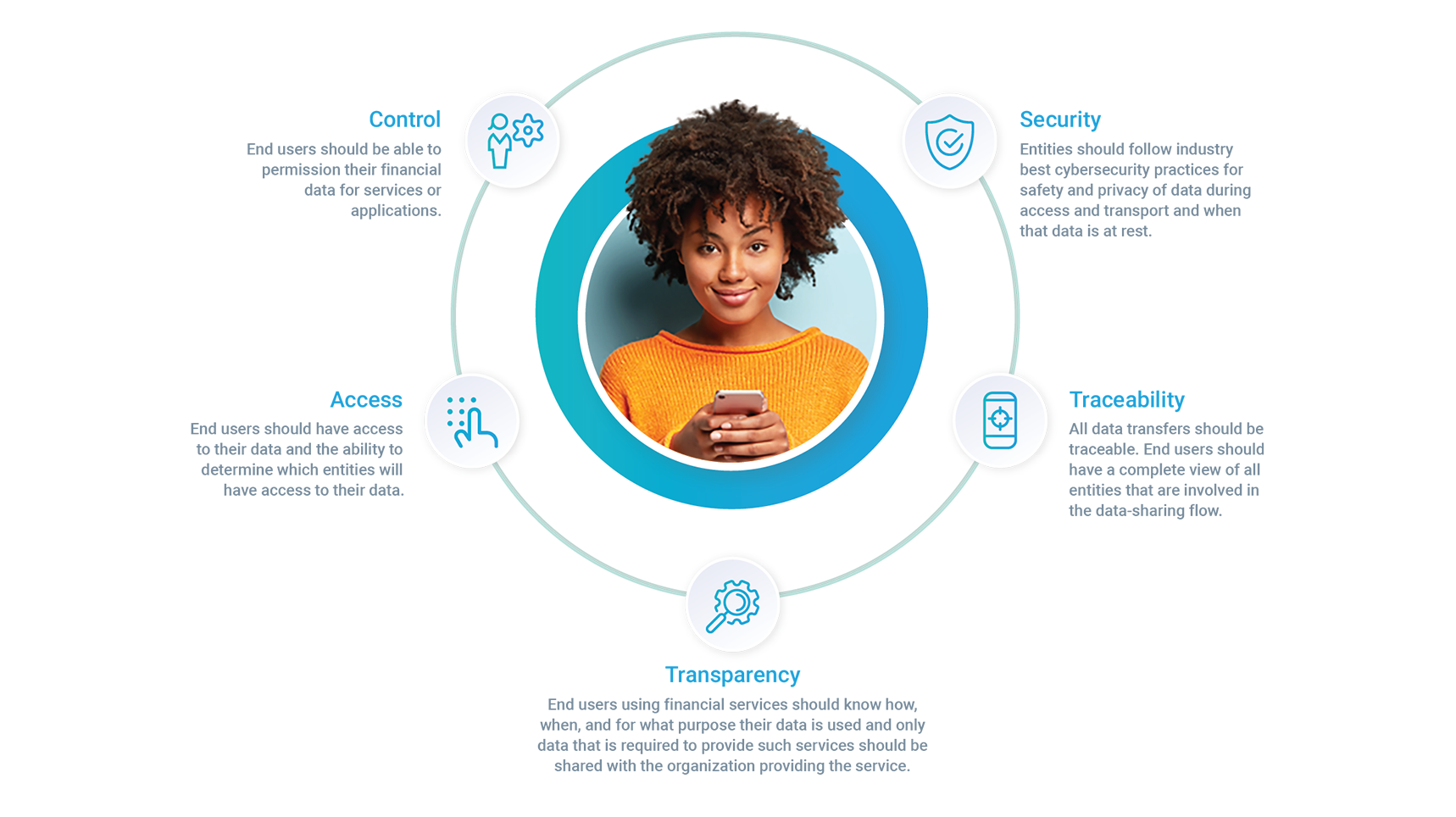 Track to the Future: Data Science, Machine Learning, and the Power of Generative AI: Om Deshmukh, Head of Data Science at Envestnet Data & Analytics, took a deep dive into what traditional and generative AI, machine learning, and data science really mean and the implications, challenges, and opportunities for the future state of banking and tech. While these solutions sound complicated, Om pointed out that they're actually very simple once you understand what the data does and how to derive value from it. He also demonstrated how Envestnet | Yodlee uses all the different streams of AI to deliver tangible value to our clients (see graphic below). Learn more about data science and machine learning.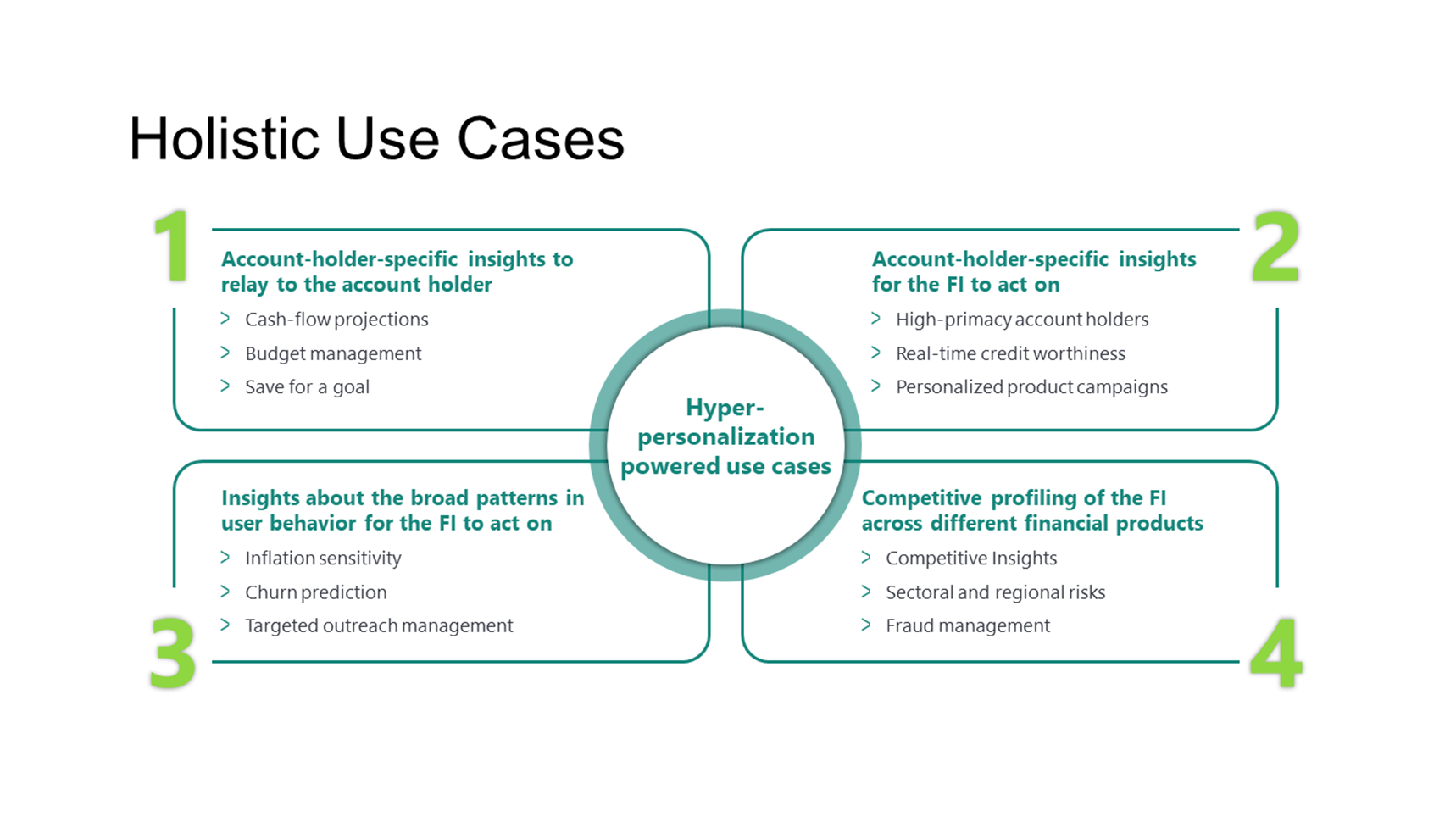 Economic Outlook & Investment Strategy: Dana D'Auria, Group President of Envestnet Solutions unwrapped the data to provide an economic outlook including current headwinds, anticipated Fed movement on harnessing inflation with rate cuts, and what a potential recession really means. She covered a prudent investment strategy including the right risk posture, the use of bonds for diversification and international diversification, and the pros/cons of active vs. passive investment management.
The Power of Alternative Data in Lending: In this panel discussion, Arun Anur, COO of Envestnet Data & Analytics; David Shellenberger, Vice President of Scoring and Predictive Analytics at FICO; Pax Routson, Vice President of Strategy at Edge; and Nikki Cross, Director of Data Science Solutions at Nova Credit talked about how alternative data is changing the landscape of credit lending and why data aggregation is foundational to inclusive lending practices. Learn more about alternative data in lending. 
We'd like to thank Amazon Web Services (AWS) for sponsoring Engage 2023: Banking & Technology. It was really exciting to provide a forum for banking and tech professionals to come together to share their vision and opinions. With these leaders at the helm of shaping the future of our industry, it looks like it'll be nothing short of extraordinary. 

To learn more about what was discussed at Engage 2023: Banking & Technology, just reach out. We're committed to helping you access the insights, data, and data science you need to succeed today—and tomorrow.
"We use AI to create the fiber, to create the connectivity between the data signals and the actions. I'm a believer, I'm a buyer. I think all of us have a fiduciary duty around data. But bottom line, the more information and the more support we can provide and the more individualized information to each and every person, that's a game changer. And our industry can do that."

– Bill Crager, Co-Founder and CEO of Envestnet