It's Beginning to Look a Lot Like Christmas
Retailers are understandably nervous about the upcoming holiday shopping season. It's a season that has traditionally accounted for up to 40% of annual sales. Given the economic turmoil of recent years, it's no wonder merchants and service providers are anxious about whether they can expect the fourth quarter to resemble those of Christmases past, rather than the disruption they've endured since the onset of COVID.
Fortunately, Envestnet® | Yodlee®'s wealth of consumer spending and transaction data may offer some insights. Tracking recent spending history in several industries that are key holiday-season players, Envestnet's research team has noted several trends that are likely to characterize holiday spending in 2022. Among them:
Inflation
2022 has notoriously seen prices rise at rates not seen in 40 years. Despite repeated and aggressive action by the Federal Reserve, inflation seems likely to persist to the end of 2022 and beyond. Envestnet data show both increases in spending due to higher prices and decreases due to sticker shock. The question: which reaction to inflation will prevail during the holiday shopping season?
The tight labor market
Unemployment is at or near historic lows, wages are high, and many businesses are having trouble returning to pre-pandemic staffing levels. Retailers and consumers alike may wonder what this holiday's shopping experience will be like. Will merchants be able to hire enough seasonal workers to keep up with demand? Or will shopping, dining out, and traveling be such a hassle that consumers will opt out? And how will the worker shortage and higher wages affect prices?
Pandemic recovery
Is a return to pre-COVID normalcy possible? Besides some lingering supply chain and labor issues, there are other changes that may be permanent. We grew accustomed to food delivery and e-commerce; will we stick with those now that we can go out to eat and shop again? We grew accustomed to staying home and gaming or binge-watching; will we still do that now that we can go out for entertainment and now that video game and streaming platform subscription prices are ballooning? And some retailers have compensated for last year's inventory shortages by overstocking this year. Will inventory finally match demand, or will retailers have to resort to discounts and promotions to lure reluctant shoppers?
For additional insights into consumer spending and transaction trends, visit our Resources page to view on-demand webinars and eBooks.
Spending Trends by Industry
Envestnet® | Yodlee®'s study of changes in consumer spending and transaction data over recent holiday seasons and year-to-date offers a glimpse of how these trends may shake out in selected industries where consumer spending has been traditionally robust during the holidays.
Travel
In 2020, COVID not only forced demand for air travel to near-zero, it also led to the current staffing shortages throughout the industry, as pilots opted for early retirement and TSA workers and baggage handlers sought higher-paying jobs elsewhere. That's why in 2022, even as demand has rebounded, flights have been scarce and delays have been common. High demand, limited availability, and fuel prices have driven large increases in ticket prices.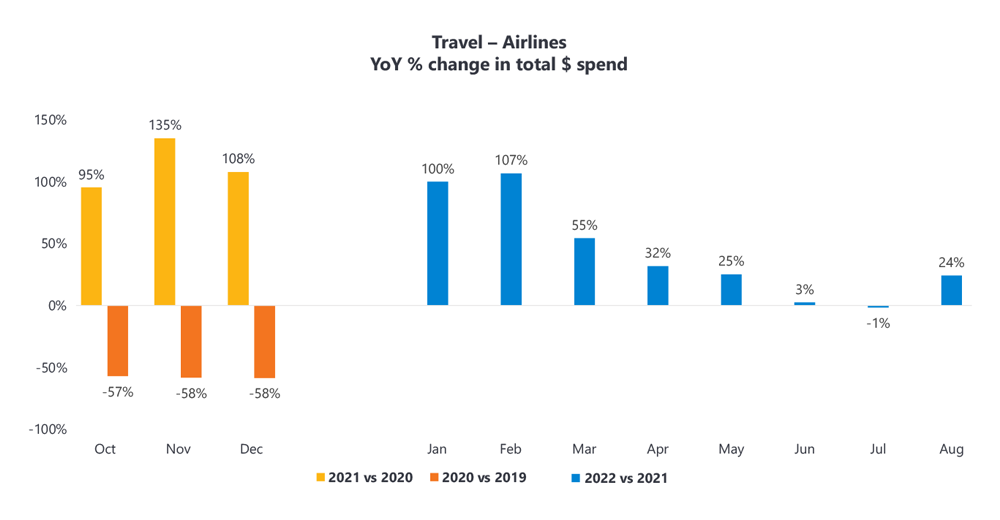 This helps explain why spending on air travel, which bounced back big during the 2021 holiday season, declined over the course of 2022. Nonetheless, spending did start to rise again at the end of the summer. That increase, along with the example set last winter and a likely jump in fuel prices due to recently announced OPEC production cuts, bodes well for airline revenues this holiday season.
Like the airlines, hotels also saw demand plummet and staffing levels shrink during the pandemic. Similarly, demand bounced back during the 2021 holidays. 2022 saw post-holiday demand slip as travel costs rose, but it appeared to stabilize over the summer, with demand equaling that of last year. If that trend persists, hotels should be filling up this winter like they did a year ago.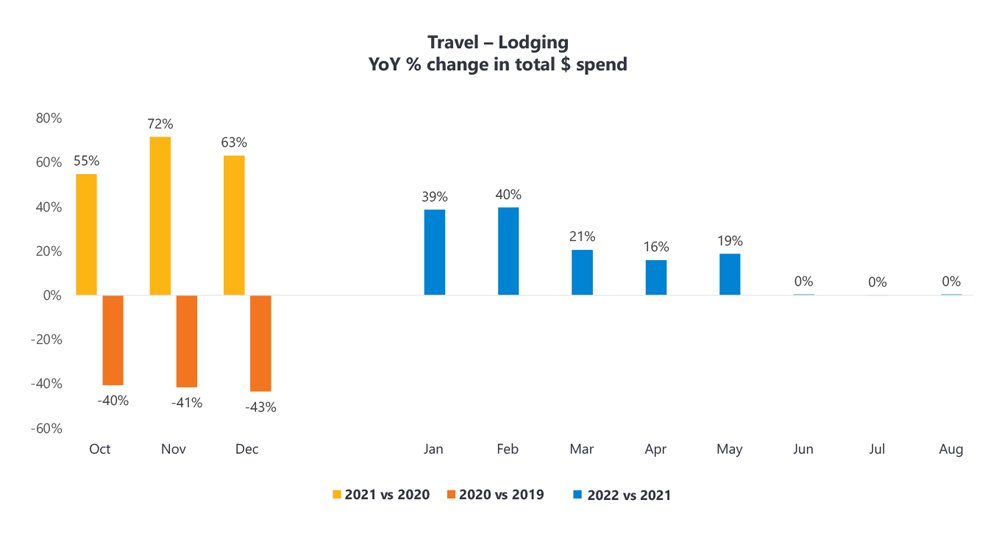 Food1
How lavish will holiday feasts be this year? Inflation hit supermarket shoppers hard in 2022. They did spend more than they did in 2019.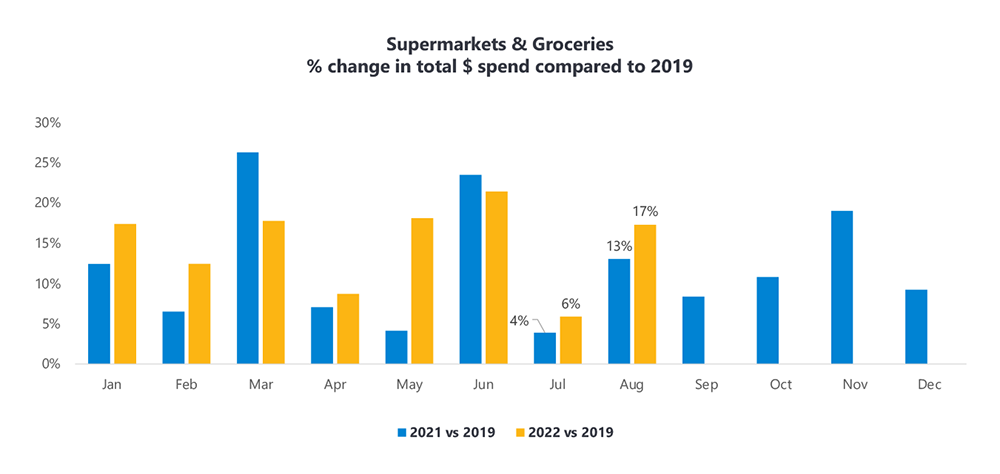 But sticker shock meant that 2022 grocery spending still fluctuated as consumers tried to distinguish necessities from delicacies.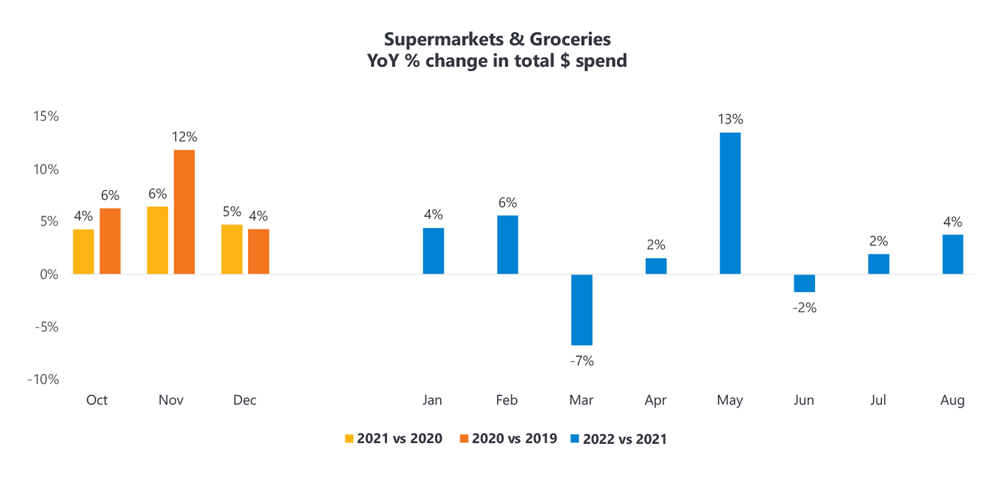 Supermarket spending started to rise again in late summer. That trend, along with the increase signaled by last winter's spending, suggests that this holiday's turkeys will be served with all the trimmings.
Restaurant2 spending has followed a similar pattern in 2022. Demand is back, but inflation and labor shortages have caused spending to fluctuate. Nonetheless, a late-summer boost and last winter's huge year-over-year increase are signs of hope for eateries eager to book big family celebrations.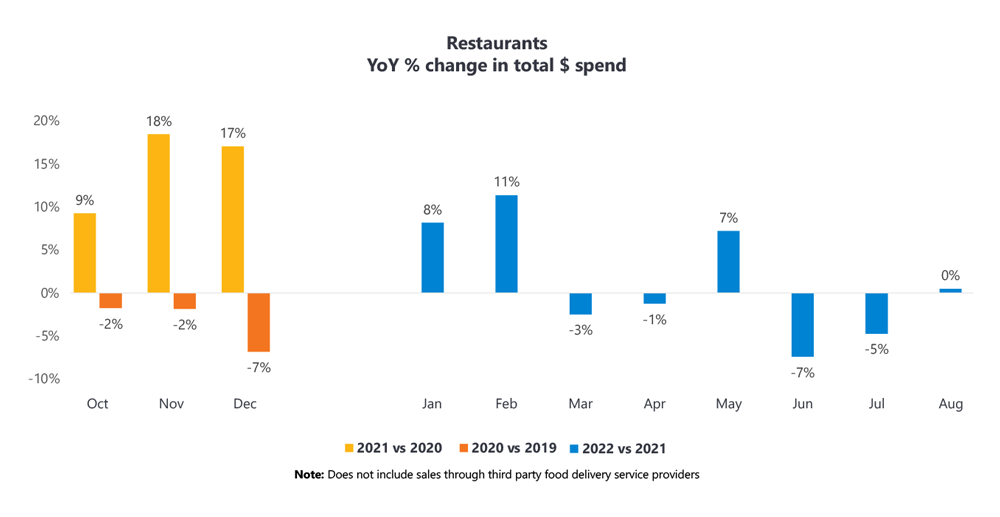 Apparel and Accessories
Traditionally, some 50 percent of holiday gifts are apparel and accessories. This year, the chart for consumer spending in this sector looks remarkably like those for supermarkets and restaurants, with similarly-timed fluctuation attributable to inflation.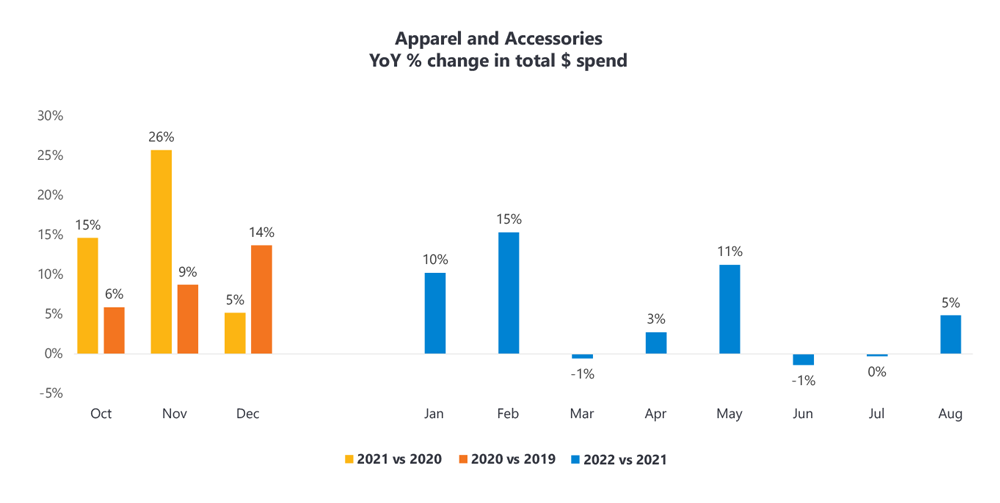 Unlike restaurants, clothing spending has consistently risen during the holidays, even throughout the pandemic. And even if staffing shortages mean increases in both prices and the hassles of brick-and-mortar shopping, the pandemic has made most of us accustomed to online gift-buying. Get ready for the possibility of more socks and sweaters under the tree, especially from retailers with discounted merchandise and well-developed e-commerce channels. (For more on how Envestnet can help provide shopping trend data and analytics for a retailer's on-site and online sales, click here.)
Home Entertainment
At holiday time during the pandemic, instead of huddling around the hearth, it's likely your family huddled around the TV, playing video games and binge-watching streaming shows. Spending on gaming3 and streaming4 skyrocketed during COVID, but now that holiday revelers can venture out for entertainment again, the gaming industry is expecting spending to slide. As with groceries, inflation has still meant higher spending in 2022 than before the pandemic.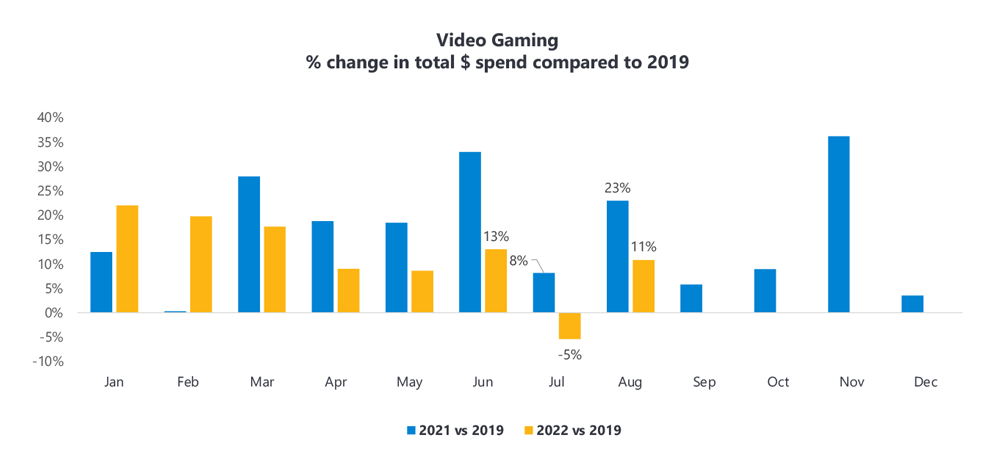 But year-over-year spending has been down nearly every month since November 2021.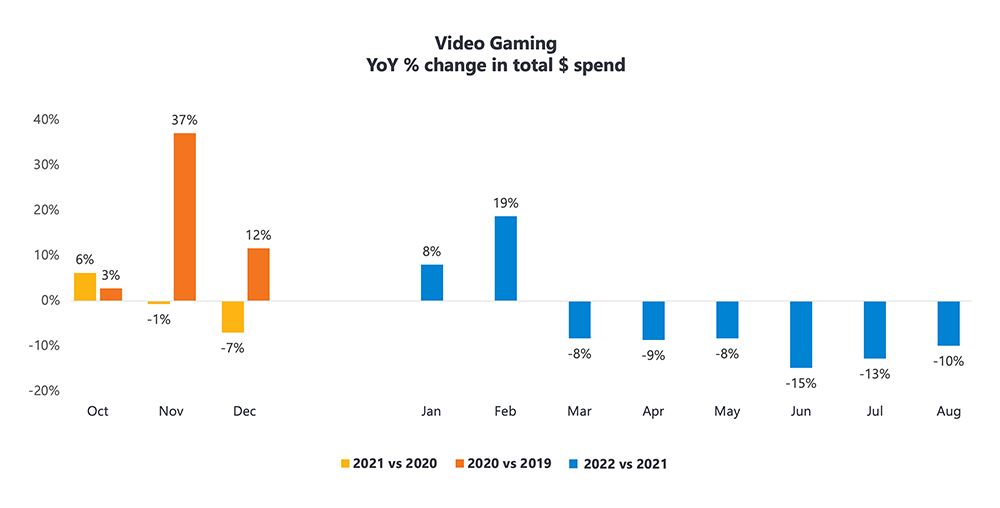 For the streaming platforms, however, spending has been up steadily since 2019, even with industry leader Netflix alarming investors this year by reporting that subscriber growth is plateauing.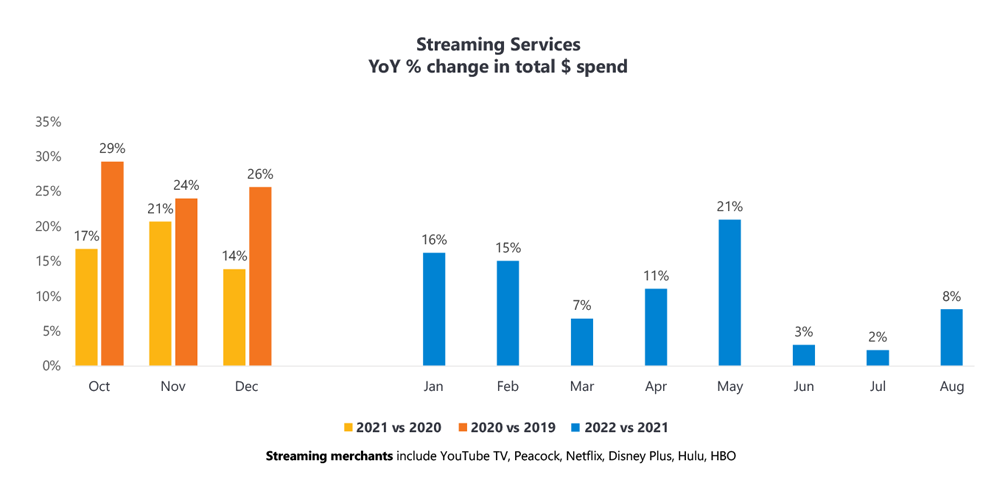 Streaming differs from gaming in that, even though demand is slowing, spending continues to grow. New services keep joining the subscription stack (Disney+ in 2019, HBO Max in 2020), and the prices of those subscriptions keeps rising, as the platforms offer either higher-priced ad-free service tiers or (as with Disney+, Hulu, and ESPN) bundles of multiple channels.
Wrapping It All Up
Despite the Fed raising interest rates several times this year, data shows consumer demand has not diminished, nor has the inflation resulting from still-high demand. Consumers may be spending more judiciously, but they're still spending, and in many cases, spending more than they did before the pandemic. It may be harder to travel, to feast with an extended family, or to put gifts under the tree, but if last holiday season is any indication, consumers will still spend more in order to make this holiday as festive as those in years past.
For more insights into consumer spending and transaction trends, visit our Resources page.
About Envestnet | Yodlee Merchant, Retail, Shopper, and Spend Insights
Envestnet® | Yodlee® Merchant, Retail, Shopper and Spend Insights utilize de-identified transaction data from a diverse and dynamic set of data from millions of accounts to identify patterns and context to inform spending and income trends. The trends reflect analysis and insights from the Envestnet | Yodlee data analysis team. By combining data with intelligence – connecting vast amounts of actual de-identified shopping data with state-of-the-art analytics and machine learning – Envestnet | Yodlee provides visibility into an entire set of shopping daily purchase behavior including, but not limited to, transactions, customer lifetime values, and merchant/retailer shares.
To learn more about Envestnet® | Yodlee® Merchant and Retail Insights and get a free demo, please contact an Envestnet® | Yodlee® sales representative.
Footnotes
1Supermarkets & Groceries includes stores like Albertson, Aldi, BJ's Wholesale Club, Costco, H-E-B, Kroger, Publix, Safeway, Sam's Club, Target, Trader Joe's, Vons, Walmart, Wegmans, and Whole Foods Market
2Does not include sales through third party food delivery service providers
3Video Gaming merchants include Sony PlayStation Networks, Xbox, Steam, Nintendo, Twitch Interactive, GameStop, Blizzard Entertainment, Activision Blizzard, EB Games, Epic Games, Big Fish Games, Mojang, Riot Games, EA Games, Unity Technologies
4Streaming merchants include YouTube TV, Peacock, Netflix, Disney Plus, Hulu, HBO