Help your small to medium-sized businesses (SMB) clients reach their goal of becoming a larger enterprise with Enterprise Resource Planning (ERP) solutions. By digitizing and centralizing core finance and operations data, SMB ERP solutions deliver tools and insights that enable financial service providers to engage SMBs and strengthen these partnerships for mutual growth.
What is the SMB ERP Opportunity?
Small and medium-sized businesses require a strategic plan for growth in order to remain competitive in today's fast-paced business environment. SMB ERP software is designed to support your clients' growth goals by clarifying finances and streamlining daily operations. With ERP software and insights from holistic financial and business data, you can offer proactive guidance to your clients, take next best actions to meet business goals, and more.
Benefits of ERP For SMBs
ERP for small businesses and medium businesses delivers multiple advantages. Along with saving time and supporting revenue goals, ERP solutions can generate deep insights into the needs of your SMB clients, improve lending processes and enable credit opportunities, and deliver tools to help your SMB clients make strategic business decisions.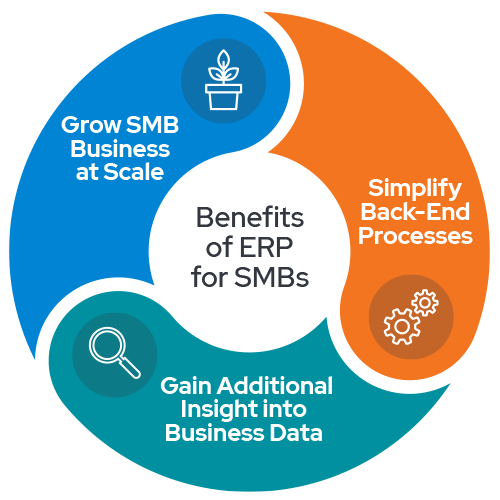 Grow SMB Business At Scale
As businesses move into new markets, hire additional teams, add to their existing product line, and secure new supply chains, the complexities of their business increase. SMB ERP solutions can help smaller companies seamlessly manage these transitions, increase business functionality, and thrive as they grow.
Simplify Back-End Processes
The right ERP software can help your small business and medium business clients simplify their back-end processes such as payroll, accounting, inventory management, rent and credit card payments, and other tasks. By consolidating multiple software and data points into one holistic software solution and automating routine tasks, ERP solutions can help SMBs save valuable time and make the most of limited resources.
Gain Additional Insight Into Business Data
Real-time data analysis is key to a successful ERP software solution. By automatically generating insights from aggregated business and financial data, ERP software can help SMBs see and manage their businesses from multiple points – like sales, company resources, valuation, credit offerings, and more. By integrating and connecting these points, you and your SMB clients can surface valuable insights, critical context, and next-best actions to successfully plan, forecast, and activate new revenue growth.
Why Other ERP Solutions Fail SMBs
When ERP solutions fail SMBs, it's often not a result of SMB processes, but a mismatch between the type of software, the size of the business, and the SMB's goals. Here are a few common reasons why ERP software fails:
The ERP Software is Not Designed For SMBs
ERP was traditionally designed for large enterprises, and SMBs that are using ERP software designed for larger companies may be missing out on the SMB features that could help them most. Implementing complex ERP software for larger companies may also be challenging for a smaller business with a smaller staff and less resources. Because ERP software is not a one-size-fits-all solution, and SMBs have very specific and different needs, the software that your SMB clients use should reflect their business goals and size.
The ERP Software Isn't Cloud-Based And Is Costly To Implement
A traditional, on-premise ERP software solution that isn't hosted in the cloud is often more costly and time-consuming to maintain and interact with. That's because traditional systems are usually separate systems which don't talk to each other. Cloud-based ERP solutions, on the other hand, integrate financial and business data and analytics into a single platform. This makes cloud ERP easier to implement, access, manage, and upgrade.
The ERP Solution Is Out Of Date and Lacks Crucial Components
If your SMB clients are using ERP software that's old, then they most likely aren't realizing the benefits of new technologies like AI, chatbots, and machine learning. These intelligent new technologies can dramatically improve the efficiency of ERP systems. By importing data from other locations and business apps, next-gen ERP solutions can provide a clearer and more accurate picture of financial and business operations. New cloud-based ERP solutions can also automate routine processes and eliminate time-consuming tasks like manually gathering and inputting data.
The Envestnet | Yodlee Difference
Envestnet | Yodlee delivers innovative SMB solutions that can enable your SMB customers to manage and streamline business finances and operations. By integrating financial and business data from across all the applications SMBs use, Envestnet's solution empowers you to engage SMB clients and grow SMB relationships as you support their business and financial wellness.
With global expertise across tech, banking, investment, corporate, and wealth segments our interconnected data science and technology can help you provide the service, solutions, and insights your SMB clients need to succeed.