Here's how Envestnet® | Yodlee® data correlated with holiday shopping trends in Q4 2022
Many retailers approached the recent holiday shopping season with understandable uncertainty. After all, it's a season that has traditionally accounted for up to 40% of annual sales. The disruptions wrought by inflation and pandemic-driven changes in consumer behavior left many merchants and service providers wondering whether they'd find a windfall under the tree or coal in their stockings.
Before the season started, Envestnet | Yodlee's research team used the company's vast array of consumer spending and transaction data to derive some insights. Throughout the recent holidays, Envestnet researchers continued tracking transactions in several industries that are key holiday-season players to see how those observed trends played out.
How It Started
While 2022 saw inflation spike at greater rates than it had in 40 years, it also saw price hikes slow throughout the second half of the year. The sticker shock that appeared to depress demand last spring and summer seemed to abate in some industries, which saw spending rebound on a year-over-year basis.
In fact, spending in many industries returned to or even surpassed the levels it had reached in late 2019, just before COVID hit. Pandemic-related disruptions to business operations, employment, and supply chains also seemed to have ended. Nevertheless, some COVID-related changes in consumer behavior, from increased reliance on delivery services to greater time spent enjoying home entertainment, seemed poised to continue throughout the recent holiday season.
The season seemed to start with a bang, with strong sales on Black Friday and Cyber Monday. But there was no guarantee that robust shopping activity would continue through the end of 2022.
How, then, did the spending trends Envestnet researchers observed last fall in key holiday shopping sectors actually play out?
Travel
Any passenger who spent time stuck in an airport this holiday season is all too familiar with the current expense and hassle of flying. Travelers' urge to fly rebounded with a vengeance after COVID, and the airlines couldn't keep up. High demand, scarcity and delays, and fuel prices sent ticket prices soaring 36% over 2021 fees.
As a result, airlines saw demand drop over the summer, but sales began to bounce back in August. The data suggested that sales would continue to be strong throughout the end of the year. In fact, they stabilized, falling a hair below 2021 during the Thanksgiving and Christmas travel months. Even with severe weather that disrupted many year-end flights (especially for beleaguered Southwest customers), the airlines saw November and December sales that were down just 3% year over year.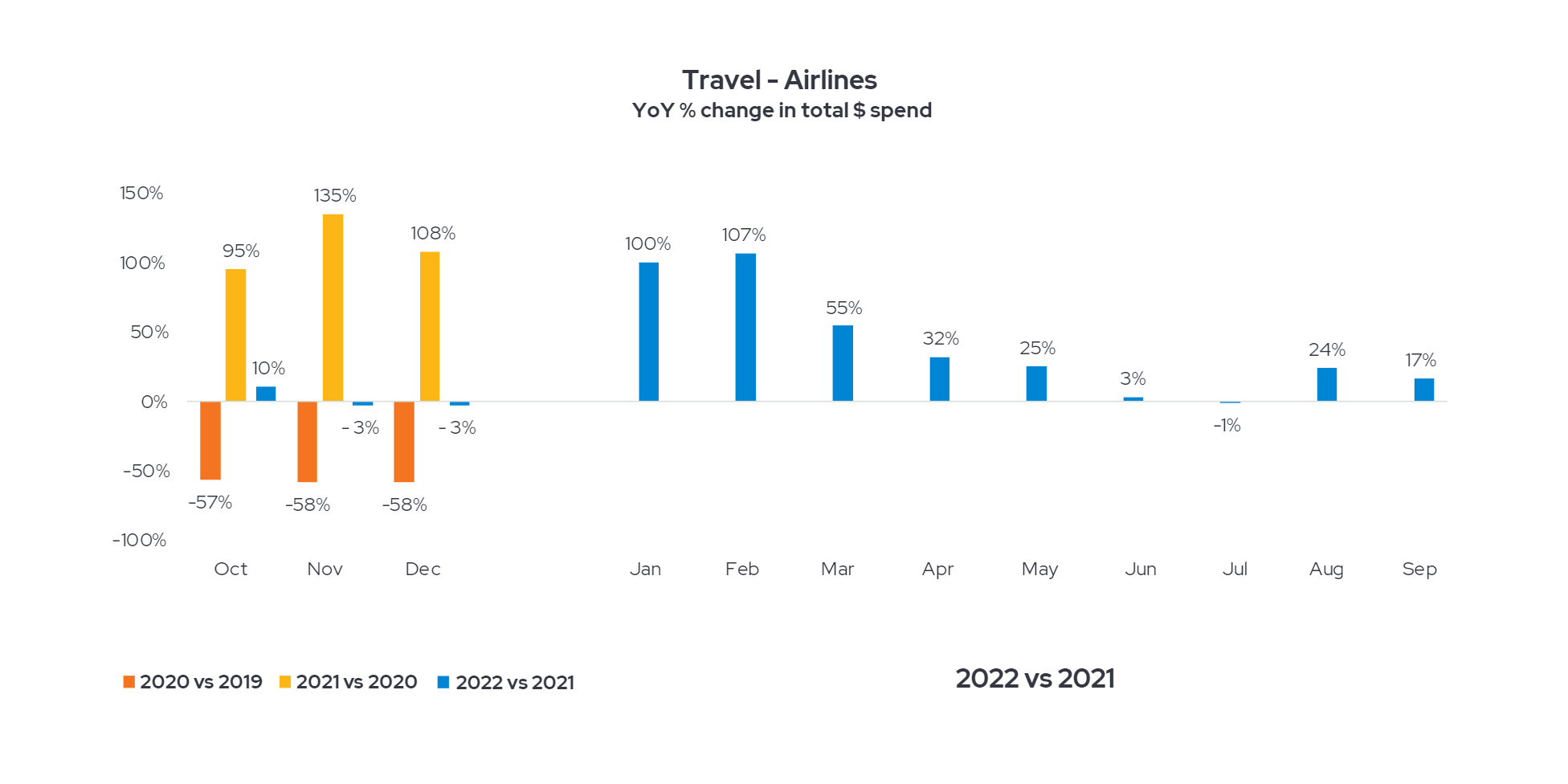 Like the airlines, hotels also saw demand bounce back by the end of 2021 after plummeting during the pandemic. Guest spending dropped in early 2022 but seemed to stabilize over the summer, with demand equaling that of summer 2021. Sales continued to surpass the previous year's spending through October 2022, only to see demand fall and prices drop nearly 5% in November. It's traditional to see bookings decline in November and December, until Christmas week, and this year was no different. Nonetheless, as the year came to a close, occupancy, average daily rates, and revenue per available room were all up by double digits over the same figures in 2019.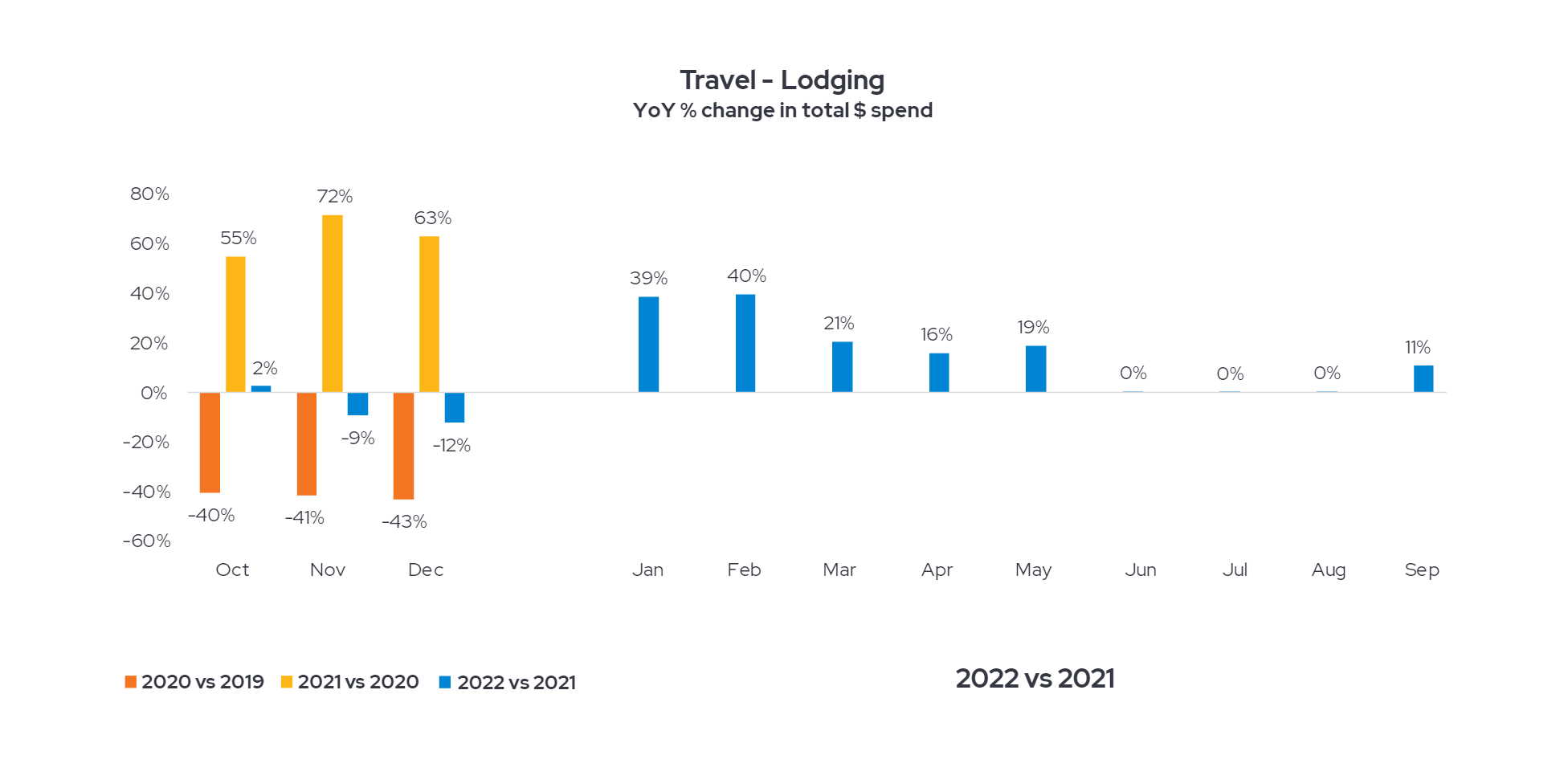 Food1
The easing in inflation that affected many sectors at the end of 2022 did not extend to food. Prices for groceries and restaurant meals continued to outpace inflation in late 2022.
After some initial sticker shock when food prices first jumped last spring, sales appeared to pick up again in the third quarter. Sales did drop on a year-over-year basis in November and December, in both the supermarket and restaurant sectors. Both have seen similar spending fluctuations throughout 2022. Still, for each month of the fourth quarter, food spending was up at least 4% over 2019 levels.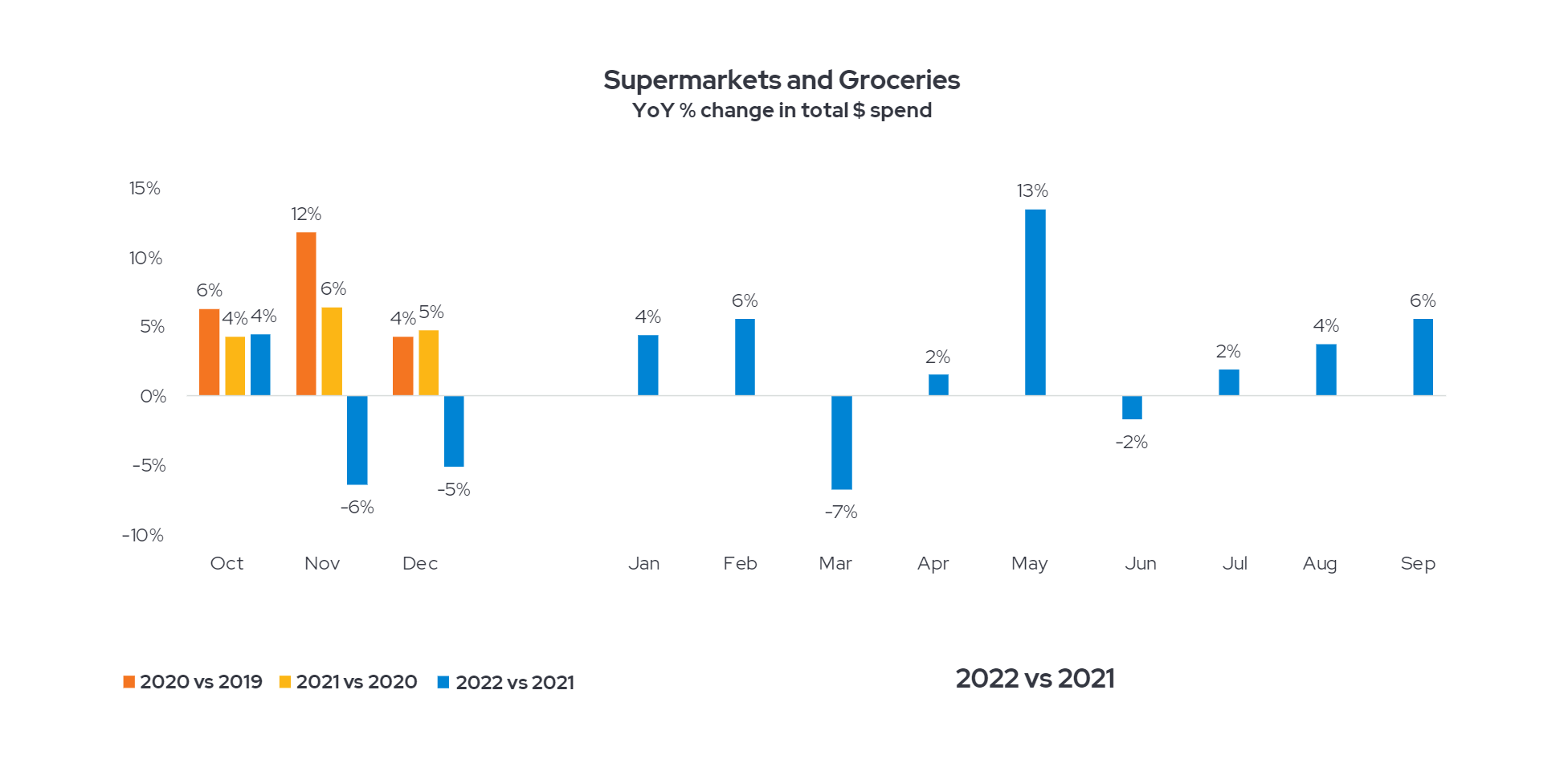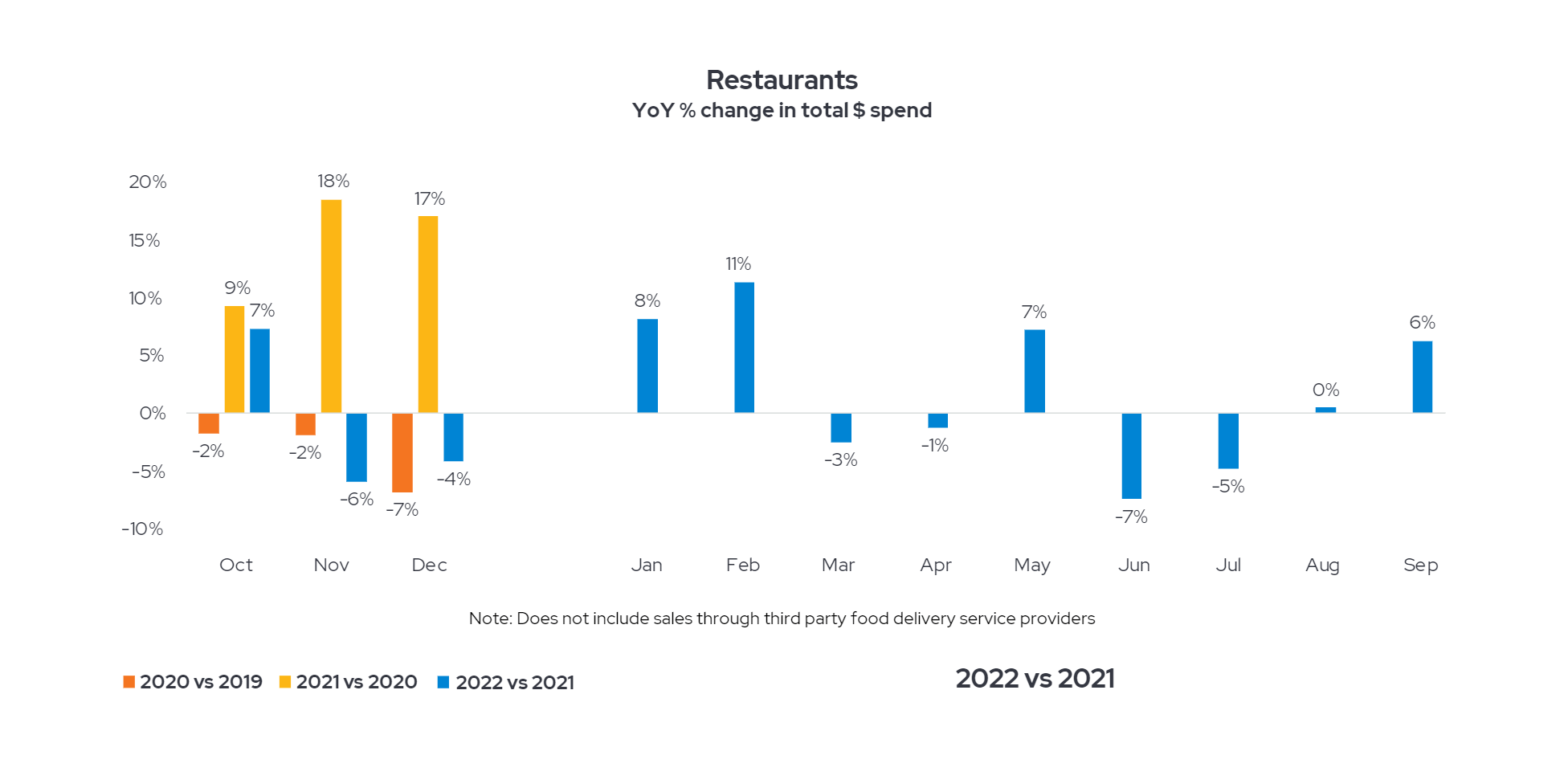 Apparel and Accessories
Also following a similar pattern in 2022 were year-over-year spending figures in apparel and accessories, a category that traditionally accounts for about 50 percent of holiday gifts. But while past holiday seasons have seen consistent increases in spending, that didn't happen this year.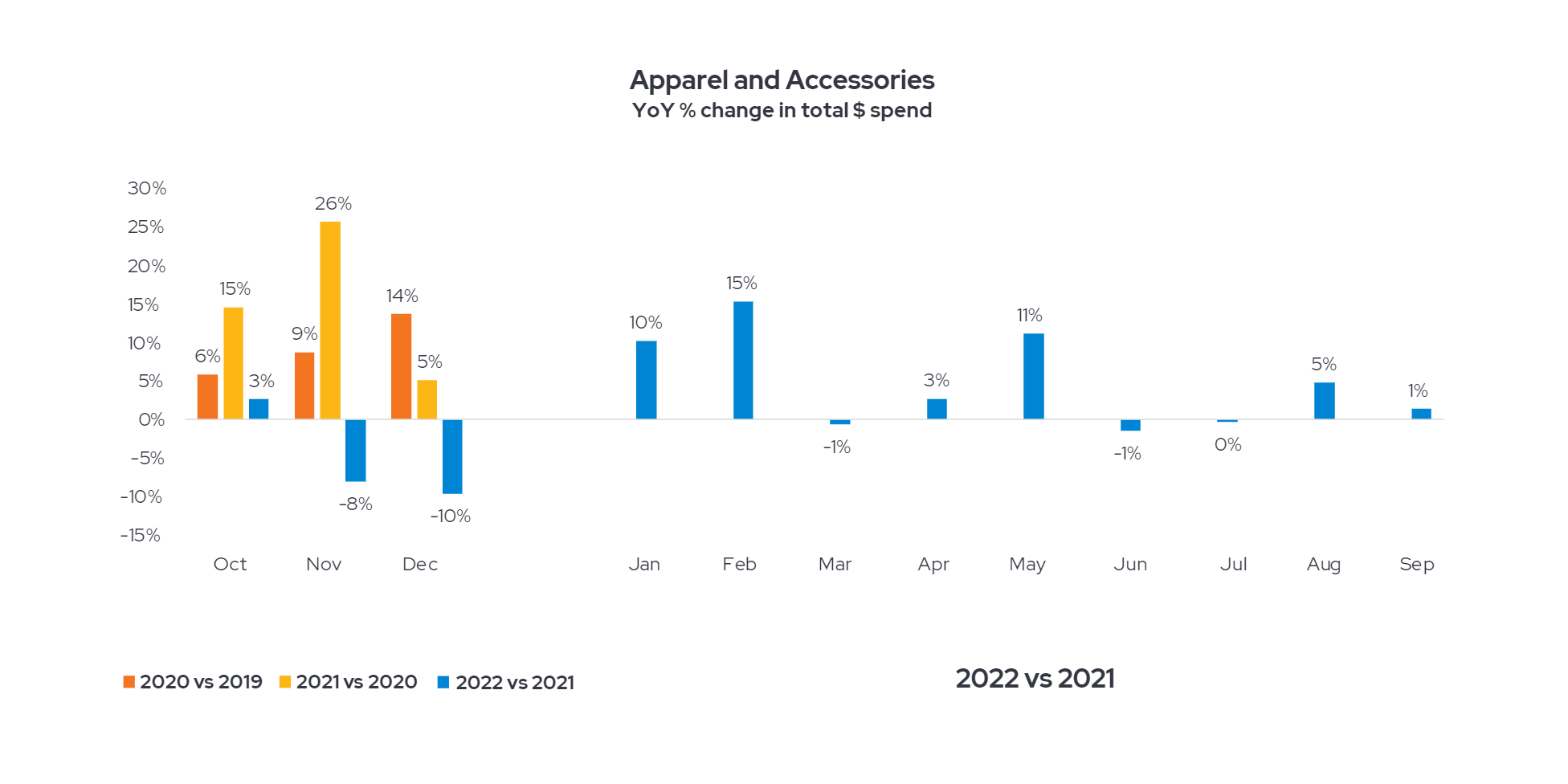 The easing of inflation, coupled with some retailers' steep discounts meant to lure holiday shoppers, may account for the apparent spending slowdown. Nonetheless, spending throughout the quarter remained at least 8% higher than during the same quarter of 2019. (For more on how Envestnet can help provide shopping trend data and analytics for a retailer's on-site and online sales, click here.)
Home Entertainment
If you spent your holiday gazing at a televised yule log instead of at the real thing in your fireplace, you're not alone. As expected, streaming services2 continued to thrive throughout the holidays. Also as expected, video gaming3 continued to hit a wall.
Spending on both gaming and streaming had soared during the stay-at-home months early in the pandemic. For gaming, that demand faltered after people started getting out more in 2021. Envestnet data had showed video game spending below the previous year's levels nearly every month since November 2021. That trend continued through the fourth quarter of 2022.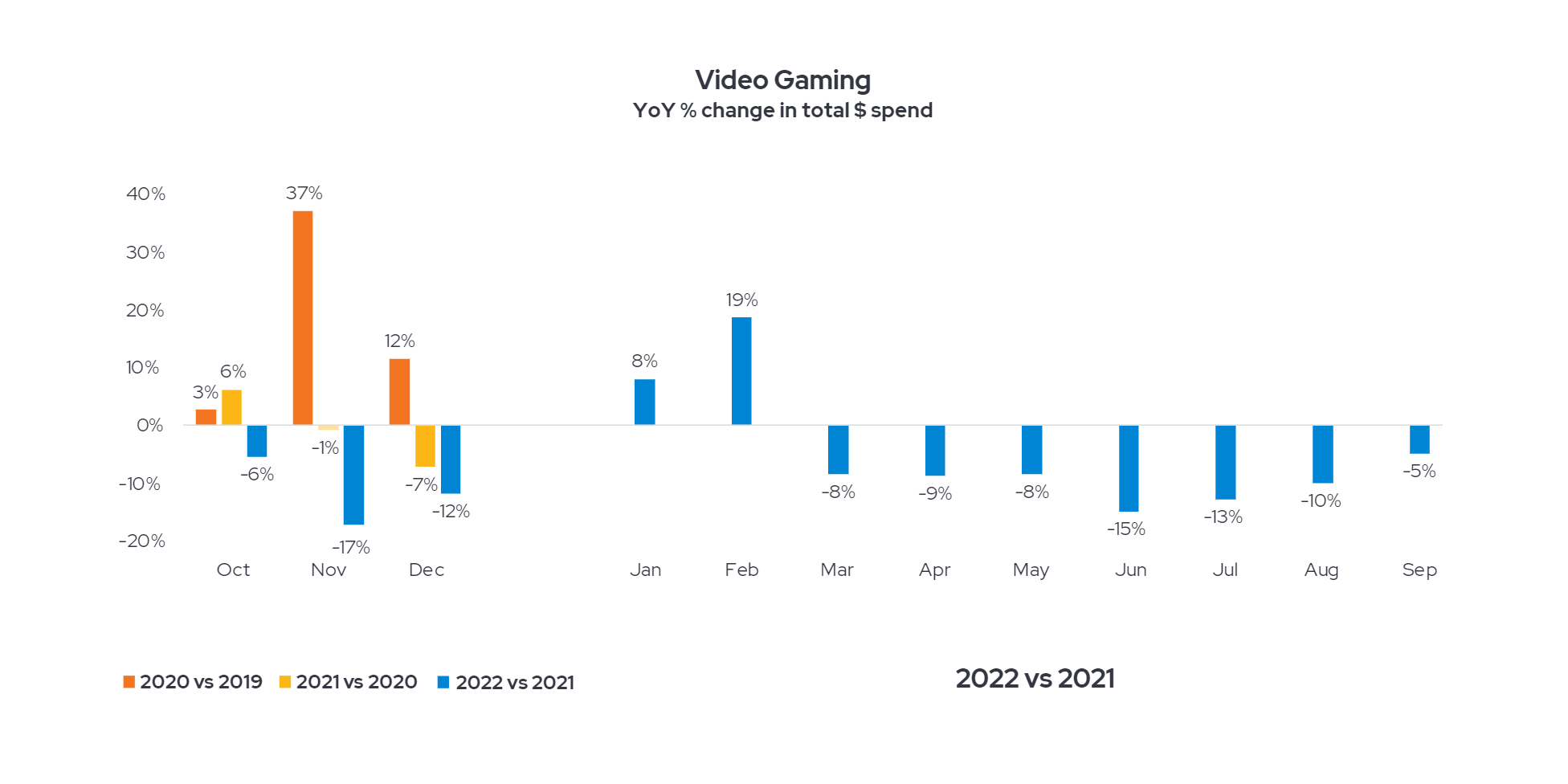 There were signs in early 2022, particularly in Netflix's subscriber numbers, that streaming spending might be plateauing as well. But monthly spending continued to rise on a year-over-year basis throughout 2022, in part due to inflation and monthly fee hikes. Throughout the fourth quarter, year-over-year spending rose at a slower rate than it did in 2021 and 2020, but it did rise. By December, binge-watchers were spending 48% more than they did in December of 2019, when Disney+ was new and HBO Max hadn't yet launched. Whether the sky is still the limit for the streaming industry, or whether the slowing growth in the fourth quarter suggests the industry is approaching a saturation point, will be a trend worth monitoring throughout 2023 and beyond.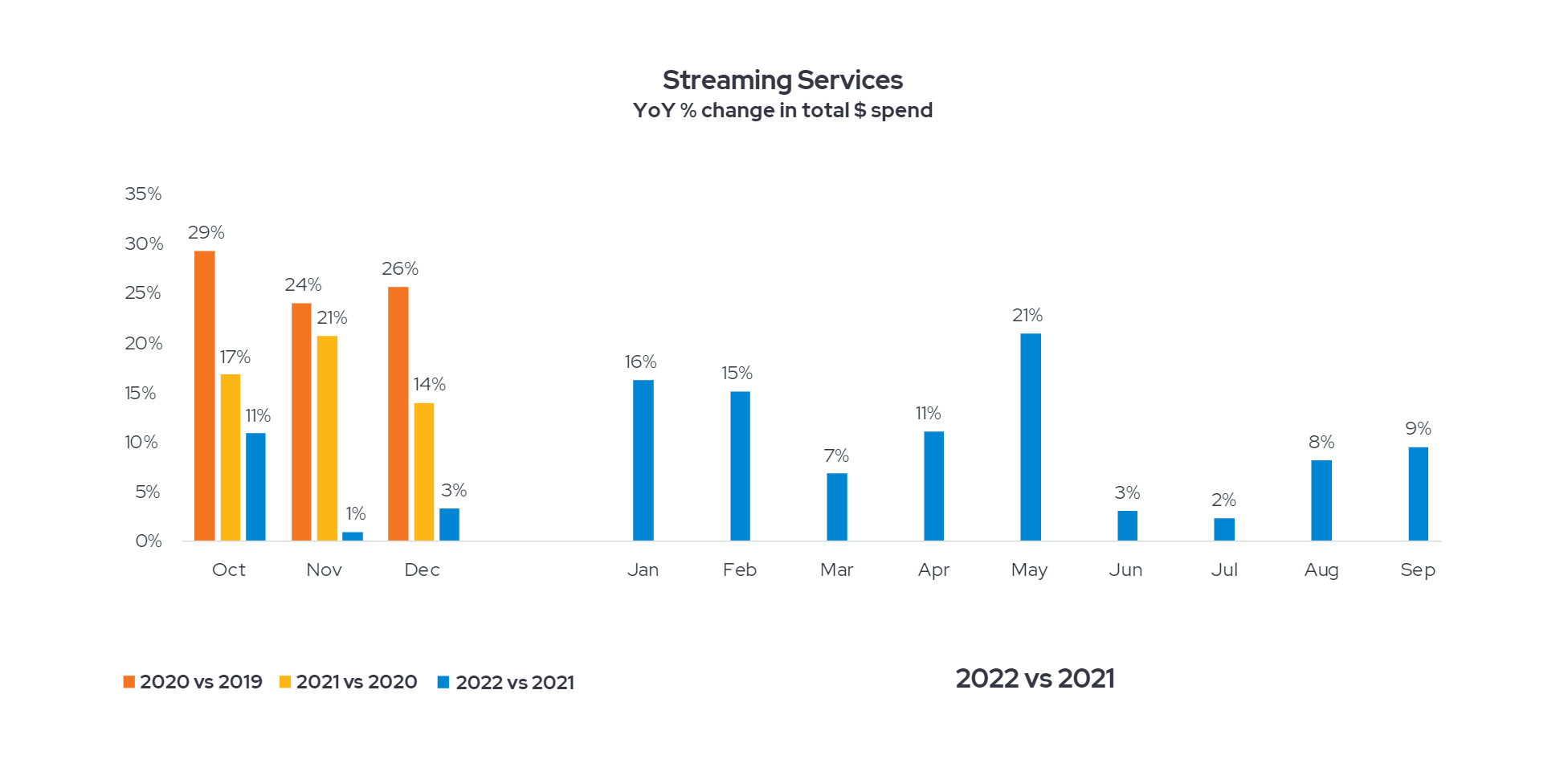 The Holiday Wrap-Up
Shoppers were generally spending more than they did at the holidays before the pandemic. Those industries where inflation slowed the most also seemed to see the strongest year-over-year spending numbers. Consumers seemed to spend more judiciously in those sectors where inflation slowed less – particularly travel and food – except when it came to streaming. We may have lost some of our appetite for flying – or for eggs – but we're still binge-watching like it's spring of 2020.
For more insights into consumer spending and transaction trends, visit our Resources page.
About Envestnet | Yodlee Merchant, Retail, Shopper, and Spend Insights
Envestnet® | Yodlee® Merchant, Retail, Shopper, and Spend Insights utilize de-identified transaction data from a diverse and dynamic set of data from millions of accounts to identify patterns and context to inform spending and income trends. The trends reflect analysis and insights from the Envestnet | Yodlee data analysis team. By combining data with intelligence – connecting vast amounts of actual de-identified shopping data with state-of-the-art analytics and machine learning – Envestnet | Yodlee provides visibility into an entire set of shopping daily purchase behavior including, but not limited to, transactions, customer lifetime values, and merchant/retailer shares.
To learn more about Envestnet® | Yodlee® Merchant and Retail Insights and get a free demo, please contact an Envestnet® | Yodlee® sales representative.
Footnotes
1Supermarkets & Groceries includes stores like Albertson, Aldi, BJ's Wholesale Club, Costco, H-E-B, Kroger, Publix, Safeway, Sam's Club, Target, Trader Joe's, Vons, Walmart, Wegmans, and Whole Foods Market
2Video Gaming merchants include Sony PlayStation Networks, Xbox, Steam, Nintendo, Twitch Interactive, GameStop, Blizzard Entertainment, Activision Blizzard, EB Games, Epic Games, Big Fish Games, Mojang, Riot Games, EA Games, Unity Technologies
3Streaming merchants include YouTube TV, Peacock, Netflix, Disney Plus, Hulu, HBO