April Consumer Spending Trends to Watch
There used to be three sure signs of springtime: The return of robins, the blooming of crocuses, and the opening of consumer wallets for seasonal spending on spring break travel and Easter festivities. You may still be able to count on the robins and crocuses, but what about the consumer spending?
After the COVID lockdowns began in March 2020, of course, all that seasonal spending dried up. It rebounded in spring 2021, and according to Envestnet® | Yodlee® data, it leveled off in spring 2022. What should retailers in sectors related to Spring Break and Easter spending expect in spring 2023?
A new survey by the National Retail Federation says respondents expect to spend record amounts this Easter. But this expectation among consumers may reflect their feelings about inflation more than their actual spending habits, as documented by Envestnet | Yodlee's wealth of de-identified retail transaction data. Based on spending trends our researchers have observed over the past three years, especially over the past 12 months, it seems reasonable to expect this spring's spending to fall below last year's levels, or at best, to equal them.
Spring Break
It makes sense that, after travel ground to a halt in 2020, it would roar back with a vengeance in 2021. That's certainly what Envestnet | Yodlee data recorded during the Spring Break months of March and April in year-over-year spending in sectors such as lodging, gasoline, and airlines.
In lodging1, for instance, spending vaulted in March and April of 2021 after falling below pre-COVID levels in 2020. In Spring of 2022, spending on hotels surpassed spring 2021 levels by much more modest but still healthy levels (21% in March, 16% in April). Since then, however, spending dropped, leveling out to match 2021 levels even during the travel-friendly summer months. Spending actually dropped on a year-over-year basis in November 2022 and February 2023. That trend doesn't bode well for spring break destination hotels hoping for spending growth this season.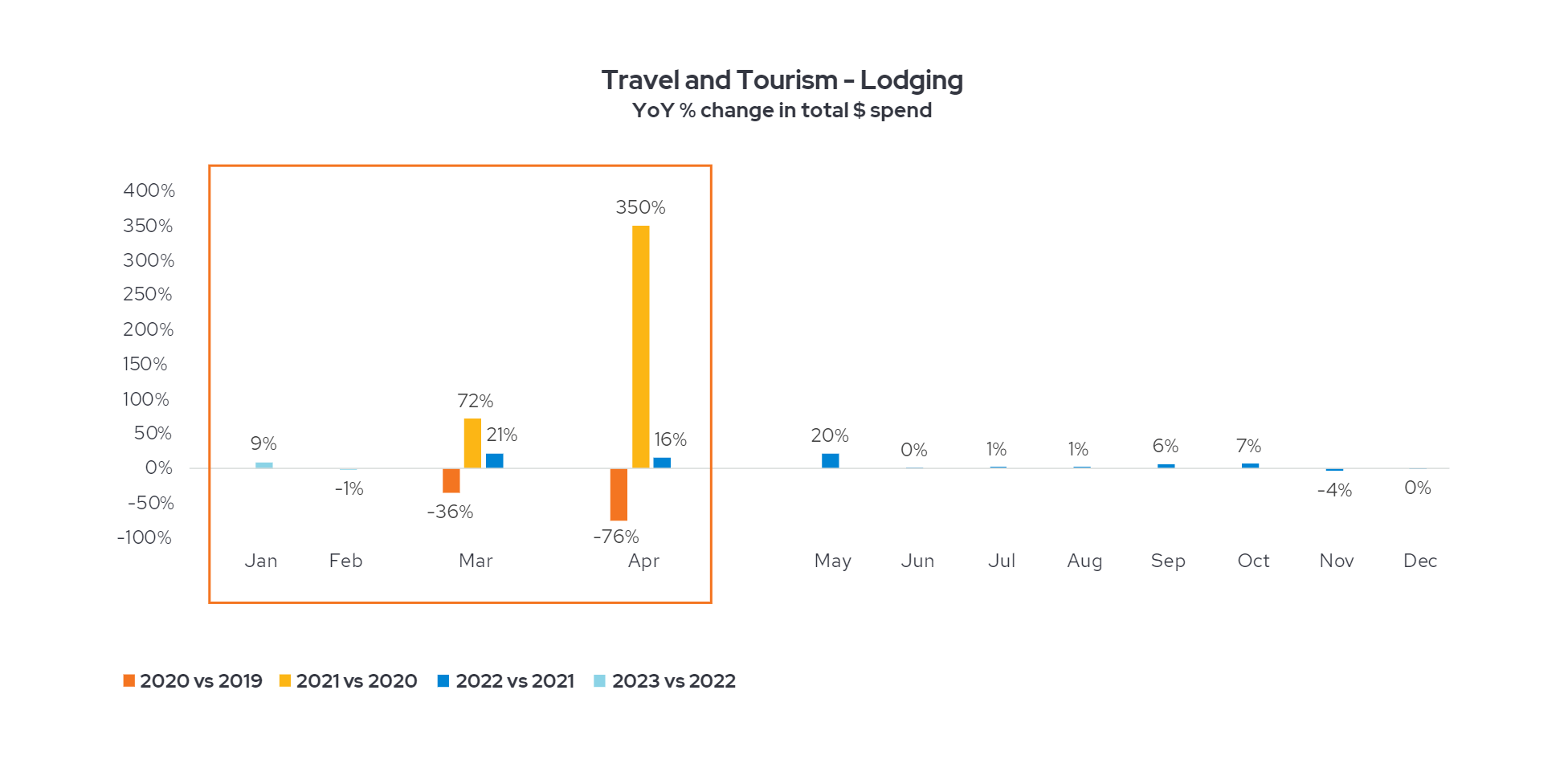 Similar spending trends appear in road trip spring break travel, judging by Envestnet | Yodlee data on gas station2 spending. People were eager to fuel up their cars in March and April of 2021, judging by the spikes observed in our data, and year-over-year spending remained strong in spring 2022. But spending growth tapered off throughout the summer as gas prices rose dramatically. Between November 2022 and February 2023, year-over-year spending on gas was down between 2% and 13%. One could argue that this was an especially cold winter, unfriendly to road trip travel even at high-demand times like the year-end holidays. But the year-long downward trend in spending growth suggests that gas stations may also see year-over-year declines even as weather warms up for spring break travel.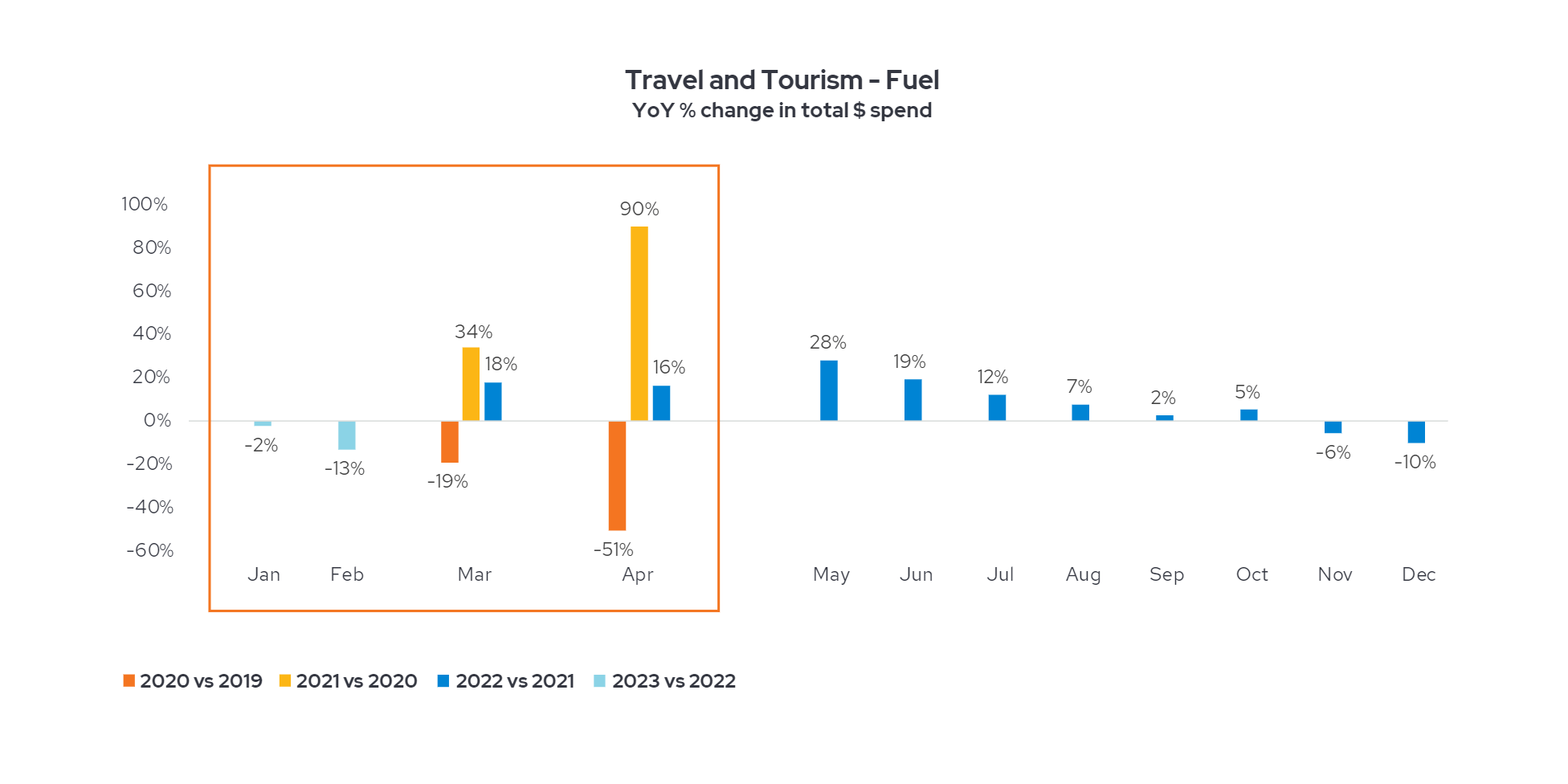 In airlines3, spending on plane tickets skyrocketed in spring 2021 after plunging the previous year. Spending on air travel was up a fair amount in spring 2022 as well (50% year-over-year in March, 31% year-over-year in April), and it remained above 2021 levels for the rest of the year, in large measure because of spikes in prices of jet fuel and tickets. That January and February 2023 have continued to see higher spending than 12 months prior suggests that airline spending will remain at or slightly above 2022 levels this spring break.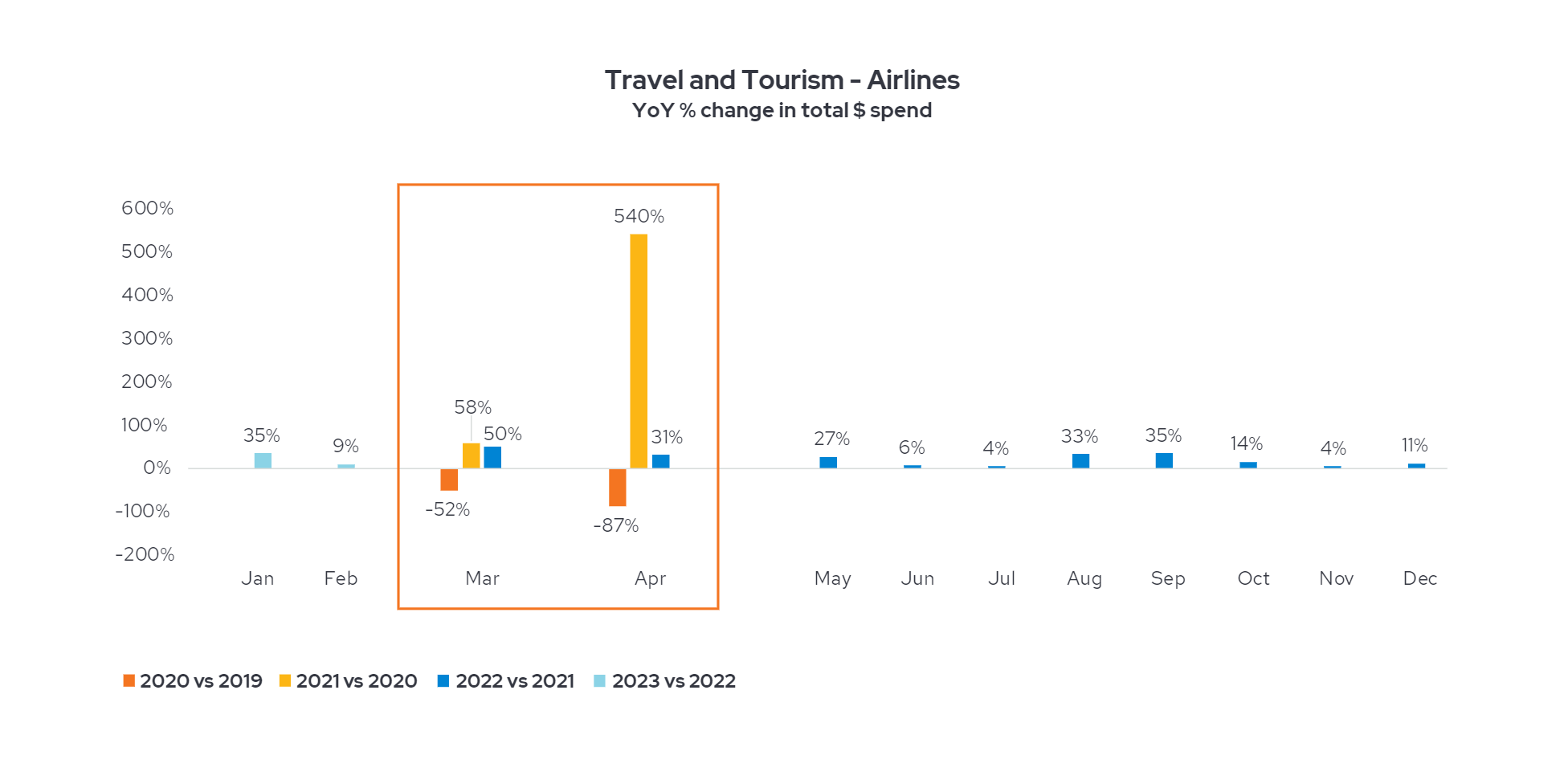 But that may be because of continued high prices, not because of increased demand. Looking at spending trends at top spring break destination cities and resorts, spring break travel spending – which we distinguished by measuring it against February travel to those same destinations – rose considerably in 2021, with the top 10 destinations seeing an increase of 36 to 67 percent over the previous month. Last year, however, the top 10 destinations saw increases of just 17 to 33 percent. If that trend continues this year, spring break resort towns shouldn't expect tourists to spend as freely as they did two years ago.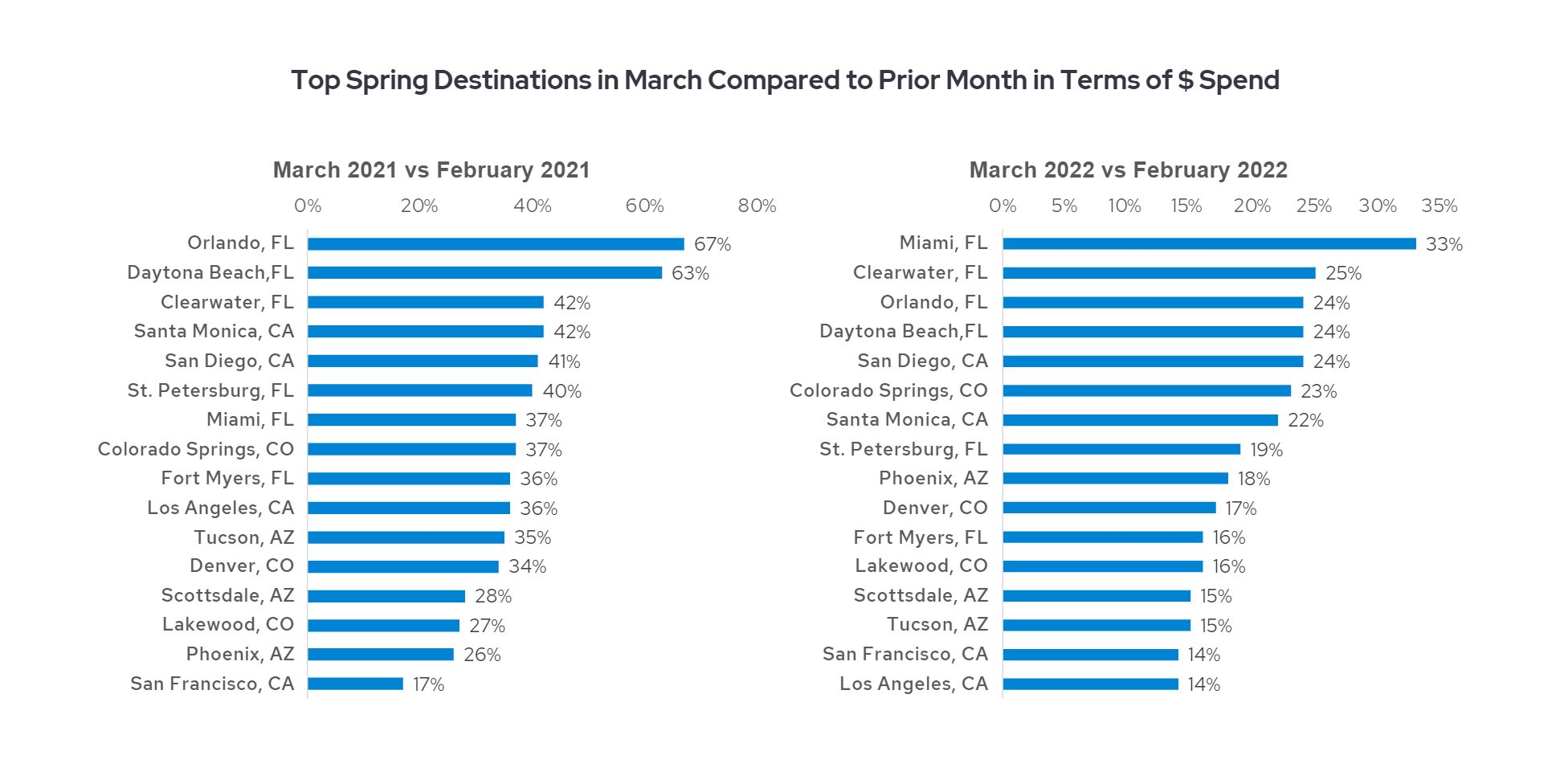 Easter
Spending on Easter holiday trappings looks a lot like it does for spring travel. For greeting cards4, for instance, our data shows big seasonal spikes in 2021 and more modest but still robust spikes in spring 2022. After that, however, growth was nearly flat or well below the previous year's levels. For the last five months, year-over-year spending on cards has been negative, as low as 19% below the previous year's spending. Should that trend continue, card retailers will not have a happy Easter.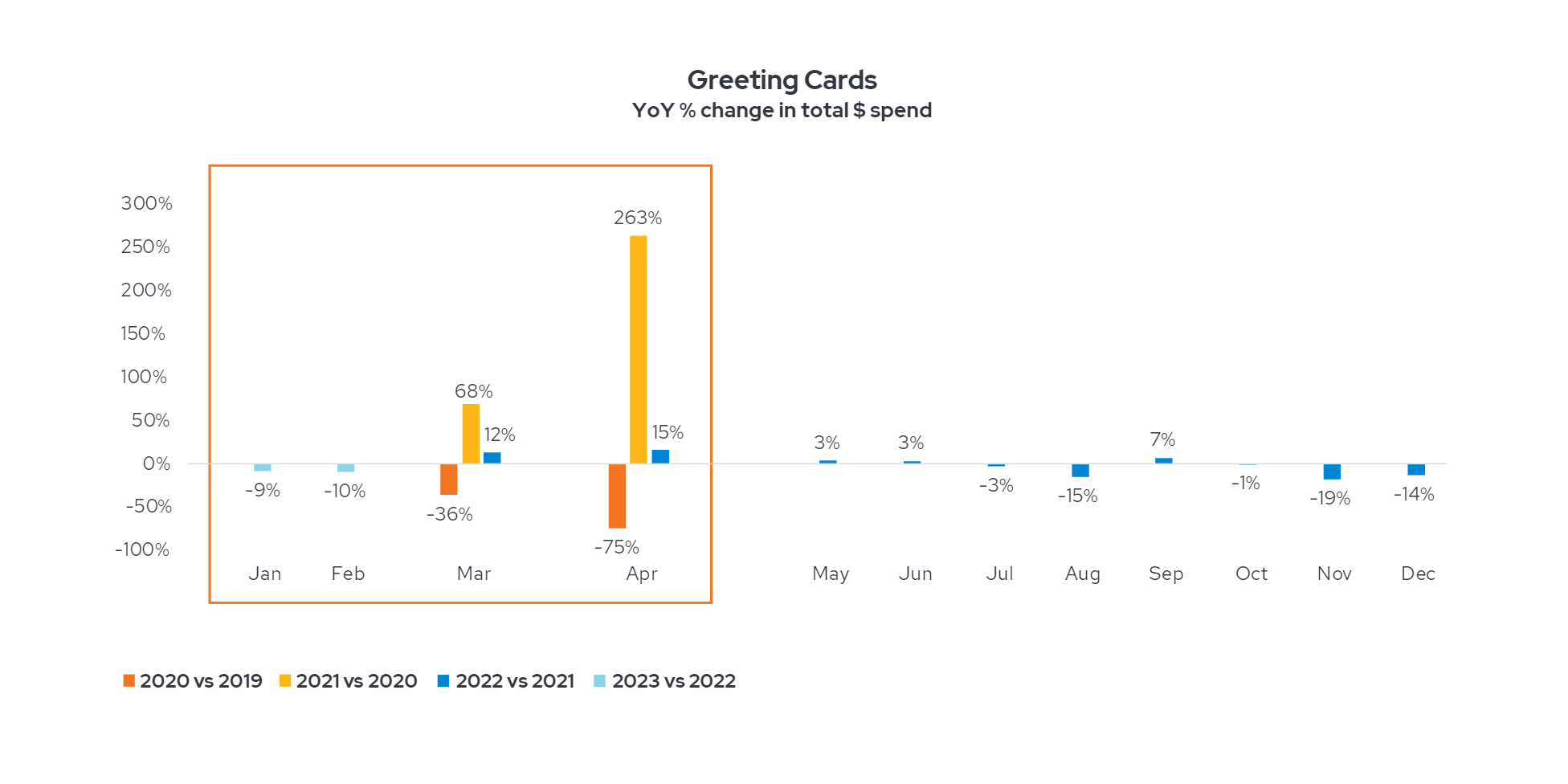 For flowers and gifts5, trends don't look much rosier. The 2021 spring spike was huge in March, but spending actually declined year-over-year in April. Spring 2022 saw minimal spending growth. Spending growth was healthy from June through October (between 24% and 33% year-over-year), but it leveled off near the end of the year and has yet to recover. Even in February 2023, at Valentine's Day, sales were a hair below the previous February. Given such trends, one wouldn't expect spending on sprays of lilies or Easter baskets to be much different from 2023.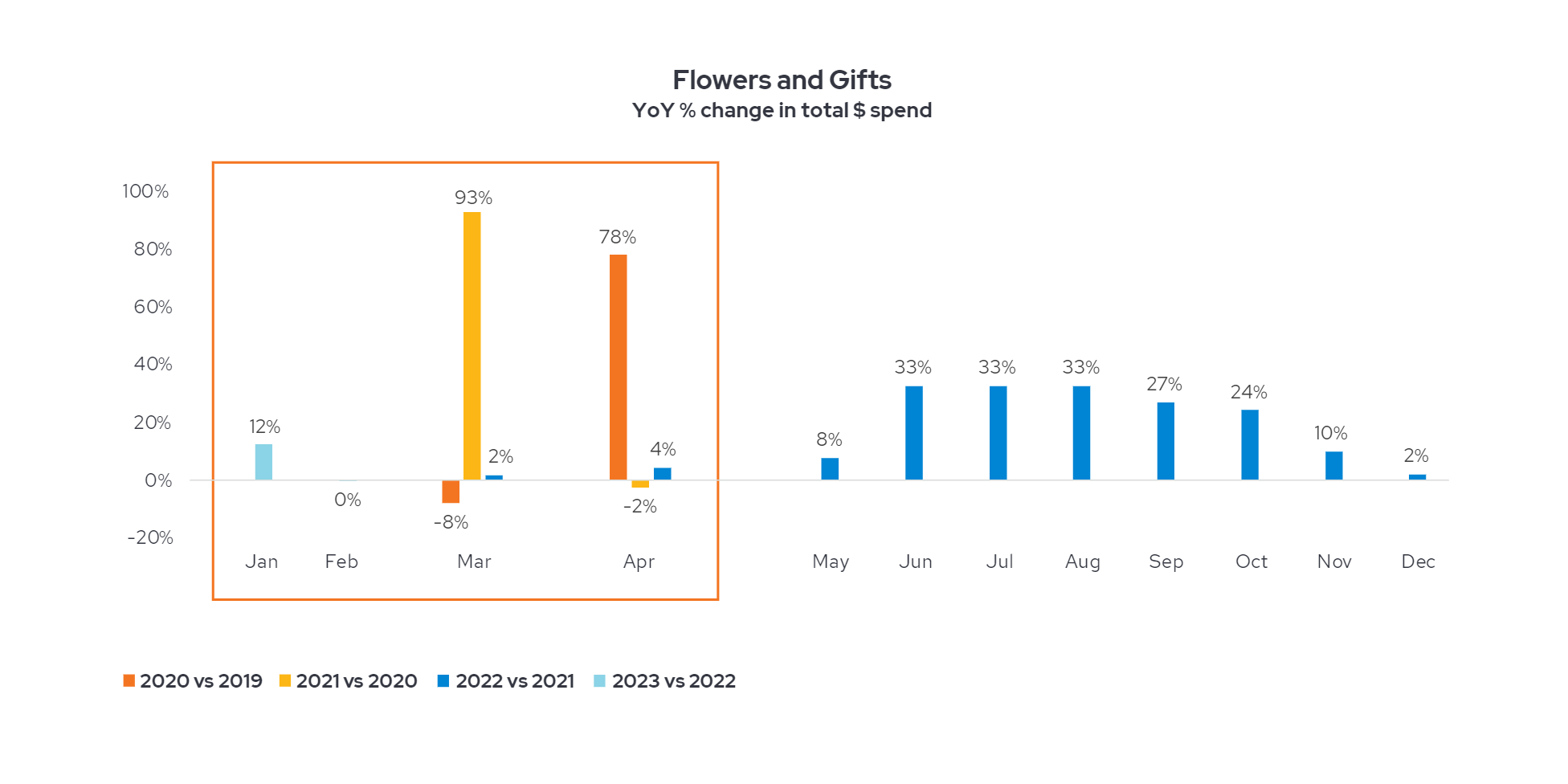 Finally, the notion that consumers spend extra on Easter finery, to show off their holiday outfits in the pews, may be a nostalgic relic of Irving Berlin and "Easter Parade." Like other sectors, apparel6 saw a sales spike in spring 2021, but sales fell below those levels in March and April of 2022. Since June 2022, spending has been well below the previous year's level, lagging as much as 50%. The data suggests that Easter revelers in 2023 are not spending as lavishly on new outfits as they did last year, much less as in 2021.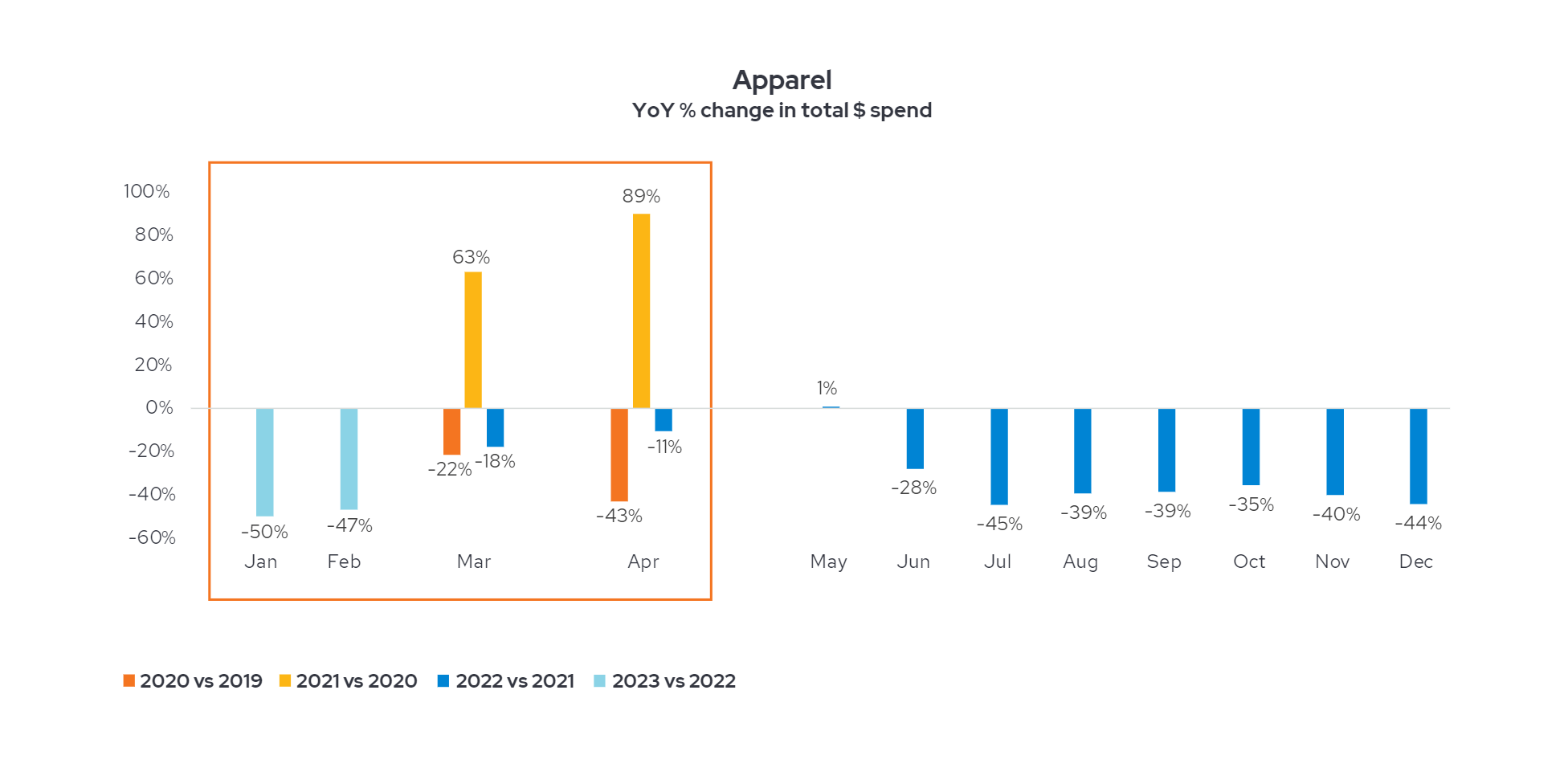 Spring Forward?
Spring spending trends across all seasonal sectors, whether related to spring break travel or Easter celebrations, have followed a similar trajectory. Those trends suggest that, despite rebounds since the onset of the pandemic in 2020, seasonal spending this spring will be flat at best compared to last year.
About Envestnet | Yodlee Merchant, Retail, Shopper, and Spend Insights
Envestnet | Yodlee Merchant, Retail, Shopper, and Spend Insights utilize de-identified transaction data from a diverse and dynamic set of data from millions of accounts to identify patterns and context to inform spending and income trends. The trends reflect analysis and insights from the Envestnet | Yodlee data analysis team. By combining data with intelligence – connecting vast amounts of actual de-identified shopping data with state-of-the-art analytics and machine learning – Envestnet | Yodlee provides visibility into an entire set of shopping daily purchase behavior including, but not limited to, transactions, customer lifetime values, and merchant/retailer shares.
To learn more about Envestnet | Yodlee Merchant and Retail Insights and get a free demo, please contact an Envestnet | Yodlee sales representative.
Footnotes:
1Lodging includes such hoteliers as Holiday Inn, Marriott International, Hilton Hotels & Resorts, Hyatt, Courtyard, Hampton Inn, Hotels.com, Comfort Suites, Wyndham, DoubleTree, Hilton Garden Inn, and Sheraton Hotels & Resorts.
2Fuel includes such filling stations as ARCO, BP Global, Chevron, Citgo, Conoco Gas Station, Delta Gas Station, Express Fuel, ExxonMobil, Giant Gas Station, Hy-vee Gas, Kroger Fuel Center, Meijer Gas, Shell, Maverik, Kwik Trip, Murphy USA, and Pilot Flying J.
3Airlines includes such carriers as Delta Air Lines, American Airlines, Southwest Airlines, Spirit Airlines, Frontier Airlines, JetBlue, Alaska Airlines, United Airlines, Allegiant Air, and Hawaiian Airlines.
4Greeting cards includes such retailers as American Greetings and Hallmark.
5Flowers and gifts includes such merchants as 1-800-Flowers, Edible Arrangements, FTD, From You Flowers, ProFlowers, Teleflora, Wildflowerflorist, Avas Flowers, Whatnot, Harry & David, Uncommongoods, Shari's Berries, Urbanstems, and The Bouqs Companys.
6Apparel includes such brands as Old Navy, Gap, American Eagle Outfitters, Banana Republic, H&M, Zara, Carter's, Vans, Anthropologie, J. Crew, Urban Outfitters, Abercrombie & Fitch, Torrid, Forever 21, ASOS, Aeropostale, Levi Strauss & Co., Brooks Brothers, Uniqlo, Oshkosh B'Gosh, and Patagonia Outlet.