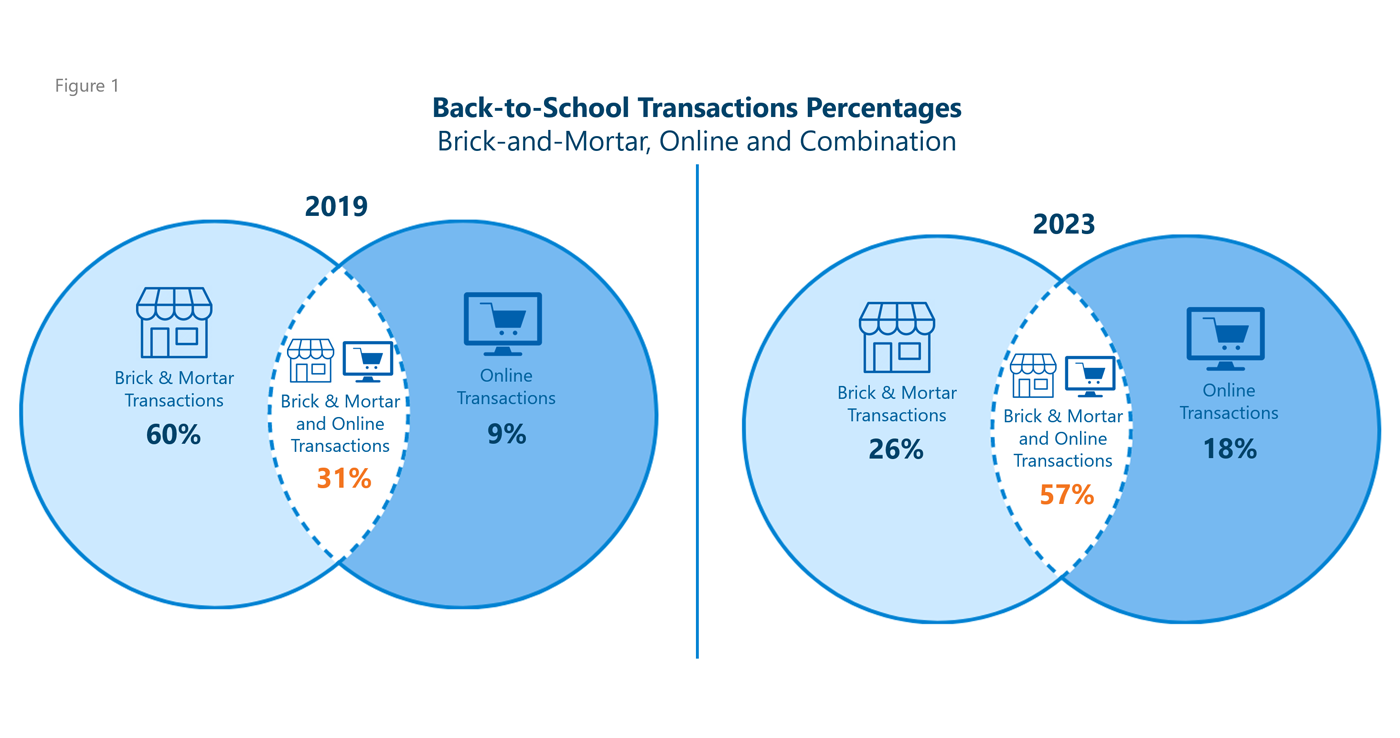 Students still want to delight in the excitement of choosing new school supplies, but they are likely to execute some of that shopping activity from home. While brick-and-mortar stores remain the favored choice for shopping among consumers, the trend over the past few years indicates a growing predilection for both online and omnichannel shopping.  
As shown in Figure 1, the Yodlee data, which includes multiple school supply shopping categories comparing 2019 and 2023, indicates that the shift to making purchases through various channels (omnichannel) has not faded away post the pandemic. In 2023, 57% parents used both online and in-store modes for their back-to-school purchases versus 31% in 2019. 
What You Buy Influences Where You Buy
As more customers adopt a combination of in-store and online purchasing in their back-to-school shopping journey, Yodlee data indicates category specific preferences toward particular channels. Interestingly, in the Computers & Electronics category, nearly all customers (over 90%) are incorporating e-commerce in their shopping versus 45% in 2019. For Clothing & Accessories and Shoes, brick-and-mortar stores remain the preferred shopping channel.  
Want to get the pulse of how consumer spending is shifting?
Subscribe to our research data blog for ongoing updates or reach out for a personalized, up-to-date view of the data.
About Envestnet® | Yodlee® Merchant, Retail, Shopper, and Spend Insights
Envestnet | Yodlee Merchant, Retail, Shopper, and Spend Insights utilize de-identified transaction data from a diverse and dynamic set of data from millions of accounts to identify patterns and context to inform spending and income trends. The trends reflect analysis and insights from the Envestnet | Yodlee data analysis team. By combining data with intelligence – connecting vast amounts of actual de-identified shopping data with state-of-the-art analytics and machine learning – Envestnet | Yodlee provides visibility into an entire set of shopping daily purchase behavior including, but not limited to, transactions, customer lifetime values, and merchant/retailer shares.
To learn more about Envestnet | Yodlee Merchant and Retail Insights and get a free demo, please contact an Envestnet | Yodlee sales representative.