Buy-Now-Pay-Later, commonly referred to as BNPL, has quickly emerged as a popular payment option for retail and other major discretionary spend categories. Providing both the benefit of convenience and deeper integration with merchants and websites, consumers has been availing themselves of BNPL payment options during checkout. This type of financing has been more commonly used for big-ticket items such as cars and furniture , but now has become more broadly used for other smaller ticket purchases such as apparel.
In order to better understand the growth of BNPL providers, we looked at trends from 2018 by leveraging Envestnet | Yodlee's rich de-identified transaction data. Key providers we have considered in the BNPL sector are: Affirm, Afterpay, Klarna, Paypal , Sezzle, Quadpay, FuturePay and EasyPay.
BNPL services saw tremendous growth in recent years
Adoption of BNPL services witnessed explosive growth over the past four years. Consumers opting to pay via these providers grew at a three year compounded average growth rate (CAGR) of 98% through 2021. The pandemic also likely spurred incremental BNPL adoption, as 2020 reflected a 39% increase in new adopters compared to 2019.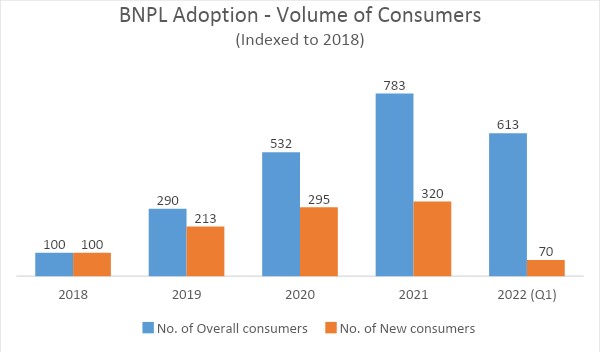 Total consumer payments via BNPL services in 2021 were 5x that of the pre-pandemic levels seen in 2019. During the same period of comparison, average payments per consumer shot up by 50%.
More choice has resulted in enhanced consumer activity over the years
Several new players in the space, as well as technologies that are more efficient to enable smoother integration with merchants, have led to more consumers exploring multiple BNPL services. While the predominance (95%) used one BNPL provider in 2018, by 2021, that percentage was only 57% as more consumers chose to utilize two and three providers.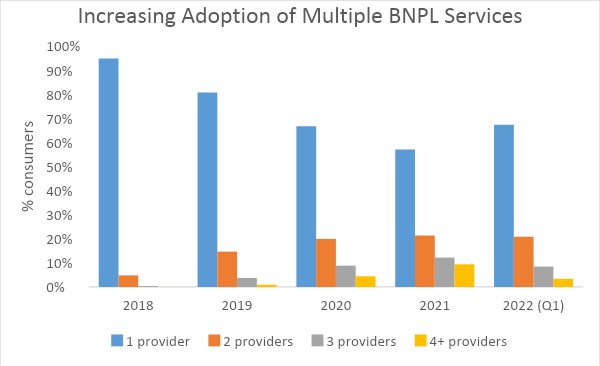 An increase in the number of BNPL providers has also led to increased consumer engagement with BNPL options as they try multiple services. While 60% of consumers were active for less than 3 months in 2018, 45% of them have been actively using a payment service for more than six months of 2021.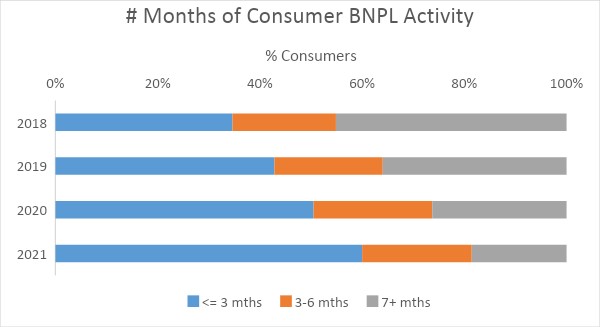 Huge interest in BNPL has resulted in lower credit card utilization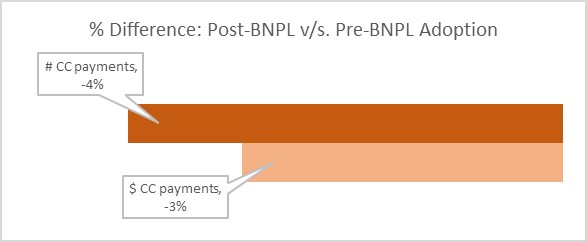 Getting a taste of BNPL and its convenience for the first time has made consumers rethink and marginally lower their credit card usage. A 3% drop in overall credit payments post BNPL adoption seems to indicate a move in that direction.
Is BNPL the next big thing in personal finance?
BNPL has revitalized the payments industry. It has seen stellar growth numbers especially since the onset of the pandemic. More businesses are willing to tie-up with providers who can seamlessly integrate checkout and post-checkout services. However, though the numbers seem to point towards the direction that BNPL is here to stay3, in-store penetration and rapid scaling to meet and enhance consumer experiences will play a vital role in ensuring sustained growth.
About Envestnet | Yodlee Income and Spending Trends
Envestnet | Yodlee Income and Spending Trends utilize de-identified transaction data from a diverse and dynamic set of data from millions of accounts to identify patterns and context to inform spending and income trends. The trends reflect analysis and insights from the Envestnet | Yodlee data analysis team.
Footnotes:
1https://fitsmallbusiness.com/buy-now-pay-later-statistics/
2PayPal BNPL services strictly include only its "PayIn4" and "Global Pay Later" products in the US.
3https://www.bain.com/insights/is-buy-now-pay-later-here-to-stay-snap-chart/