Overall, Envestnet | Yodlee COVID-19 Income and Spending trends data shows that consumer spending in the summer resort category has recovered since bottoming out in April 2020. For this analysis, we looked at spending in resort towns during summer to see if the pandemic affected areas that would usually be bustling during vacation months. A resort town is defined as an area where tourism or vacationing is the primary component of the local culture and economy. In our analysis, we took a closer look at U.S. towns like Truckee, California; Aspen, Colorado; Jackson Hole, Wyoming; and others.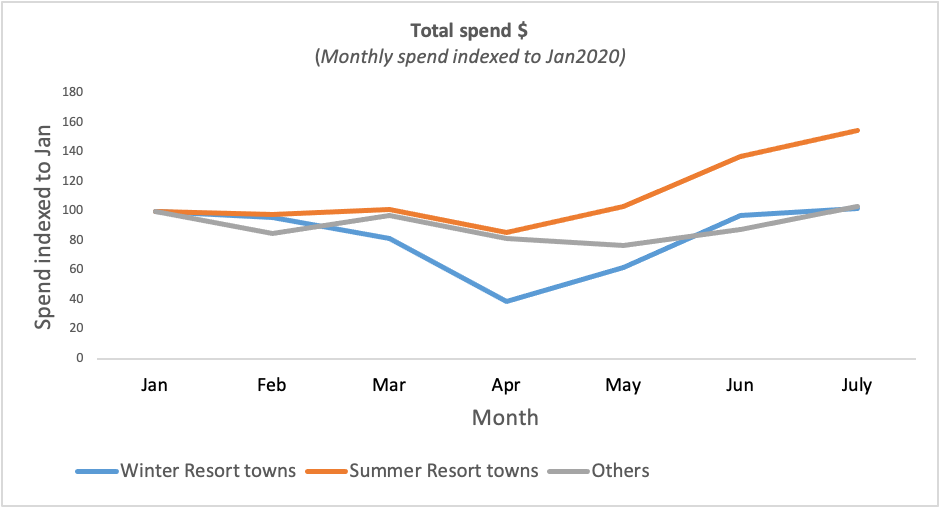 States like Colorado and Utah typically benefit from the influx of visitors seeking the extended ski season as tourists usually arrive for the first snowfall in November, up until April. Communities in these states saw a rise in tourists and commensurate spending in Winter 2019 resulting from a combination of factors such as plentiful snow and expanded resort options.
This year, the pandemic hit these regions hard at a time that tourism is usually in full swing. According to the Bureau of Labor and Statistics, the biggest job losses in April 2020 in Colorado were in the leisure and hospitality industry.

While nationwide spending (shown in gray below) dropped in April and began to recover in May, winter resort towns experienced an even steeper decline in April, down 65% year over year, as mountains closed down. According to an article in the Colorado Sun, resort towns like Aspen and Breckenridge saw spending in their towns decline between 44 and 50% in the months of March and April. As seen in the chart below, spending began to increase throughout the summer and was down only modestly compared to 2019 in these regions by June.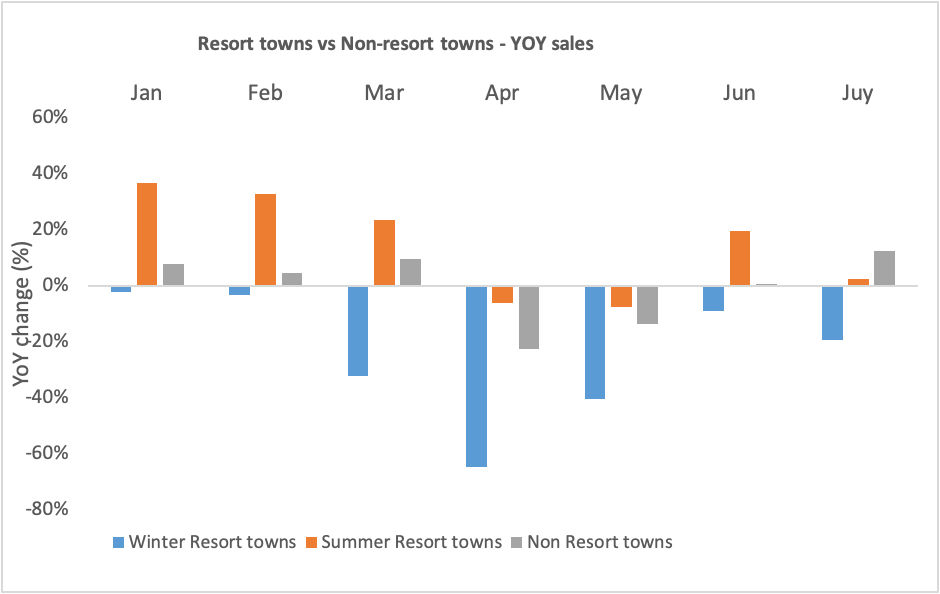 Summer resorts towns seem to have fared better. Typical summer vacation spots experienced a modest decline in consumer spending in April and May, but benefited from a year-over-year increase in spending in June and July as beaches and businesses reopened with updated guidelines. Some areas even cited staffing shortages due to the lack of available seasonal labor.