What is Card Transaction Data?
Card transaction data refers to financial data that is generated from a transaction involving a debit or credit card. When consumers use debit and credit cards to pay for groceries, gas, and other goods and services, the spending data is recorded by the bank as a transaction. Consumers see their transactions automatically show up on their banking website and credit card statements, but behind each piece of transactional data is a complex web of point of sale (POS) servers, ATMs, middleware, security software and countless other devices.
Current State of Transaction Data
Transaction data can carry a lot of information, but much of it gets lost in its current difficult-to-read, garbled state. If you've ever tried to decipher your credit card bill, you know how hard it is to decipher what you've actually purchased. Different payment processors will refer to the same business different ways, and often the transaction information includes ambiguous letters, numbers, and symbols. This confusing data leads to a large volume of expensive customer support calls and research into fraud claims, all of which is preventable. Transaction data also often lacks categorization, which makes it difficult for financial institutions to organize, analyze, and use effectively.
Watch our on-demand webinar, to learn more and see how Envestnet® | Yodlee® Transaction Data Enrichment (TDE) capabilities can solve some of these problems for financial institutions, FinTech innovators, and their customers.
How Does Data Enrichment Support Credit Card Transaction Data Analytics?
Data enrichment involves enriching third-party data with proprietary data algorithms to identify and fill gaps, normalize the data, and make it consistent. This practice supports bank and credit card transaction data analytics by providing a standard set of data that financial services companies can use and learn from. Transaction Categorization is the practice of categorizing the data to enable deeper insights and improve the customer experience; like building personas or target segments.
Aggregated transaction data drawn from millions of customers can be analyzed to uncover spending habits, share of wallet, and more. With this information in hand, it's possible to more successfully promote targeted offers, deliver personalized financial advice, and drive more meaningful customer interactions.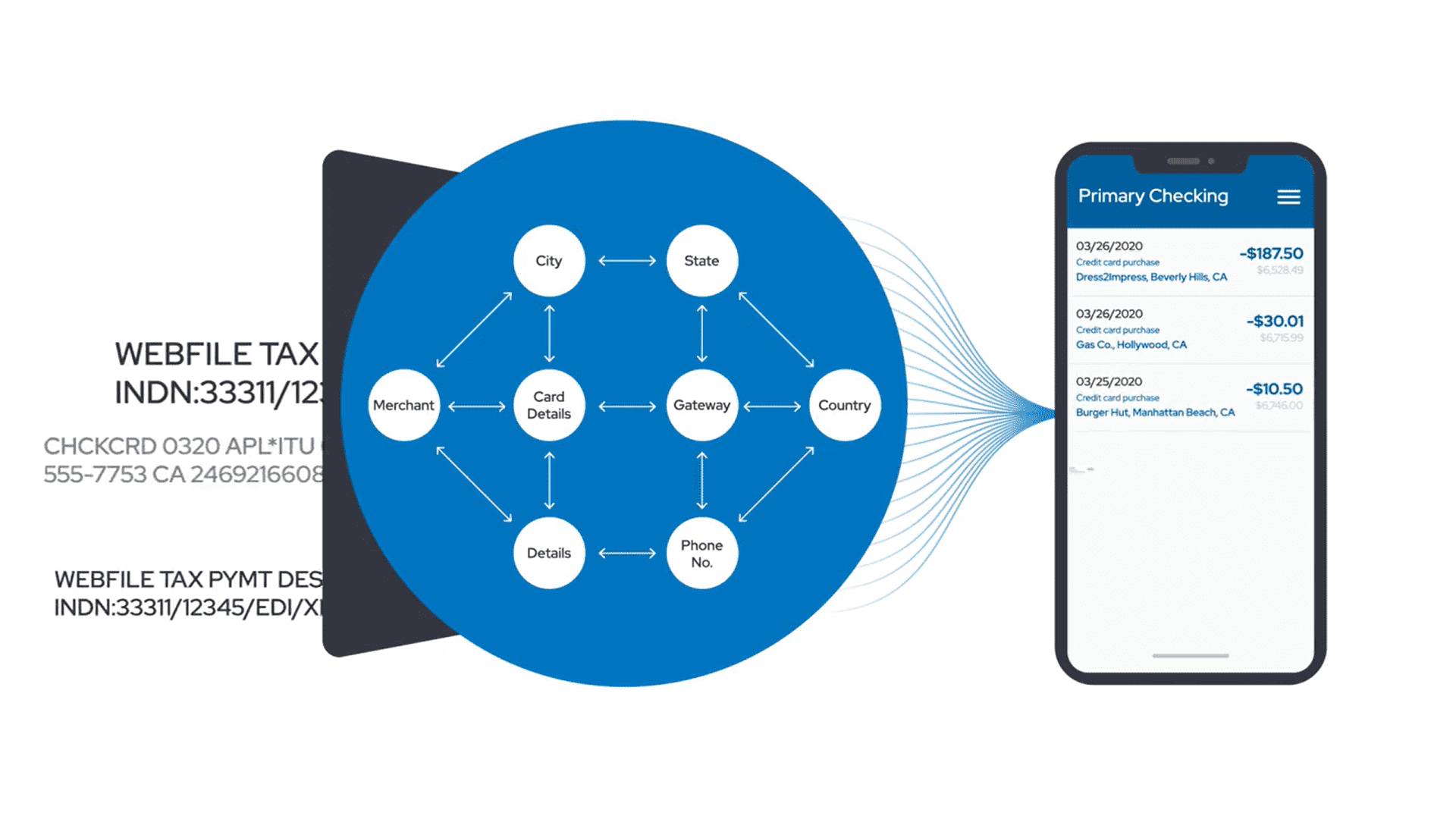 3 Benefits of Using Credit Card Transaction Data for Insights
Most forward-thinking companies are using credit card transaction data to inform business and marketing decisions. Enriched data can be used in a number of ways to drive meaningful insights and customer interactions.
Easy to Read and Understand Data
With credit card transaction data that's been enriched and categorized, consumers not only see a clear merchant name, date, and amount, but they can also get additional context, like a simple description of the transaction and the category it falls under. This easy-to-understand, enriched data can reduce customer support calls, lower fraud research costs, and provide a better customer experience overall.
Leveraging Transaction Data for Greater Customer Insights, to share how Envestnet® | Yodlee® Transaction Data Enrichment (TDE) capabilities can help financial institutions, fintech innovators, and their customers all benefit from easy to understand transactions.
Personalization for Customers
When transaction data is delivered in a customized view, and displayed and organized according to category, merchant, geography, or amount range, it can help customers to better understand and manage their spending, subscriptions, in-app purchases, and more. This data can also be leveraged to successfully promote timely, personalized offers, deliver personalized financial advice, and engage with consumers in a more relevant way.
Higher Levels of Data Analysis
Consumer transactions are the most insightful data institutions can harness to learn about their customers. Data analysis can be applied to enriched card data to discover the meaning behind transactions and gain the regional context needed to begin understanding consumer spending patterns, habits, and trends. Data analysis can determine which financial products and services are best suited for specific customer segments. These deep insights into customer needs and behaviors can help businesses identify valuable opportunities, make more strategic decisions, and deliver customized digital experiences that retain customers for the long term.
How Transaction Data Enrichment (TDE) Helps Machine Learning and AI
Ultimately, transaction data enrichment can be used as the building block for artificial intelligence. We see an increased use of chatbots in the financial industry, and TDE can lead to more human-like interactions with AI chatbots. TDE also enables financial service providers to offer more personalized service with better customer-level information.
Envestnet | Yodlee offers transaction data enrichment to all customers. But even if you have disparate data that's not integrated into our platform, we can still process your data and give you back an enriched and cleaned-up version. We can add additional information, like the web address, phone number, or even the email address of the merchants.
TDE will help financial institutions and FinTech companies gain actionable insight into spending trends, promote targeted offers, and drive more targeted customer interactions.
Partner With Envestnet | Yodlee
We use machine learning to deliver the merchant name, a simple description of the purchase, geo-location, and even contextual categories.
Aggregated data is data gathered from multiple sources to provide a complete picture. When transaction data is generated, it is coming from multiple sources varying in formats and complexities that make it hard for humans to decipher.
Using AI and machine learning technologies, Envestnet | Yodlee ensures the consistent delivery of transaction data analytics so it's normalized and standardized for humans to easily understand. Ambiguous transaction data riddled with random letters and numbers are turned into actionable insights immediately.