It doesn't take long to spot embedded finance in the wild. From NetSuite and Spotify to gaming company Razor and ride service Lyft, financial services are becoming part of the experiences offered by non-bank technology companies of all shapes and sizes. By embedding payments functionality into an app, non-banks are enabling consumers to access payments and banking products and personal financial management services right at their point of need, to increase consumer engagement and stickiness along with sales.
FinTechs & Embedded Finance
What is embedded finance? Embedded finance is essentially the placing of financial products and services in a nonfinancial customer journey, platform, or experience. For example, renting a movie on your TV through Netflix, arranging and paying for a ride with Uber, and ordering a pizza through Grubhub can all be considered embedded finance. Embedded finance also makes it possible for small businesses to obtain loans at the point of sale without interacting directly with financial institutions. Obstacles to purchase are eliminated and transactions are streamlined to optimize the user experience.
Embedded Finance Ultimately is About Removing Complexity
Why should consumers have to put their money into one place to save, another to invest, yet another to get a loan, and then another to make a purchase? With embedded finance, consumers have the opportunity to make smart and effortless personal financial management decisions where they're already spending their time – and already interacting with their money.
Embedded finance removes complexity for FinTechs, too. Through the partnership between startup Productify and Envestnet® | Yodlee®, for instance, FinTech developers have immediate access through a single interface to data aggregation and account verification services plus Automated Clearing House (ACH), card issuance, credit data, and more to accelerate the launch of a FinTech app with embedded finance capabilities.
Embedded Finance Examples
Payments are one of the most well known embedded finance examples. Other common embedded finance offerings include embedded personal financial management (PFM), banking, lending, insurance, savings, and investing. These experiences are designed to remove consumer pain points, increase brand loyalty, and drive insight.
Embedded Payments
Today, embedded payments are enabling many consumers to skip lengthy card payment processes and pay with one click on an app or site. Through Amazon's 1-Click service, for example, consumers don't have to repeatedly enter billing, shipping, or payment information to purchase, since the information is saved during their first transaction. Another example is Starbucks' app, which allows consumers to skip the line and order ahead with a few clicks. Starbucks customers can set up embedded payments with a debit card or a credit card, and receive more points and special offers the more frequently they use this feature.
Embedded Banking
Embedded banking is when non-financial companies offer traditional banking tools like a debit card or branded checking account to consumers. For instance, the ride-share company Lyft offers direct debit cards and bank accounts that enables drivers to get instant access to their Lyft earnings, without any transfer fees. Walmart is another brand capitalizing on embedded banking. This multinational retailer offers a full package of banking services such as a mobile checking account, a debit card, and even financial planning tools to help customers better manage their finances.
Embedded banking and banking as a service (BaaS) often get confused, but embedded finance is essentially the front end of the financial services and payments experience offered to consumers. Banking as a Service, on the other hand, stands for the partnership where BaaS providers supply and enable FinTechs and brands with embedded financial capabilities.
Embedded Lending
A popular example of embedding lending is the digital Buy Now Pay Later (BNPL) payment option for retail and other major discretionary spend categories. While consumers may think it's the retailer offering BNPL financing, it's usually the retailer partnering with a financial institution to offer these services.
Offering additional credit to buyers has vastly expanded consumer options. Overall, the idea of increasing the free flow of credit and encouraging more purchases by making them more affordable over time has paid off.
Embedded lending is essential for small businesses that need to make payroll, replace equipment, or make other critical purchases. With seamless access to user-permissioned financial data, FinTech companies and lending institutions can automate lending operations, expedite underwriting, and quickly weed out fraudulent borrowers.
Embedded Insurance
Insurance is another service that can be embedded in an app or service and offered to consumers and businesses right at the time of need. For instance, a consumer might be prompted to purchase travel insurance when buying plane tickets, cover expensive rental equipment at the point of sale, or purchase life insurance when setting up a trust fund. Embedding enables consumers to quickly purchase insurance without ever interacting with the insurance company.
Embedded Investing and Savings
Through embedded investing, consumers can direct their money into investment or savings accounts right where they receive it with companies you may not normally think of when you think "financial services." For instance, a customer might return an item to Amazon or Walmart and be able to deposit the refund into their investment account instead of having it credited back to their card. Some companies like PayPal even allow consumers to use their funds to buy cryptocurrency directly from their account. With embedded investing and embedded savings, something as simple as a retail return can help to facilitate financial wellness.
The Growth of Embedded Finance
The rise of embedded finance and digital tools has made it more accessible to consumers across the globe. Bain & Company has found that embedded finance accounted for 2.6 trillion or nearly 5%, of total US financial transactions in 2021, and estimates that by 2026 it will exceed $7 trillion, or over 10% of total US transaction value.1
As consumer interest in these integrated experiences continues to increase, more and more financial institutions, FinTechs, and technology partners are looking for innovative ways to partner to deliver embedded financial services and tools.
Future of Embedded Finance
Now that the tracks are being laid for embedded finance, the destination for future investors and borrowers and banking customers are starting to look different. Professionally managed portfolios, financial planning tools, investing services and more, that were once only available to consumers at a certain income level, are now becoming democratized for all. Even those who have been denied access to a financial advisor are suddenly able to consider options that can positively impact their future and help them achieve their goals. FinTechs and service providers that are embedding financial services into their nonfinancial offerings will be able tap into new revenue sources and opportunities to grow and retain customers for the long term.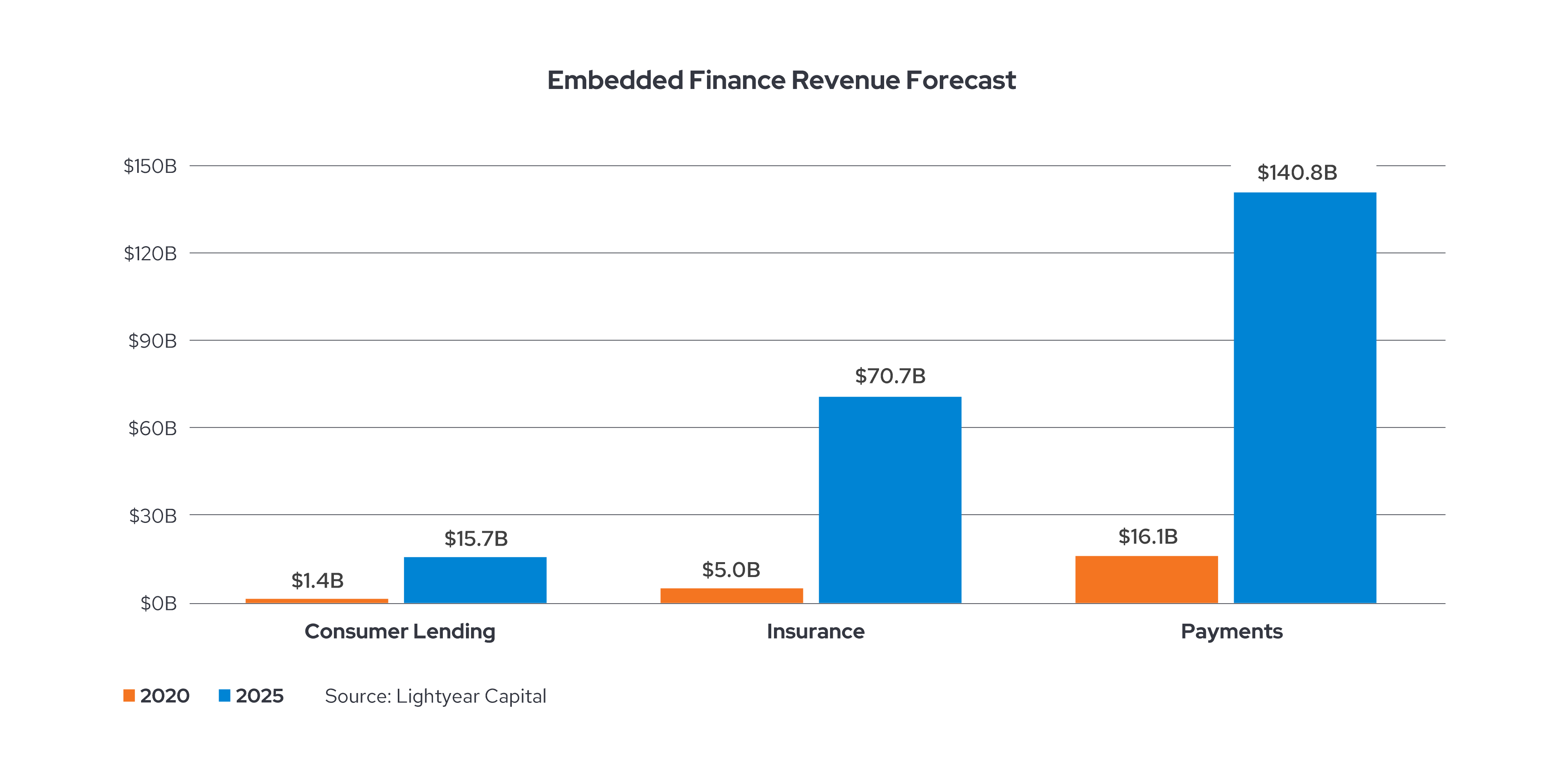 How to Start Offering Embedded Finance
The path to embedded finance involves partnerships and connections between banks and FinTechs. Application Programming Interfaces (APIs) make it possible for non-financial companies to connect to financial service providers and consumer-permissioned financial data needed for embedded finance.
As a global leader in data aggregation and data analytics, Envestnet | Yodlee offers the APIs that connect the customer journey to the financial data needed to power account opening and funding, mobile wallets, loan decisioning, personal financial management, and other embedded experiences.
Envestnet | Yodlee is deeply experienced in embedded finance models. We've even partnered with Productfy to accelerate the delivery of embedded finance solutions into your next big idea.