Envestnet | Yodlee is excited to introduce Insights Solutions, a new set of APIs designed to help financial institutions (FIs) and FinTechs grow market share with hyper-relevant interactions based on powerful data and actionable insights so they can know, engage and serve customer segments better.
By combing actionable insights, unique peer benchmarking comparisons, and personalized views on a foundation of enriched aggregated data, Insights Solutions helps financial service providers unlock the value of data. It's a win for financial service providers and consumers – both can see insights and experiences related to spending, borrowing, saving and planning habits across channels to empower end-user financial wellness.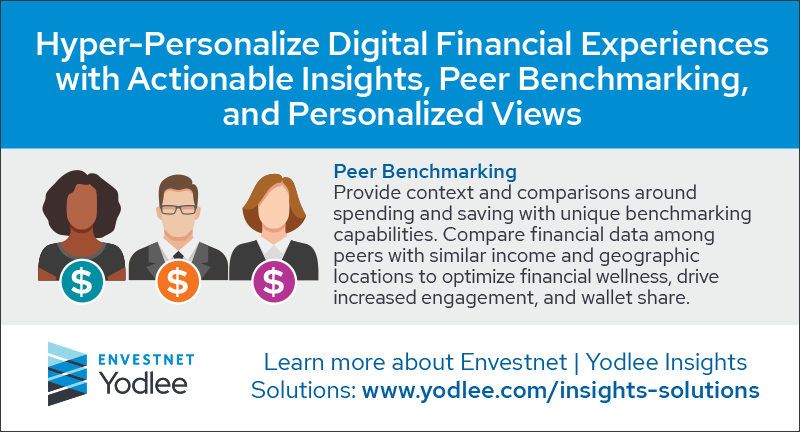 The Envestnet | Yodlee team is especially enthusiastic about this project because financial service providers can can provide interesting and motivating context through unique peer benchmarking data and insights. Improved visibility to a consumer's financial patterns gets more meaningful when compared those from peers with similar geographic regions or income levels. What's more, financial service providers will have access and be able to act on these relevant consumer insights faster and more affordably than the expensive and time consuming commitment to growing their own data science teams.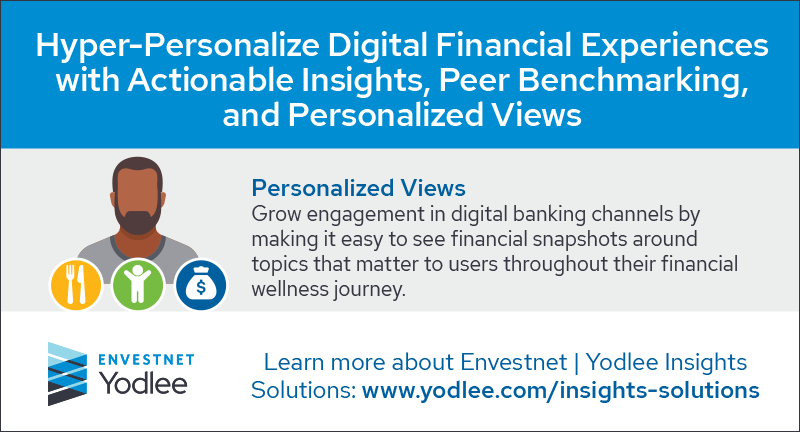 Personalization in financial services is no longer a "nice to have" but a business imperative.
And those who use Insights Solutions to gain a deeper understanding of their consumers and tailor their offerings accordingly will have a strategic and competitive advantage.
Empowering Consumers Through Actionable Insights
Today's uncertain economic environment has created unforeseen burdens for all consumers who are looking for extra support. FinTech companies can help by giving customers a 360-degree, personalized view of their finances to help make more informed decisions – both in the moment and the weeks, months and years ahead.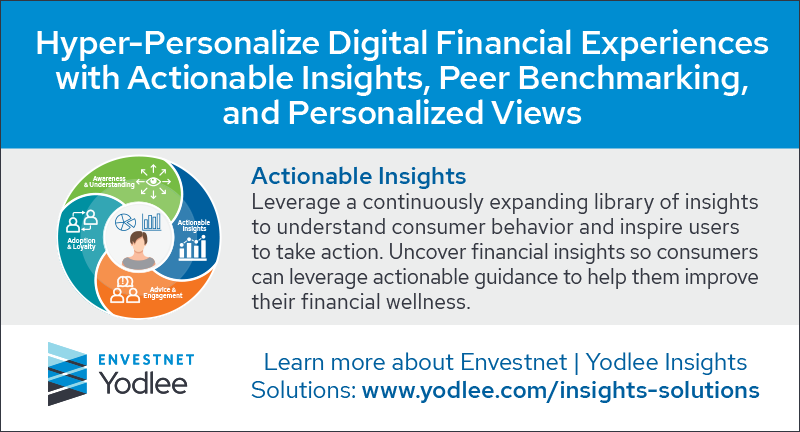 Insights Solutions provides financial service providers with the kind of rich, multi-dimensional account monitoring that, in turn, allows them to offer truly hyper-personalized, actionable insights that empower consumers. Some of these insights include:
Predictive cash flow capabilities, including projected warnings and forecasts

Alerts based on spending, categories, credit limits and refund monitoring

Spending insights that cover subscriptions and frequently used merchants
How Insights Solutions Delivers at Scale
The ability to simultaneously deliver experiences that are both world class to the consumer and deliver value to the business is modern marketing's holy grail. So it's no secret hyper-personalization is worth a lot to the financial services industry — estimated between $200 and $450 billion.
The issue has been trying to achieve such hyper-personalization and deploy it in such a way that removes the complexity of developing and integrating new offerings across all channels. Insights Solutions excels because we offer:
Bringing It All Together
With the launch of our Insights Solutions suite of APIs, Envestnet | Yodlee is first data and analytics company to offer hyper-personalization capabilities. It gives FIs and FinTechs the tools they need to grow their market share by providing high-quality, personalized customer experiences built on actionable insights, peer benchmarking and enriched data.
It's just one more way we're transforming how financial advice and wellness are delivered. Our mission is to empower advisors and financial service providers with innovative technology, solutions, and intelligence to make financial wellness a reality for everyone. Over 103,000 advisors across more than 4,900 companies including 16 of the 20 largest U.S. banks, 46 of the 50 largest wealth management and brokerage firms, over 500 of the largest RIAs, and hundreds of FinTech companies, leverage the Envestnet platform to grow their businesses and client relationships.