Envestnet is committed to doing well by doing good.  
Our corporate aspiration is to make financial wellness a reality for everyone and, at the same time, to build a company that strengthens communities for the benefit of future generations.
As part of our commitment to corporate responsibility, our Envestnet Cares initiative aims to give back to the communities we work in, while building camaraderie among our employees and our business partners. 
On Thursday, 6 July 2023, the Envestnet®|Yodlee® team in Australia joined with corporate partners and clients to volunteer at the Sydney facility of Australian not-for-profit Thread Together.
Thread Together's purpose is to drive social and environmental change with an ethical response to fashion excess. 
 
"Retailers have brand new, unsold clothes destined for landfill," explained Anthony Chesler, Thread Together's CEO.  "Sadly, at the same time, one in eight Australian adults, and one in six children, are experiencing vulnerability and do not have adequate access to essential clothing."
Thread Together addresses this gap with circular economy principles underscored by the human-centred values of choice and dignity.  
The organisation accepts donations of unsold and end-of-line clothing and fashion accessories from 1,000+ fashion industry participants in Australia such as designers, manufacturers and retailers.    
This keeps it out of landfill and also assists those donors to save on the costs of disposal. 
The apparel is then redistributed to people in need all across the country.  
According to Thread Together's Founder, Andie Halas: "It was a really obvious idea.  Don't put clothes in landfill.  Put them on the backs of people who need them."
Thread Together is currently helping 2,500 people a week and in total has saved more than 5.5 million items of clothing from landfill working with 1,000+ fashion industry participants across Australia, supported by the Australian Fashion Council.
There are many different reasons why people urgently need new clothes. For example, displaced persons, asylum seekers, domestic violence victims, survivors of natural disasters, pensioners on fixed incomes, as well as persons experiencing homelessness and recently incarcerated persons re-entering society.  
Thread Together operates on a "no judgement" basis and works with a national network of 700+ charities and social service agencies who submit requests on behalf of their clients.  
There's a friction point between the donation of the items and the delivery to the person in need. There's a physical need for people to spend time sorting, storing, displaying, picking, and boxing.
And that's where we helped out.
On the day, we were moved to learn that the first box we would pack would be for a 32-year-old woman who is five months' pregnant and in need of a warm and flexible winter wardrobe.
In total, we packed more than 40 boxes.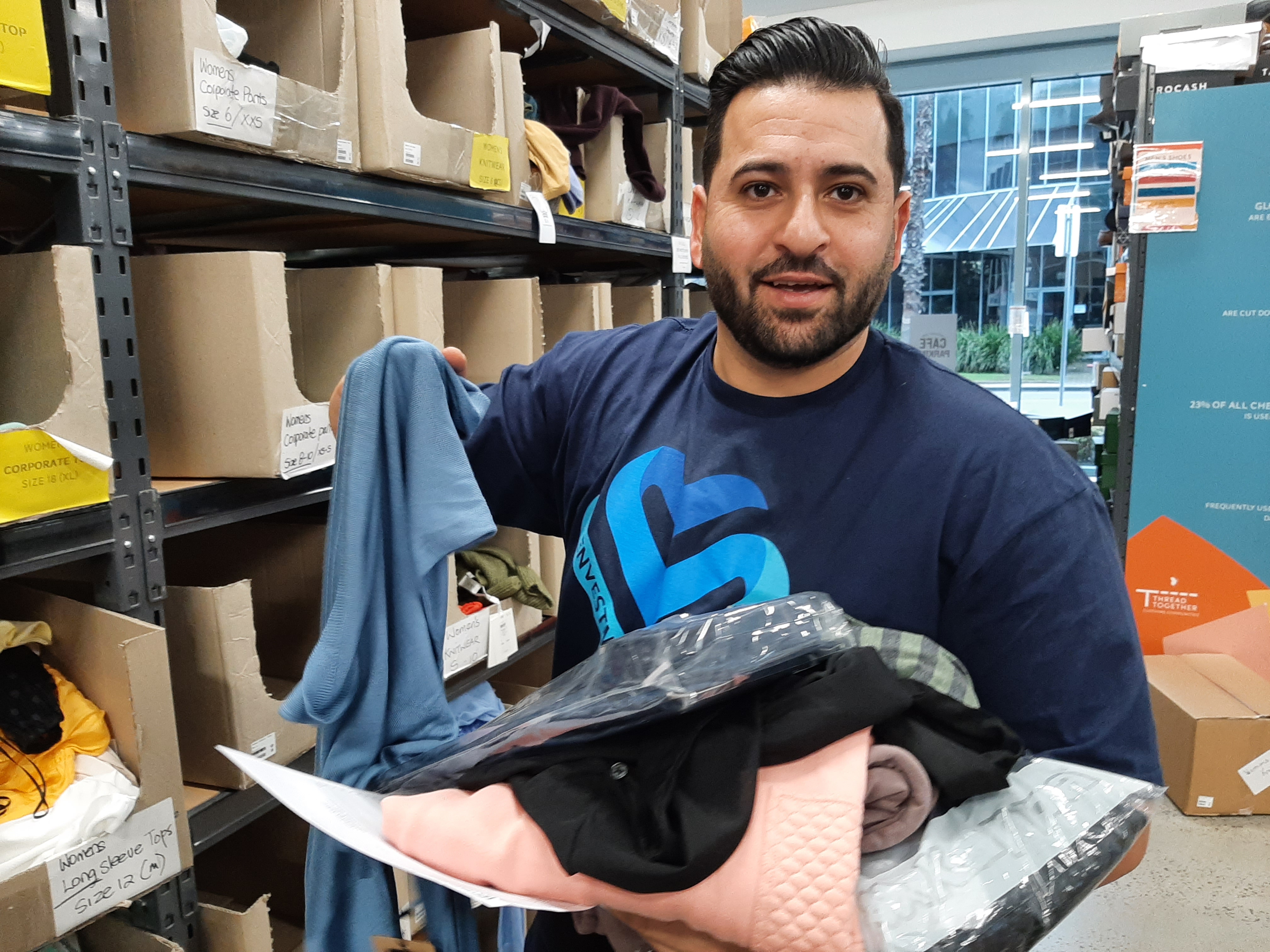 Thread Together's program delivery also includes innovation to find scalable solutions to repurpose clothing for which there is very little demand, such as men's business shirts. In the case of cotton shirts, working with the University of New England and Cotton Australia, the buttons, polyester thread and trims are removed from the shirt, and then the remaining pure cotton fabric is shredded and ploughed into the earth. As cotton is both organic and hydrophilic, this helps to replenish the soil and boost crops.
Heartfelt thanks to all our Australia team members for participating. Thank you to our Australian corporate partners and clients for joining us to give back - FDATA ANZ, FinTech Australia, Stone & Chalk, Reputation Edge, Eftsure, Experian, Tic:Toc and Ubank.  
As Anthony Chesler told us when we were there: "Small things across a wide network can make a big difference."
Supporting this volunteering initiative, Envestnet | Yodlee has also made a cash donation to support the work of Thread Together.
****
Envestnet's charitable focus embraces education, financial literacy, and helping those in need in the communities where we work and live. We achieve these goals by engaging in multi-year partnerships through Signature Impact initiatives, annual giving to organisations highlighted by employees, volunteering in our neighbourhoods, and by multiplying the generosity of employees through a donation matching program. More information here.